BY OPEOLUWANI AKINTAYO
For months now, Lanra Dabiri aka Eldee had practically vanished from the public eye causing many to wonder if he was in the country or had relocated to elsewhere.
Well, Showtime can authoritatively reveal that Eldee is in the country and working very hard at trying to yet another album into the market.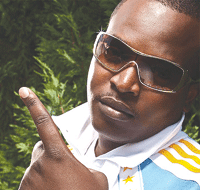 According to the singer and music producer the album titled Is It Your Money Vol.2 will be riding on the waves caused by the Higher, the single he had released not too long ago.
"I'm working on my new album, Is It Your Money Vol.2. I just dropped a single Higher featuring SoJay and K9. Right now, we're trying to promote this for a while. Hopefully, the album will be out before the end of the year"
The yet-to-be-released album contains fourteen tracks but some tracks are yet to be titled. eLDee explained that this is because some of the titles may change.
He however mentioned some of the tracks whose titles are already fixed as Higher, Always which he wrote for his daughter, Category and Today-Today.
Unlike his past songs and albums produced solely by him, Eldee is presently working with other producers like Cohbams, Saz and Dr.Frabs. There are collaborations with artistes like Banky.W, WizKid, K9 and SoJay.