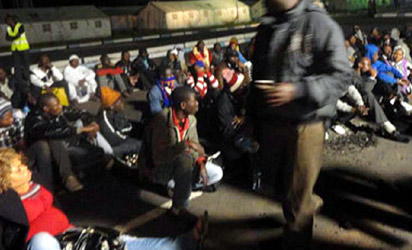 Nigerian returnees from Libya
SIMON EBEGBULEM,
BENIN CITY
Solomon Okoduwa is the National secretary of Nigeria community in Libya and President of United Returnees Foundation. Last Wednesday, he led over 2000 Edo state indigenes who just returned from Libya to the Edo state Government House to solicit the support of the state government.
He gave horrible account of the sufferings of Nigerians in Libya since the commencement of the civil war and stressed the need for the returnees to be inculcated into the society so as to avoid crime. He disclosed that thousands of Nigerians were massacred in the war- torn country, just as he pleaded with the Federal Government to also make effort to bring some of the Nigerians stranded in the southern part of Niger home so that they will not starve to death.
According to him, "I stayed in the city of Tripoli, about 15 kilometers away from the Nigerian Embassy. I worked with the Nigerian Embassy, not as a staff but we liaised between Nigerians living in Libya and the Libyan government. We have four different regions in Libya, we have the Midwestern region, we have the Odua region, we have the Arewa and the Ohanaeze region. The crisis actually started on the 15th of February 2011 and it was inspired by some Arab countries.
What happened was that some people protested in the city of Benghazi and Gaddafi invited them for a meeting to solve the problem. They demanded that they wanted the sanction on the banned Islamic groups in the country who were imprisoned without trial to be lifted. These imprisoned people are seen as radicals and Gaddafi believed that if he allowed them to operate, they would definitely work with Al-Qaida and that would be a big problem for Libya. So, what he did was to arrest these people and dump them in prison. So the people of Benghazi demanded that these people must be released, that they are not criminals. Based on that, the people of Benghazi threatened to cause problem unless those 100 people were released from prison. Due to the pressure, Gaddafi now freed thousands of prisoners including the 100 Islamic scholars in prison. So a lot of Nigerians who were in prison benefited from that gesture. We have had over 4000 Nigerians in Libyan prisons. Some of them were drug peddlers, illegal immigrants and things like that. Some of them were imprisoned for 20-25 years. But after that, they told Gaddafi that releasing those people would not end the problem and that they wanted salary increase. So, he doubled their salary thinking he would use the money to buy their conscience.
Even after increasing their salaries, he told every family to go to the bank and collect the equivalent of $500. But the people of Benghazi refused to collect the money and Gaddafi now said that since they refused the money, even when he had released members of the Islamic group , it means they are now rebels. So he sent some fighters from Tripoli to go and bomb these protesters in Benghazi but when the soldiers got there ,they could not. They informed the people of what they came for and escaped to Malta.
Why Nigerians were massacred
So Gaddafi deployed black soldiers in the Southern part of Libya. Most of them were foreigners and when they got to Benghazi, they started killing people. Because of that, Benghazi people declared war on blacks accusing them of working for Gaddafi. That was how they started killing any blackman they saw in Libya. Most of our people were butchered like animals. That was how the massacre started. Unfortunately, no Nigerian was among those who killed people on the orders of Gaddafi in Benghazi. We only had some Chadian soldiers, Niger and Burkina Faso soldiers. This particular squad were specially trained to defend Gaddafi and that was the first people he used to attack the city of Benghazi. That was how Nigerians started having problem in Libya. We have about 80-90,000 Nigerians in Libya.
"The Nigerians who were in prison were innocent. Some of our people because of lack of jobs became informants to the Libyan police and they are paid for it. But the truth is that this crisis helped Nigerians a lot in Libya because all the prisons were opened and that was how they escaped. There are some Nigerians in Libya who want fast money and as a result, would not want to get themselves involved in legitimate businesses and these are the people that were in prison. We also had many of them who were innocent but were roped- in one way or the other.
Those of them who escaped from the prison when it was opened during this crisis came to the Embassy and said they want to come back to Nigeria that very night. So we started looking for how to get them tickets to come back and we succeeded before the Airport was shut down," he stated.
Okoduwa further narrated that, "We also had this problem with those who decided to go into prostitution and that was what led us to present our case before the Libyan government that we wanted a body that will assist us fight human trafficking. So, the Embassy gave us a car for the work and we started arresting those involved in prostitution. But we found out that when the Libyan government officials arrested them, they were not giving them jobs. They rather repatriated them to Nigeria. And the Nigerian government has no job to give these people when they are brought back home. However, we started searching for the sponsors of these people and when we got them, we arrested them."
We suffered humiliation
"It has not been easy for us since the commencement of the war. We suffered humiliation because one, we are Christians, secondly the National Transition Council (NTC) accused us of being used by Gaddafi to fight them. The very day Gaddafi distributed guns to Libyans to go and defend Libya, from that moment, we knew we were in trouble. They would come to your house and request for euro or dollars and if you failed to give them, they would machete you. There were four Nigerian guys who were mechanics there. These people arrested them and recruited them to fight the rebels. But when these Nigerians who were forced to fight the rebels saw the rebels coming, they immediately surrendered and informed the rebels that they were forced to fight them by Gaddafi. And apart from the intimidation, there was serious hunger. These people ensured that goods were not getting to us, so we were starving. The only way some of us were eating was through may be your landlord who you would beg to shop for you in the market because we couldn't come out. And those who were not in good terms with their landlords found it very difficult to feed. Thousands of Nigerians died in Libya during this crisis. We also thank God for the quick response of the Nigerian government which brought an aircraft to come and pick some of us. We were always in touch with the Nigerian Ambassador in Libya. The Nigerian government brought two airlines to come and evacuate about 7000 Nigerians from Tripoli Airport before the airport was shut. The flights came thrice to move people back home. In fact, I was among the last people that came back because we had to supervise things there, though we have so many stranded Nigerians still there now. I got information that some even fled to Italy which is also dangerous. The problem our people are facing there now is that the rebels said Nigerian government did not support them early enough in the struggle. Though the Nigerian government has recognized the interim government in Libya but their fighters are still not comfortable with Nigerians. So their lives over there now are being threatened. And now the Interim Government is saying that if you don't have permit issued by this present government, then you don't have any business in Libya. That is the biggest challenge our people are facing now which the Federal Government needs to look into urgently before they will massacre Nigerians again. As a matter of fact, the present regime now is not friendly with Nigerians at all. No matter how our people got there, either legally or illegally, it is the duty of the Nigerian government to protect them. Many of our women are being raped and if you don't agree, you are killed. The situation there is very scary. I will appeal to the government and even well meaning Nigerians to help reintegrate these Nigerians that came back from Libya so that they will not turn to criminals. And right now, we have stranded Nigerians in three cities in Niger. Nigeria is far from them and Libya is also far from them. These people now are finding it difficult to feed. They had to run to this area due to the war," he stated.
Other returnees who also spoke with Saturday Vanguard expressed similar opinions. According to Mike Obiahor, "Libya is a good place .When you go there with genuine documents, you will be recognized. Unless you go there illegally, you will not have problems. They respect Nigerians a lot. I was working in one of the oil companies as a welder, I was doing iron bending and welding. I have been working there for over four years and had no problem. I was working with a British company. It is because of the war that we ran back home. It has not been so easy since I came back as a family man with a wife and two kids. Before I left Nigeria, I sold my welding equipment. We are not asking the Governor to render us financial assistance but since we came back, we saw that the Governor is working hard for the people. There were so many Nigerians that were killed. As we are talking now, some Nigerians there are stranded in the desert in Niger called Agadex and Duruku. Most of our brothers are stranded there now. In that very place, there is no job. Most of our brothers said they are killing them now because they said Gaddafi is using the blacks to fight him. We are appealing to the Federal Government to assist our brothers. Edo people are more in that place than any other tribe in Nigeria."
Julius Agbator, another returnee also said, " The truth is that Libya is not an easy place now. Edo state has the highest number of people. We were running helter skelter for our lives and abandoned our properties. Nigerians are in trouble there because the new regime does not want them. They said Gaddafi is using them to fight and so they are killing our people now. Government must go and help please."