By Emma Ujah, Abuja Bureau Chief
ABUJA—In anapparent response to criticisms that he is weak and too tolerant, President Goodluck Jonathan vowed yesterday to bring down those he described as "the Goliaths of Nigeria", declaring that he did not have to rule with autocratic powers like the Biblical Pharaoh to change Nigeria.
Speaking at the interdenominational church service to mark the 51st anniversary of Nigeria's Independence in Abuja, Dr. Jonathan said his critics expected him to govern the nation like a ruler with autocratic powers or a military general but that he would rather disappoint them, as he wasn't cut out as such a character.
His words: "You have been praying for us but others will not even want us to move an inch, especially those of us who are politicians. But one prayer I will continue to request because if you listen to Nigerians or read their statements, some Nigerians still want the President of this country to be a lion or a tiger, somebody that has that kind of strength and force and agility to make things happen the way they think.
"Some others will want the President to operate like an army general or my Chief of Army Staff commanding his troop. Incidentally, I am not a lion, I am not also a general.
"Somebody will want the president to operate like the Kings of Syria, Babylon, Egypt, the pharaoh, all the powerful people that you read about in the Bible. They want the president to operate that way, the characters of the Goliath, unfortunately I am not one of those.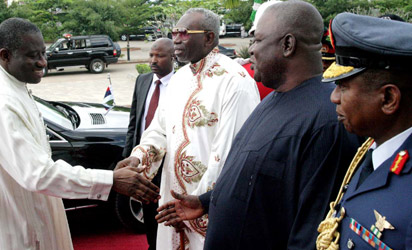 "But God knows why I am here even though I don't have any of those attributes, or those kinds of characters I have used as an example. But through your prayers God placed me here. The only thing I ask you to do for me and that is the prayer I pray every time, is for God to use me to change this country.
"I don't need to be a lion, I don't need to be Nebuchadnezzar, I don't need to operate like the Pharoah of Egypt, I don't need to be an army general but I can change this country without those traits.
"You know these days for you to be an intellectual and for people to listen to you, you have to abuse government. Somebody was asking, is Nigeria on an auto pilot? Meaning a plane without a pilot and I say Nigeria is being piloted by God himself."
President Jonathan therefore urged Nigerian Christians to pray fervently for him and Nigeria, as he admitted "it will not be easy for us but with God, we will get where we want to be".
He added: "It is not going to be easy because just like Rev. Yusuf Turaki said, there are Goliaths every where, very terrible Goliaths; the ones that can even kill their father and mother and even their children in order to stop government. So we have these terrible Goliaths that are trying to frustrate us but surely with God we will conquer them.
"As Pastor (Ayo) Oritsejafor said recently, every Goliath has an exposed forehead. God will expose their foreheads to the stone of David."
The president also reacted to insinuations that participants at the just-concluded United Nations General Assembly in New York, abandoned the hall the moment it was his turn to address the gathering, out of disregard, saying that "those critics missed the point and that Nigeria was commended by President Barak Obama of the United States, Mr. Ban Ki Moon, the UN General Secretary, the South African President Jacob Zuma and a host of others, but back at home we were not appreciated".
"I just got back from the US, the President of America is like the president of the world because it is the most powerful country. In most cases if you go for UN General Assembly, if you are to speak immediately after the US President then you are in trouble. Immediately he speaks about two third of the hall will leave because everybody wants to listen to the President of America.
"Obama when he spoke commended Nigeria but back home we are being abused. We had the security council meeting outside the General Assembly but here we are being abused. When the President of South Africa, Gabon, spoke, they commended Nigeria but here we are not being appreciated. But what I can assure you is that Nigeria is on course and with your prayers and guidance of God we will surely get to the destination we are going", he said.
Dr. Jonathan said he remained committed to the pursuit of the common good of Nigerians, in spite of the criticisms and opposition which his administration was facing, as he took solace in the help of God and the cooperation of well-meaning members of the Nigerian public.
The President who was said to have flown directly from New York to the service expressed deep appreciation to Christians in the country for their prayers for him and his administration, urging them not to relent, as according to him, "politicians don't want this government to move an inch but they can't stop us".
In his sermon, the President of ECWA Seminary, Prof Yusuf Turaki, condemned the religious crises in several parts of the country, as according to him, both Christianity and Islam, the two dominant religions in Nigeria had their roots in Abraham and claim to be serving God.
He wondered why anyone would take up arms against a fellow human being in the name of serving God and therefore urged all adherents of the two religions to stop the hostilities.
According to him, the nation had been blessed by God and that as such, all Nigerians needed to do was to work together in love in a peaceful atmosphere for all members of the public to enjoy the benefits of God's provisions in the country.