Alhaji Idris Adamu Kuta was born in Kuta, Shiroro LGA of Niger State to Alhaji Idi Wasawyi Kuta and Madam Hadiza Idi Kuta in June 30,1952.
He is married to Hajiya Hauwa Kulu Idris Kuta (a retired College Principal), and they have three children namely; Ahmed Idris Kuta who is an Administrative Officer in the Niger State Civil Service, Minna; Aminu Idris Kuta, an Officer in the NEXIM Bank, Abuja; and Ibrahim Idris Kuta, a graduate of Electrical/Electronics Engineering, Budapest University of Technology and Economics, Republic of Hungary. Kuta speaks on his life, aspiration, challenges and how he was able to work in the civil service for more than 33 years.
I always dreamt to be a District Officer and that was why my friends in school were used to calling me D.O. This is because I always had the passion of becoming an Administrative officer which was D.O in those days.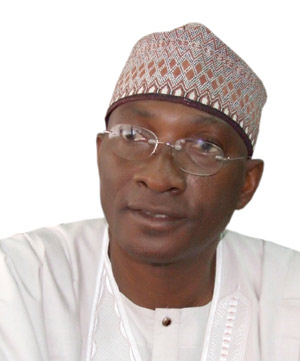 And to God be the glory, I was able to fulfill that ambition of becoming a Permanent Secretary and my prayer is to exit the service gracefully and honourably.
I grew up like every other child in the community. I started my schooling as a child and in 1978, I graduated as a political scientist in Ahmadu Bello University. After my years in the civil service, I moved to the Federal Civil Service in 2003 as a director. I have served in all spheres of civil service and I thank God that I have no regret whatsoever.
As someone who has worked in the ECOWAS circles, and was popularly referred to as Alhaji, I distinguished himself as a hard negotiator on bi-lateral and multi-lateral trade matters especially where Nigeria's interest was involved, and combined my skills and competences in this area with my amiable and very friendly disposition to canvass support for Nigeria's position on most ECOWAS policies and programmes.
I have been occupying the position of Permanent Secretary in the Ministry of Women Affairs for the past one and half years. The ministry has seven structured departments including four programme departments and three support services department.
The four programme departments which are the key in the Ministry is child development, rehabilitation department which handles matters relating to persons with disabilities and the department for social welfare, the one that caters for family needs, families in distress. Other support departments include account and finance, human resources management and planning research statistics.
Before my engagement in the Ministry of Women Affairs, I was the permanent secretary in the Ministry of Aviation and prior to that I was the permanent secretary in the Federal Civil Service. And I have been in the civil service for the past 33 years and by June, 2012, I would have retired.
With humility and modesty, I see myself as a professional civil servant because I am an administrative officer to the core. That is why it is easier for me to fit into any office and perform the duty to which I am assigned.
For me, my job is my passion, so I apply myself to it in totality. And whenever I'm in the company of women, people call me "aunty Idris" which is an honourary title for me from the women folk in Nigeria.
I don't see working with women as a hindrance. Men also have their weaknesses. I enjoy working with women so much that I know the rudiments which are patience and understanding.
Every profession has its challenges, depending on how one approaches them. I have learnt to know that there is no point expecting too much from anyone, only do your best in whatever way you find yourself. And that is how I do my job.
I see challenges the way it is and attack it the way it comes and then apply the little experience I have to make sure that I don't fail on the task.
I hardly see situation where I had problems with my boss. Although, things are not in their right ways every time but my boss is a metrolly woman. She is an elder.
In my career, especially when I moved to the Federal Civil Service, I've worked with female bosses and it has been well and good.
As a servant, you are expected to work with anybody having in mind that you can choose your boss. I learnt how to adjust to certain levels in life which also helped in my profession.
I've not seen a situation where I'd raised my voice or hand against any woman. And that is the reason why I have only one wife.
Humility is part of my nature and that is what I've been trained to be. I am fulfilled and I can say that this is the highest position,I could ever rose to in the civil service.
At 60 years, I've lived all my life learning the rudiments of living and working with a woman. I have only one wife and she is the only one that knows the secret of my good looking.
I have my retirement plans embedded with good passions. I have passion for Agriculture or have a school because my wife is a retired college principal.
Talking about the civil service, it is an institution. When Nigeria went to crisis in 1966, it was the civil service that sustained the civil war, throughout the period that the military rule was in charge,m it was the civil servants that were at the engine room of governance.
The civil service has grown over the years and if it were possible for any government to do without the civil service, America would have thrown it away long time ago.
British would have done the same but the civil service is a strong and powerful institution that sustains any government. And we see it as engine room of governance. In Nigeria, the service has undergone many reforms.
Subscribe for latest Videos