By EBUN SESSOU
August 26 will remain his torical in the mind of every resident in Ibadan, Oyo State capital. It was the day flood destroyed many properties and rendered some people homeless.
And what looked like a dream became a reality when all the properties suddenly collapsed within a twinkling of an eye.
Hundreds of people were rendered homeless and today the story hasn't changed. When the Oyo State government brought relief materials to those affected, there was so much expectation that it was going to serve the purpose for which they were meant. The victims were also put in different camps in Ibadan and its environs.
A visit to Ibadan recently, in search of those who were camped saw neither those who lost their families nor properties at the camp. Areas where flood affected included Ogbere along Ayegun area of Olunde Olomi, Odo-Ona Elewe, Odo-Ona Kekere, Oluyole Zartech road, Orogun in Ojo, Apete area behind the Polytechnic Ibadan.
Ibadan has ancient protective walls surrounded by seven hills. And from Mopo Hill, one can easily see the sea of rusted brown roofs and buildings in places like Agugu, Ayeye, Idi Arere, Odinjo, Gege and Foko, to mention but a few.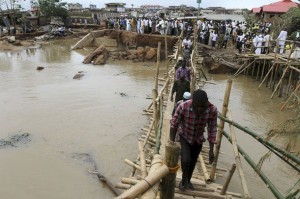 These are interspersed by neighborhoods of new and modern buildings, which are linked and crisscrossed by winding roads. Other places are at the periphery of the core centre. They include Odo Ona, Apata Ganga and Owode Estate, to the west, to the south are Challenge, Molete and Felele areas. Those to the north are Oorogun, Ojoo, Sasa etc, while to the north east are Bodija, Akobo, Monatan and Isebo.
Perhaps all the old buildings could have also contributed to the easy penetration of flood which claimed several houses, shops and lives.
When Saturday Vanguard visited places where people were said to have been camped, there was no trace of flood victim refugees. At Abe Tech Secondary School Odo-Ona Elewe, Sacred Heart Primary, Oke-Ayo area of Oluyole Zartech industrial Ido local government, Iderade house, Ogbere along Ayegun area of Olunde Olomi,there was no single soul in the camp.
According to one of the residents at Abe Tech, the people only come there whenever they are aware that government wants to share some relieve materials. Speaking to the gate man at the school, it was revealed that since the incident, nobody had ever slept at the camp for once. "They only collect all the materials brought to them and disappear. And anytime they hear that government is coming again, they come to the school pretending to have been lodging in the place for long."
In his own account, one okada man who wouldn't want his name mentioned said, "I was made to know that the flood affected lots of people and rendered them homeless and so many properties were destroyed."
Meanwhile, at Sacred Heart Primary School, it was a different ball game. The people were camped for two weeks after which they were asked to leave the place. A gate man said, " the refugees have been dismissed. They gave them money and other things. The people were given relief materials and have been told to find their way as the school is going to resume."
In a chat with the teachers at Sacred Heart Primary school, they (teachers) said, "what we heard was that they have been taken to Ido local government, Iderade house but I was told that they were not allowed to enter."
One of the teachers then interrupted and said, "Are you saying 30 families weren't allowed to enter the place?"
"That was what we heard", she replied. "I heard over the news on Wednesday that one of them was handed over a 3 -bedroom bungalow by the wife of the Governor. What they said was that the family lost all their children," they concluded.
Meanwhile one of the victims who lives in Oke-Ayo area of Oluyole, Ibadan whose properties were destroyed said, "the only thing I got were a mattress, bucket and two cups of rice. I couldn't stay in the camp but I was able to squat with one of my church members."
Narrating her experience, she said, "I was in the house with my children. My husband wasn't at home.I was on the bed while my children slept on the mat. Suddenly, I heard my eldest son call that there was water on the floor. I didn't understand what was happening until I saw flood in the room. At that time, I had to wake the other children up and I was able to escape with my children by the grace of God. Before we could move out, all the fences had already collapsed and water was coming from everywhere.
Pastor Mrs. Aletan is a landlady at Oke-Ayo area of Ibadan. She said the experience wasn't a pleasant one. "That night, everyone had slept. All of a sudden, we heard a noise from outside from a distance. We thought people were fighting. Suddenly, someone called my husband and he went outside. We were waiting for him to come but he didn't. After a while, I had to go and look for him. At that time, I heard someone screaming from afar, water, water. I didn't know what it was until my husband starting shouting flood, flood and before we knew what was happening, there was water everywhere.
And we were able to escape through the grace of God. All my properties were destroyed." Asked if they were in camp, she said that not everybody could sleep there. "For me, I have been staying with a friend since the incident. I couldn't get anything out of the house and neither was I able to get something from the camp because I wasn't staying there. What we heard was that the government will come and pay a visit to those who were affected in their houses.
"We also heard that those who stayed in the camp were given the sum of N20, 000 each. They also gave us toothpastes, two cups of rice, one tuber of yam, buckets and mattresses."
For Abiola Arowosegbe, a landlord, those who got the relief materials were not people affected by flood. "Those who were grossly affected could not come to the camp. So, the people who were camped were the boys and girls in the streets.
"We are counting on the government for their support. For me, I didn't get anything except for two cups of rice, one tuber of yam and a bucket. We were instructed to go to the local government and from there ,we were referred to Olugbodo where we met some Red Cross officials who said they gave us the relief materials from their voluntary donations. Since the problem, we have been calling on government to look into channeling the water through the empty land but not to be threatening people with demolishing houses.
"It will be recalled that the last time this particular incident happened was in 1980. And a letter was drafted by the landlords association in Oke-Ayo, yet nobody had done anything."
Meanwhile, Mrs. Shobulo, a Red Cross official at the South-west local government said, "The people were asked to vacate the school because the children were resuming, although, most of them said there is no accommodation for them. That was the time the former first lady, Mrs. Ladoja promised to give them a place at Iderade housing estate at Iddo local government. Unfortunately, the place has been occupied by some persons. And that time, the first lady told them that she didn't know that the place had been occupied. And so, some of the victims slept at the police station that day. "
Most of them came to the local government crying for help.
"What we heard was that government has given out some money for the people to pay for accommodation where they will stay on their own. As it is, the local government has paid for a year rent for some whose condition needs urgent attention. Everybody was attended to. They were given some relieve materials and nobody would deny getting any of those materials.
However, General Manager, Lagos State Emergency Management Agency, LASEMA, Dr. Femi Oke-Osanyintolu, said that Lagos State didn't camp any flood victim. " They were only given relief materials", he added.