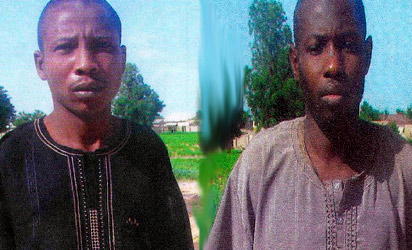 UN house blast suspects, Babagana Kwaljima and Babagana Mali
By Uduma Kalu
THE State Security Service (SSS) Wednesday identified Mamman Nur, an Al-Qaeda linked member of the Boko Haram Sect, as the mastermind of  last Friday suicide bomb attack on the United Nations (UN) building in Abuja, which left 23 people dead and many injured.
It added that Mamman Nur has been declared wanted. Nur,it said, returned recently from Somalia and worked two suspects now arrested.
The violent Islamic sect, Boko Haram, also true to its words, revealed identity of the suicide bomber, last Wednesday named the bomber as a 27-year-old Nigerian, Mohammed Abul Barra.
Doubts on SSS arrests
Even though the SSS announced the capture of two suspects and displayed their pictures, that of Nur had no picture attached to his name. It had no details of his occupation, identity, antecedents. Yet, citizens are required to help in hunting him
Llittle is known about Nur. Even the name given by the Boko Haram spokesperson as the suicde bomber seems fake as a little research can reveal. The name is also alias of Osama bin Laden's bomb making man.
Even western analysts were cautious about the SSS authorities' claims. Peter Sharwood-Smith, Nigeria country manager at risk consultants Drum Cussac, said Nigerian security services were closely tracking Boko Haram.
"The SSS (State Security Service) are reported to have infiltrated Boko Haram to a fairly significant degree, so they may have managed to use intelligence gained from that to find people behind the bombing," he said.
"On the other hand, there's no way of gauging the accuracy of the intelligence they are using, so we don't yet know if they've picked up the right suspects."
Even the UN did not jump into the SSS declaration. Secretary General Ban Ki Moon who addressed the 193-member General Assembly for the first time after he had dispatched two senior UN officials to Abuja, said, "What we know is that this attack was the work of a suicide bomber who rammed a sport utility vehicle at high speed through the exit gates of the UN compound."
There has been growing concern over whether Boko Haram has formed links with extremist groups outside Nigeria, including Al-Qaeda's north African branch and Somalia's Shebab fighters.  Alleged sect members have claimed that they have received training in foreign countries, and analysts point out that their attacks have grown increasingly sophisticated.  The UN bombing marks an increase in the sophistication of Boko Haram's attacks, possibly with more powerful explosives, and an escalation from local to international targets, analysts say. Some suggest Boko Haram was developing global ambitions and may have connected with al-Qaeda's North African wing.
"What's pretty much known is that there have been links made between Boko Haram and al-Qaeda in the Islamic Maghreb. They're not thought to be particularly strong links. The attack on the UN building is the first indication that there might possibly be some influence in terms of targeting coming from al-Qaeda," Sharwood-Smith said. If Nigerian authorities are correct, the group may also have linked up with jihadists in Somalia.
"This latest attack … aimed at the UN indicates an internationalisation of the struggle and bears hallmarks of an al-Qaeda connection," the Eurasia Group wrote on Tuesday.
"While this is a worrying development for investors, including western oil companies, the oil-rich Niger Delta will be much harder terrain for Boko Haram to operate in."
Boko Haram structure
Boko Haram has no specific name for itself, just many names attributed to it by local people. If their name is uncertain, however, their mission appears clear enough: to overthrow the Nigerian state, impose an extreme interpretation of Islamic law and abolish what they term "Western-style education".
Boko Haram appears to have a loose structure. Its activities seem to indicate that leaders are regionalised. For example, seven key chieftains of the dreaded Boko Haram sect have been arrested in Minna, Niger state by some operatives of the State Security Service, SSS. Late Yusuf said his headquarters or branch offices were in Gwange ward, Bulumkutu of Maiduguri.
For Minna, sources said the lead suspect is a Lagos-based businessman, whose name was given as Yusuff. Minna has been his operational base in recent times and was present in the state on two occasions when bombs went off in Suleja. Sources in the administration said six other loyalists of the said kingpin were arrested in a swoop by the security forces. The issue that concerns Boko Haram today is its leadership and structure.
The death of Mohammed Yusuf, their leader till 2009, wounded but did not cripple the group. It also decentralised its leadership and operation as the pattern of its operations killings indicates. Nur and Shekau are involved in a power tussle. No one come out to say he gives any order. It appears that those that bomb in North East are different from those in Suleja and Abuja. In Maiduguri, it is said that 26 fundamentalist groups exist alone with different names and structures.
Boko Haram leadership
Mohammed Yusuf (29 January 1970 – 30 July 2009) was a Muslim sect leader. He was born in Girgir village, in Yobe State, Nigeria. He founded the militant Islamist Boko Haram the group's official name is Jama'atu Ahlis Sunna Lidda'awati wal-Jihad, which in Arabic means "People Committed to the Propagation of the Prophet's Teachings and Jihad" in 2002 and was its spiritual leader until he was killed in the 2009 Nigerian sectarian violence. He was more commonly called Ustaz Mohammed Yusuf.
Imam Abubakar Shekau
Imam Abubakar Shekau was the second-in-command to Mohammed Yusuf, who was killed by the police in July last year after days of fighting between security forces and the sect's followers. The police said in 2009 that Shekau was shot dead in the clashes. But a 25-minute video clip, shot on April 19 and obtained by the media showed Shekau answering questions from a journalist at his hideout believed to be in Maiduguri. In the clip, Shekau is seen wearing a head dress, with an AK-47 gun and a stack of religious books behind him. People who know Shekau very well identified him in a still image captured from the video clip. Proclaiming himself as leader of the sect, Shekau said during the interview that with the death of the former leader, he "being the deputy (to Yusuf), stepped in and assumed leadership to continue in the pursuit of religious knowledge." Shekau was, besides being a second-in-command of the sect, the most influential and feared member of the Boko Haram group.
Mamman Nur
Nur's name has previously circulated as a top figure within Boko Haram and he was considered by some to be the sect's third-in-command during its 2009 uprising in northern Nigeria, put down by a brutal military assault. He was believed to have fled to Chad to escape arrest by Nigerian security agents before moving on to Somalia, according to sources claiming to have been sect members as well as others familiar with Boko Haram. Nur is thought to have returned to Nigeria several weeks ago at the beginning of the Muslim holy month of Ramadan. Nur is reported to have long been seen as a high-ranking member of Boko Haram.
Believed to be around 35 years old, Nur was considered third-in-command of  Boko Haram when it launched an uprising in northern Nigeria in 2009 put down by  a brutal military assault which left hundreds dead. Its second-in-command was Abubakar Shekau, believed to be its current  leader. Its head at the time of the uprising, Mohammed Yusuf, was captured  during the assault but later killed when police said he was trying to escape.
According to sources claiming to have been sect members as well as those  familiar with the group, Nur took over temporarily as leader while Shekau  recovered from gunshot wounds suffered during the uprising. Nur is thought to have left Nigeria for Chad along with several other sect  members to escape arrest by security agents. From Chad, he is believed to have moved to Somalia along with some close  allies, according to the sources, before returning to Nigeria several weeks ago  at the beginning of Ramadan.
Rumours have spread that there has been a power struggle between Nur and  Shekau, with Nur and his faction of loyalists contending he was more competent  to lead the sect given his exposure to Somali training and contacts. Nigerian authorities have not confirmed details of the claims surrounding  Nur, saying only that he was "a notorious Boko Haram element with Al Qaeda  links who returned recently from Somalia."
They said investigations had shown that Nur working in concert with two  other suspects masterminded the attack on the UN building that left at least 23  dead.
Nur is said to have been born from Chadian parents in the northeastern  Nigerian city of Maiduguri, where the sect's mosque and headquarters were  located before the 2009 assault left them in ruins.
According to the sources, he studied at a state-run theology school in  Borno state, where Maiduguri is the capital, but dropped out before finishing  and joined Boko Haram. The SSS' claim that Nur just returned from Somalia tallies with a recent statement by the Boko Haram that some of its members had gone for training in the East African country.
Boko Haram's transition
It appears Boko Haram has grown in sophistication and range. From Maiduguri and the North East, the sect moved to Kaduna, Suleja and is now in Abuja. It can attack simultaneously and hit police stations and its national headquarters and at the UN, Abuja. It says it targets Aso Rock. In fact, it has just announced that Kano is its next target. It is in the nation's capital, fully armed, with sophisticated weapons. It plans well its attacks carefully.
It seems also to have infiltrated the security agencies in the country so much that it easily has access to very difficult places. And with this, it is beating the security agencies.