By Uduma Kalu
Following the exploits of Nigeria's beauty, Agbani Darego who won the Miss world,  another African beauty queen, Leila Luliana da Costa Vieira Lopes from Angola, has emerged winner of the 2011 Miss Universe pageant.
She beat six beauty queens from Sub-Saharan Africa (Nigeria, Ghana, Tanzania, Angola, South Africa and Botswana), one beauty queen from North Africa (Egypt) and one beauty queen from the island of Mauritius at the pageant.  Nigeria's Sophie Gemal  blossomed at the pageant and though critics loved her profile, evening wear and bikini shots, the Angolan was the favourite.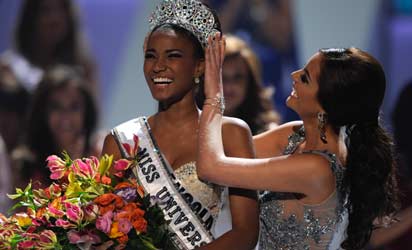 Leila Lopes, a 25 year old student from Benguela, Angola dazzled the judges with her poise, beauty and grace and she replied her critics saying, "Thank God I'm very satisfied with the way God created me and I wouldn't change a thing…I consider myself a woman endowed with inner beauty.
I have acquired many wonderful principles from my family and I intend to follow these for the rest of my life." Other beauty queens in the top five were Olesia Stefanko from Ukraine (1st Runner-Up), Priscila Machado from Brazil (2nd Runner-Up), Shamcey Supsup from the Philippines and Luo Zilin from China.
Miss Panama, Sheldry Saez won the Best National Costume Award; Miss Montenegro, Nikolina Loncar was voted by the fellow contestants as Miss Congeniality and Miss Sweden, Ronnia Fornstedt won the Miss Photogenic prize.
The 60th Annual Miss Universe Pageant hosted by Bravo TV's Andy Cohen and NBC's Natalie Morales was broadcast from Credicard Hall in São Paulo, Brazil.
Some commentators had predicated that Miss Angola was the strongest contestant from Africa.  This is the first time a beauty queen from Angola has been crowned as Miss Universe. She is first black African to win the 60 year-old pageantry. Nigeria's Agbani Darego won the 51st Miss World pageant in Sun City, South Africa, on 17 November, 2001.
Angolan First Lady Ana Paula dos Santos hailed the victory of compatriot Leila Lopes at the 2011 Miss Universe pageant, saying the victory is for all Angolan women.
Following the Miss Universe pageant, Miss France gave an interview to a French magazine in which she made a series of remarks from which it is clear that she believes Miss Angola Leila Lopes shouldn't have won the crown, the Washington Post reports.
Miss France believes that the main reason Lopes won is that the contest was held in Brazil. "The fact that the competition was held in Brazil surely played a role." Miss France was in the top 10 finalists and Miss Brazil made it to the top 3.
The brand new Miss Universe, Leila Lopes said she wants to help her native Angola escape a history of war and impoverishment and work towards combating HIV.
Being crowned at the ceremony in Sao Paulo, Brazil, the 25-year-old said that "as Miss Angola, I've already done a lot to help my people."
"I've worked with various social causes. I work with poor kids, I work in the fight against HIV. I work to protect the elderly and I have to do everything that my country needs," she said. "I think now as Miss Universe I will be able to do much more."
She also said she wants to help fight the corner for people with HIV around the globe.
Miss Universe is the world's biggest beauty pageant. Lopes beat 88 other contestants to win the title during the 60th anniversary of the contest. She replaces last year's winner, Ximena Navarrete of Mexico. She and fellow competitors spent the past three weeks in Sao Paulo, South America's biggest city trying to learn samba dance steps, visiting poor children and kicking a football around for cameras.
Angola is one of Africa's major oil producers, but also one of the world's poorest countries. It is struggling to overcome the physical, social and political legacy of the 27-year civil war that split the country apart after independence. It has also until now had a relatively low rate of HIV for countries in the same region.
But now, since the war, people's movement has become less restricted, and the likelihood of HIV reaching once-isolated communities has increased. In 2009, about 200,000 people in Angola were HIV positive, according to UN figures.
The show, hosted by Natalie Morales from NBC news and the Bravo network's Andy Cohen, was broadcast live to about 170 countries. Morales, who is half Brazilian, said that "what's most important is for the women to be beautiful inside and out."
Subscribe for latest Videos