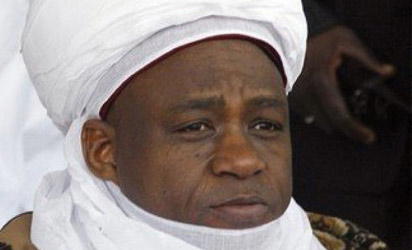 Sultan of Sokoto, Alhaji Sa'ad Abubakar III
By: Luka Binniyat
KADUNA— The Sultan of Sokoto, Alhaji Sa'ad Abubakar III, Sunday, warned that political violence would always continue as long as politicians continued to use religion for selfish partisan purposes.
He also lamented against what he described as the "system failure of marital institution in the north,'' as according to him, divorce cases were on the increase in the area. The Sultan urged Muslim Ummah to respect the institution of marriage by seeking knowledge on what it was all about.
Abubakar who spoke at the sixth Annual Ramadan Lecture with the theme, "Rights of Leaders and the Led" jointly organised by Nigerian Television Authority, NTA, and Federal Radio Corporation of Nigeria, FRCN, in Kaduna, said politicians in and out of power must resist the temptation of using religion as a means of gaining acceptability.
He said: "If you are playing politics you should not involve religion. Avoid the temptation. That easily leads to problems and violence most of the times."
You should know that Nigeria belongs to all and not Muslims or Christians alone. We have other people from other religions. We should pay attention to the twin problems of poverty and illiteracy…and not to use religion to divide them.
"We must pay attention to education and how to tackle poverty in the society which is the basic responsibility of every leader to give to his people and not to listen to rumours," he said.
The Sultan who spoke through the Emir of Birnin Gwari, Malam Zubairu Jibril also stressed the need for a strong relationship between leaders and the led, even as he advised leaders to avoid rumour mongering
Also delivering his paper on the rights of leaders and the led, Dr. Ahmad Bello Dogarawa said the propagation of justice by leaders ''is a key to stability'' in any society.
"Leadership is a trust and leaders would account for their actions on how they lead the people on the last day. Even if a leader is not a Muslim he must ensure that he is just to Muslims by allowing them to practice their religion as enshrined by their creator. A leader must be concerned about his people by providing them with necessities of life," he said.
Ahmad said the best leader is the one loved by his people just as the worst leader is the one hated by his people, and urged the people, particularly the Muslim Ummah not to revolt against their leaders as such practices were unIslamic.