By DANIEL Idonor, Wole Mosadomi & Dapo Akinrefon
ABUJA— Former Military President, Gen. Ibrahim Babangida has given notice of his intention to marry a new wife following the demise of his wife, Dr. Maryam Babangida.
In an exclusive interview with Vanguard ahead of his 70th birthday today, Gen. Babangida debunked claims that he secretly married a wife about four months ago asserting such a marriage existed only in the imagination of some section of the media.
In the wide ranging interview, Babangida linked the military intervention led by Gen. Sani Abacha that sacked the interim government of Chief Ernest Shonekan to the agitation of civil society even as he justified his support for Chief Olusegun Obasanjo in the 1999 presidential election as the best decision at that time. He rated Obasanjo a success based on the fundamental parameter of unifying the country which he said informed his selection at that time.
On speculations that he had secretly married, "I have not re-married. You are not the only one who heard. A close friend of mine heard and came to the house to find out. I took him around to all the rooms a wife would have been if I re-married. It is the soft sell media that would like to make huge sales that come up with that type of story," he told Vanguard.
But in a session with selected newsmen in Minna yesterday Babangida gave notice of his readiness to marry.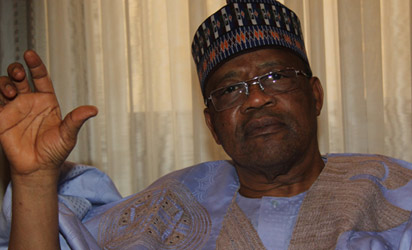 "Yes, I will get a new wife, no name yet but I know what I want and who is coming into this house and one thing I cannot also tell you now is when exactly she is coming in."
Gen. Babangida who was full of life and radiating with smiles throughout the interactive session said he gives glory to God for successfully navigating the turbulence that characterized political office especially as a Military President.
He, however, ruled himself out from further partisan political pursuit saying:
"I am now 70 years. By 2015, I will be about 75 years so at that age, what would I still be looking for. Count me out. That time, I will be in Minna to attend to people who call on me for political and other consultations," the former military president said.
Recalling his saddest moments in life, Gen. Babangida said it was when he lost his bosom friend simply identified as Lt. Col Mohammed in 1974 who he said died in a crash and also the death of his wife, Maryam.
He, however, recounted his most joyful moments to be the day he got married and when he was appointed the military president for the country after a successful military coup.
Gen. Babangida described the public execution of his bosom friend and colleague, Gen. Vatsa following allegations of a coup plot as the most traumatizing decision ever taken in his life. He prayed never to find himself in such a position again.
According to him, "it was a military law which could not be amended. We all got caught up in the coup Decree of 1976 which gave no room for an alternative but only death through public execution. If I tell you that it was not traumatizing, I must be lying and I pray I will never find myself in such a situation again."
The former military president also touched on other National issues such as the amendment of the constitution of the country, the re-occurring June 12 issue and the way forward for the country.
Jonathan congratulates IBB
President Goodluck Jonathan yesterday congratulated Babangida on the occasion of his 70th birthday which comes up today. A statement by Dr Reuben Abati, prayed God Almighty to bless him with "many more years of robust health, prosperity and continued distinguished service to our nation.""Looking back over the past 70 years, I am sure that you, your family and indeed your larger family of associates and admirers do have cause to be grateful to Almighty God for having granted you a life of great accomplishment and abiding fulfillment."
"You did not only rise to the pinnacle of your chosen career in the military, you also rose to become President of Nigeria for eight years," President Jonathan wrote.