*Says Nigeria's democracy is a terminological deceit
FRESH from the April 2011 general elections, the presidential candidate of the Fresh Democratic Party Reverend Christopher Oghenebrorie Okotie recently marked his 53rd birthday in an unusual form as he was consecrated the Prince of Nigeria in a ceremony in his Household of God Church in Oregun area of Lagos. The consecration was performed by the Secretary of the Christian Association of Nigeria, CAN, Lagos State, Bishop George Amu who used the occasion to eulogise the erstwhile musician, describing him as a man of immense character. Following the consecration, Okotie spoke to Vanguard on contemporary political issues, including the security challenges presently confronting the nation. Excerpts:
BY SAM EYOBOKA
After losing in the last presidential election you didn't go to court. Why?
Because I have never felt that this is a matter that can be settled in the arena of jurisdiction. Because there are powers that are at work beyond what we see. The PDP put in place a contraption that is probably one of the most sophisticated so far in election manipulation. And they were particularly against me because of the fact that I opposed the president. So many places where people voted for me, they just didn't count those votes and assign those votes to other people.
If you look at the result sheets, some of the people who supported President Goodluck Jonathan in other political parties who were not even known, nobody even knew that they were participating in the election scored higher than myself. I mean, it's the climax of absurdity, it's ridiculous.
But the weapons of our warfare are not canal but are mighty through God to the pulling down of strongholds. So I am not at war with anybody. I believe that when the time comes, everything will work together. God will allow these things for now for His own purpose but there is a definite time that has been set aside by God for change. Because Nigeria cannot survive the way it is right now, we all know it, including PDP. They are just buying time as much as they can, but since it's imminent, it's inevitable.
But for now you have accepted what we have?
You mean in terms of the government?
Yes.
There's nothing I can do than to work according to the constitution. I am not a disorderly person, I am a Christian. If they're proclaiming that they have won the election and they are seen to have won, there is nothing anyone can do about that. I continue to maintain the fact that this is not the best that Nigeria can offer. This is not the best that our region, the Niger Delta can offer. This is a manipulation of the system for their own good. It is the same PDP, they hand over one baton to another, and they have no solution to the problem.
Do you really believe that after four years of President Goodluck Jonathan, Nigerians will vote for another president from Niger Delta?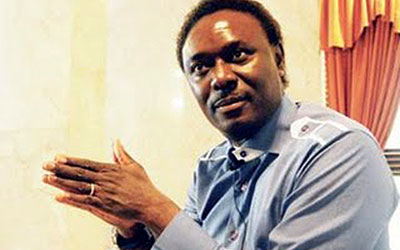 Let me be as objective as possible. I do not think at this point in time, Nigeria is interested in regions. The xenophobia that has been created by all this Niger Delta thing is not sustainable.
I think that what is going to happen is that it will be obvious, it is already obvious in fact that the present leadership cannot take Nigeria anywhere.
And there is a God who sees over the affairs of men, He knows how to deliver His people. Where's apartheid today? Where is slave trade today? He will deliver this nation at the right time, and it will have nothing to do with whether you are from Niger Delta or from anywhere. It will be the fact that God will give Nigeria credible leaders that will lead the people to a place of prosperity.
And that is not to say that I have a problem with President Goodluck Jonathan, I wish him well. I do. And as a servant of God, I couldn't do any less. So whatever he wants to do, he has the opportunity to do. But I know that as long as PDP is in government, it is a retrogressive journey because Obasanjo was a great leader and he couldn't get Nigerian's hearts because of PDP. President Goodluck Jonathan cannot do better than what Obasanjo did.
What will you call the PDP in terms of fighting corruption in this country in the last 8 years?
Only one man has done it in this country and his name is President Olusegun Obasanjo. Nobody else. If we had more Obasanjos within the PDP, there'll be hope for this nation.
But I haven't seen anyone who has that intrinsic determination that propels that kind of doggedness. I've only found it in that man, he's a great man. So everybody else that you're seeing, whether it's the former President Yar' Adua or President Goodluck Jonathan, there are just following him. Because Obasanjo still has some influence within the party that's why you're still seeing that. It is as if these men themselves can do anything. It is in my reckoning the war against corruption has been a one man battle. And I give kudos to Obasanjo.
I want you to take them one by one, security and Boko Haram activities in this country.
What you are seeing are birth pangs. When a woman is going to give birth, she goes through the thrills of childbirth. A nation is about to be born. This restiveness you are seeing are indications of the fact that what is on ground is not acceptable. That's why no matter who comes from PDP, they will still face these challenges because the authentic government is not yet in place. So these are the signs that indicate to us that what we have is a realistic piece of fake. We have to manage these affairs until the true leader emerges. Boko Haram or religious fundamentalism is not new. So they must rise to the responsibility of providing security for the people. But I have very little doubt that this government can take that kind of responsibility.
How would a "President Okotie" have tackled it?
It won't happen in my time. When David was serving God as a leader, he had a lot of confrontations because he had responsibility to establish an enabling environment for the people of Israel to grow as a nation, to fulfill the divine mandate. But when Solomon became king, those hostilities were not anymore. That's why God told David you can't build a temple because we cannot have a temple in time of hostilities like this. The one who brings peace to a nation is Almighty God. And when you see a nation is constantly at war at any level, whether it is fighting in Niger Delta or Boko Haram, you know that the Balm of Gilead is not there. But once the circumstance changes and true leadership comes, you will see how God will bring a settlement and bring peace. The bible says when a man's way pleases the Lord He maketh his enemies to be at peace with him.
That is just the way it is.
So it is not how I will handle it, when they hear that Okotie is President, they will put down their swords. This restiveness in Niger Delta will come to an end. Boko Haram and their group will leave this country. But when they recognize the spiritual illegitimacy of any government, they have the opportunity to do what they want to do, but I expect that this government will do what is necessary to keep the peace and maintain some order as long as they can.
What is your reaction to organised labour's quest for the implementation of the new minimum wage?
I know that this is democracy and that we must have faith in agreements but it is very obvious that this present regime, the PDP governmental machine cannot be trusted. Why does labour need to go on strike if there had been an understanding between government and the people as to the minimum wage.
The minimum wage we are talking about is not even sufficient to bring the context of the present day reality to Nigeria. But it shows you how hard hearted government has become. Because they don't really care about the people that is why I have often said it is government of the PDP, by PDP and for PDP. It has nothing to do with the Nigerian people. It is just a clique less than two per cent of this nation holding the entire nation to ransom. Things cannot continue this way and that is why I am saying that divine intervention is the only solution to this nation. I encourage the government to be considerate of the plight of the Nigerian people. There is enough money to pay the average Nigerian N50,000 a month in this country. Considering the fact that National Assembly members earn fantastic salaries unknown to the people.
What's your attitude towards the government's desire to give Nigerians an Islamic bank?
I respect the governor of the Central Bank. I think it surprises me that he would toe this line. When you bulkanize a nation along religious line, you ignite the inflammable. I will just imagine that this is not the time for this kind of thing. It is not because a religious bank in itself is bad, I am just saying that when you are dealing with sensitive issues, particularly when the nation is going through a process, it is only wise that you put all sensitive matters in abeyance until you have created an atmosphere where people become more understanding and friendly towards new ideas. So I just think that the timing is wrong, it will be wrongly perceived because there is an argument that we already have Christian banks. But I am just saying that in the wisdom of governance this is just not the right time for that kind of thing.
Do you foresee that kind of whirlwind blowing?
It has become obvious to the Nigerian people that these leaders, rather than establish an atmosphere for growth and well being, are destroying them. So, that survival instinct within man will cause him to stand up against his leaders, and that is what you are seeing. That is why you saw the situation in Kwara State when father and son disagreed. It is beginning to permeate the society and very soon you are going to see where the people are going to start rising against their local leaders, their king makers, their chiefs, their religious leaders all of them who are part of this suppression and oppression. And I believe that that time is here.
So  you foresee a revolution in Nigeria?
Definitely! It is unavoidable as long as PDP continues what it is doing, the Nigerian people are eventually going to rise up against tyranny and despotism. That is what it is. It is just couched in democratic terminology which is a terminological deceit. This is not a democracy.
Only God, in my own understanding, can make that possible. He is the only one who delivers the people and I believe that he would do so. But how soon, I do not know. Experience is the best teacher. They are seeing it themselves. The suffering is intensifying. The lackadaisical attitude of their leaders is becoming so obvious and the anomalies in society are part of it. That disenchantment at every level is becoming very obvious and at the end of the day God will use those tools to create a new Nigeria for us.
What is your advice for the nation?
The elections have come and gone. PDP has tried to rubbish Rev. Okotie because of the voice of opposition and my refusal to join the bandwagon of corrupt political juggernauts who do not wish this country well but truth cannot be buried. It will resurrect. The truth of the matter is Rev. Okotie is the only hope this nation has. That is why I have refused to be a part of the current erosion and decimation of our national psyche. I believe that deliverance is on its way and that it is already in the hands of the Almighty God and that when that day comes there will be jubilation on our streets, because that the weak have become strong and those who were the enemies of this nation have been put to flight. And that the song of jubilation and freedom will ring across the four corners of this nation; and I believe that Rev. Chris Okotie will be there to vanguard the process.
And you will throw all the corrupt leaders to jail?
(LAUGHTER) Time will tell.