By Ikeddy ISIGUZO Chairman Editorial Board
THERE have been debates whether Lagos was under water or water was under Lagos. The contests were over on July 10 – both sides were right. Water was everywhere, under, above and anywhere else it found space. Many survival miracles were reported.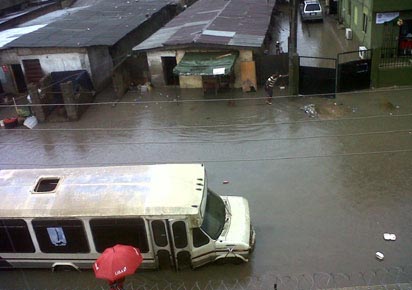 I would not be surprised if the viral car sticker business enjoys another boom with messages like – Jesus walked on water and so did I on July 10, and like Peter, I sank. Praise the Lord, I walked on water. Be sure you have the right height for Lagos floods. Don't panic, a flood survivor in control. Caution, more flood ahead. No flood fashioned against me will prosper. A flood survivor is ahead of you, naturally.
Show me some respect, even the flood does. Original Lagos man, I survived July 10.
Those who survived have something to celebrate. The official figure of the dead was 25. Anyone who knows how unable we are to know how many we are would contest the tally. It could be more with some people unaccounted for in this mega city where there are many without relations or roots. Who would search for them? Who would report their disappearance?
Places of worship will be short of space in the next few weeks as people try to re engage with their Maker. The men of God will not miss the opportunity. We should be expecting more deliverance services with more fervour. Deliverance from floods will gain importance.
Bountiful offerings that should reveal the extent of one's travail last Sunday and the days that it took the water to disperse would be mandatory. Services will be longer to accommodate testimonies to God's goodness on July 10, which must be taken, noted, and circulated, so that the man of God can show he leads the people with power and purpose. Those who ever so often complain about the ferocity of the sun are praying for sunshine to help dry up the flood.
Black Sunday: Even KekeMarwa passengers drowned in a flooded canal
Some said they thought the end was near on July 10. People were peeping from the upper floors of their houses – the luckier ones – awaiting the appearance of the biblical Noah's ark. More globally sensitive folks said it was a tsunami, referring to such massive flooding in Asia.
A journey we had planned for Lekki ended at Maryland, from where it took more than three hours to make the Lagos-Ibadan Expressway, which was jammed, flooded;  the only chance of moving,  when it moved, was to keep heading towards Ibadan. Vehicles coming into Lagos took over the turnings and part of the exit from Lagos. We slept at my brother's place at Arepo, the Journalist Village. We arrived there after midnight and it was still raining.
Driving on that mass of water was a unique experience. Nothing prepares you for it and you may be so frighteningly made that you learn nothing from it.  If you feel anything, it is helplessness. What do you learn when you are driving on water, sitting on water and you were on water, in your car?
Have you wondered where the emergency services were? Definitely, under water.
Where were you on July 10? The question is becoming interesting after a pair found in a compromising position blamed the flood. The story is that man and woman lived on the same street, were both married to different people, but when the flood subsided; they were on the same bed. Their explanation was that they suddenly found themselves in that position, thanks (or no thanks?) to the flood.
Stakeholders are investigating the matter, which is purely civil, but would most likely be resolved by native law and custom.
The stories about July 10 will make thrillers any day; the rest is up to your imagination.