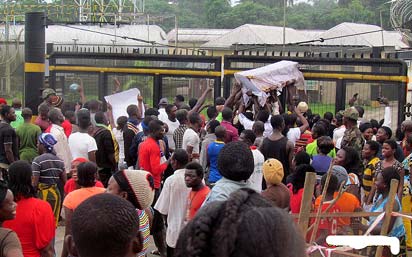 The protesters
By Samuel Oyadongha, Yenagoa
Activities at the Shell Petroleum Development Company, SPDC,  Kolo Creek Logistics base,  in the Ogbia Local Government Area of Bayelsa state was disrupted in the early hours of Thursday, when aggrieved natives from its four host communities armed with  a casket lay laid siege to the facility in protest over the alleged insensitivity of the company to their plight.
The protest , mainly by women from Imiringi, Elebele, Otuasega and Oruma communities,  is coming on the heels of the expiration of the 14-day ultimatum reportedly issued to the oil giant.
The aggrieved community folks, who stormed the SPDC facility in the early hours of Thursday, armed with a casket covered with white cloth demanded among others, the implementation of an agreement reached with the company in 1999.
Though the facility was highly fortified with men of the Joint Task Force, stationed at the two entrances into the complex,  the protesting women  however, forced their way through the main gate to register their grievances in a move reminiscence of the ELIMOTU Movement style of agitation some years ago.
According to the protesters, who arrived the facility as early as 6am, Shell had in 1999 agreed to connect their communities to the plant supplying electricity to their facility in the area only to renege on its pledge.
An indigene of Imiringi community, Pastor Ranami Afagha who identified himself as the Vice Chairman of the community said, "I have been part of meetings held between the JTF and our communities in recent times, including Shell. And those meeting were all related to the issues concerning our demand that Shell should implement the agreement it entered into with our people since 1999.
"Even after the expiration of the 14-day ultimatum we issued Shell, there had been steps to avoid open confrontation. Shell is fully aware of what we are here for; the company is just trying to see what we can do. Yes, we are a very peaceful people, but we are also human beings and have that capacity to behave otherwise when situation demands.
We are not joking, Shell should honour the 1999 agreement, or else, the company is free to leave our environment for us. They should give us light, water, roads and also ensure that their operation within this environment is safe for us and every other living thing in the ecosystem."
All attempt to get  a reaction from the SPDC,  at press time, proved abortive .