*'Our fears on Islamic banking not unfounded'
By Sam Eyoboka & Olayinka Latona
PRELATE of Methodist Church Nigeria, Archbishop Sunday Ola Makinde, is a household name even before he mounted the saddle at the Wesley House, Marina, Lagos after the expiration of the tenure of Archbishop Sunday Mbang. Last Thursday, he played host to some journalists in his office where he bared his mind on the state of the nation, admonishing that the nation must tread softly and tackle the festering menace of Boko Haram with dispatch.According to him, Boko Haram threatens our national unity, heats up the polity and has dealt a devastating blow on our economy as it scares away potential local and international investors. Giving reason  the Church cannot be silenced by unpatriotic elements in the society whose only stock in trade is their belly, Makinde said the Church is unapologetically committed to the restoration of moral and social values, good governance, democratic principles and effective socio-economic policies, reforms and interventions capable of turning around our collective fortunes as a people. Excerpts….
National security and Boko Haram
I have watched with seriousness events that have shaped our national discourse in recent times which have continued to reverberate in many ways since the post-election crisis which brought damning consequences. Of note are the continued attacks, killings and bombings linked to the Boko Haram sect which has become a national emergency. The level of insecurity in the country is at a red alert and there is urgent need for drastic measures to be taken so as to curb the potential catastrophe that looms in the horizon.
Already, many innocent lives have been lost to this madness, so also is property worth billions of naira as well as means of livelihood. This situation, if not brought under control, portends multiple catastrophic dimensions. It endangers our national unity; it continues to heat up the polity;  it drives away local and foreign investment which our economy so desperately requires and; our prideful place in the comity of nations will continue to be threatened, an example of which is our quest for a. permanent seat  in the United Nations Security Council.
The world needs to take us seriously and the only way to prove that we are to be taken seriously is to have domestic policies which will guarantee human rights, gender equality, safety of lives and property, religious tolerance, provision of basic human needs, strict adherence to constitutional democracy, true federalism and respect for rule of law.
The latest, efforts of the Federal Government at slowing down the insurgency of this sect through the use of the military and other relevant organs and agencies is laudable; the passage and signing into law of the anti-terrorism bill is also a step in the right direction. But, there is need for the intelligence agencies to always take seriously information that are offered pointing towards criminal activities in the nooks and crannies of this country. Shortly after Abdul Muttalab (in the US for alleged terror) was arrested and there were links to Yemen and Nigeria, the Christian Association of Nigeria, CAN, raised the alarm, that some extremist groups were being trained in some camps in the north. This was not treated seriously until they began to unleash terror on innocent people.
It would be recalled also that, several times, I raised concerns about the rising threat of home grown terrorism given the pattern which the series of attacks that took place within that period were taking. This current situation requires serious intelligence gathering, processing and action and the Federal Government must do everything seriously possible to empower, strengthen and equip all agencies relevant to this assignment. Let us keep this country safe. Our borders must be effectively manned because some of the perpetrators of this evil acts have been linked with some African countries. Government must have the courage and political will to get to the bottom of this insanity and all found culpable, no matter how highly placed, must not be spared. Nobody should be above the laws  of the land.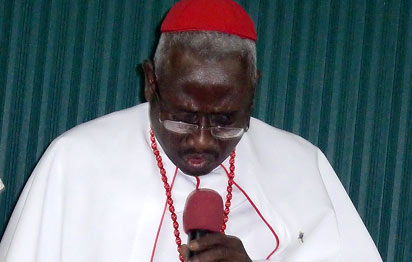 You sleep on your bed as you lay it. All these problems that we are having, like the Boko Haram menace, is as a result of long term neglect of the people by the political leaders of that region; long term neglect of the young people. Let there be employment. Without employment, there will be always be Almajiris. Let there be education. Just like Chief Obafemi Awolowo introduced free education in the West, education can be free at all levels and compulsory.
If our minds are clean, then things will be fine. Devil only looks out for the idle hand; curbing unemployment  is the first thing they should do. Security wise, we are in an emergency period; that is why the military has come in to intervene because lots of innocent lives have died. I will advise that the military should be proactive in their operation. The military are wise, they cannot just be killing people at random but something must be done.
Any method they employ now must be a civilised and democratic method. But government should go beyond that and identify the sponsors of this group. That is where government must develop the political will to deal with the issue. For the past 30 years that Nigeria has been battling with religious crises, nobody has been  convicted. Sophisticated weapons are used by these people and an idiot cannot handle bomb.
I am calling on Lagos State government to take note of reports we have been getting to the effect that young people are daily coming in from the north who often drop at Berger area and proceed to different parts of the state where they mingle with the rest of us for whatever reason. We must be watchful and also know those who sponsor them. When we know this, we will know where we are going to.
The government should not keep silent about the Boko Haram issue; if they do, they are only postponing the evil day. The military intervention must be very selective, democratic and also civilised. Give them education and provide jobs for the Almajiris. Our political leaders who engaged youths in causing riots should be exposed. The former Borno State governor was accused of sponsoring Boko Haram but I listened to his defence on television and it did not convince me because the defence is very weak. When these youths are used to win an election and after the election they will come back and fight back.
As the insecurity grows, will the Church  evacuate its members from the north?
Why won't churches ask their members to come home? I received a text message from one of our ministers that we are having only 25 members in the church. Why should they not leave a danger zone? Should we leave them where there is no security? This issue will affect our image, economy and those who are coming to do business in the country. When these groups are saying they don't believe in western education and civilization, what of the bombs that they are making and using?
I want to use this medium to appreciate the various Islamic organisations for condemning Boko Haram's  attitude.  That is why I am saying let us all sit and look at the pros and cons of this Islamic banking. Let NIREC and other religious bodies meet, not Sanusi Lamido Sanusi acting as the sole administrator of the system. Let us sit and jaw-jaw which is better than war-war. The consultation is not comprehensive; as long as we are seeing Islamic banking, Christians will not be comfortable because of our past experiences and these experiences were not there in Britain, Canada that are well organised.
The debate over Islamic banking
Another controversial subject which has generated and continues to generate animosity is the proposed introduction of Islamic banking. While I will not dwell on the merits and demerits of the idea, the heat it has generated calls for concern and serious attention. I use this medium to call on the National Assembly through its Committees on Banking and Financial Institutions, as part of their supervisory functions, to convey urgently a stakeholders summit which will include religious bodies and sundry organisations and let all fears and concerns such as the legal framework, operational guidelines, employment policies, funding, and other related subjects be thrashed out.
For example, the Central Bank governor, Mallam Sanusi Lamido Sanusi, recently, revealed that a group sought a banking license to operate as a non-interest banking operator in Nigeria under the name 'AI Qaeda Company' which some people suspected to have links with the world's most notorious terrorist group. There have also been speculations that the Central Bank would be funding the banks with tax payers' money for a period.
These are some of the areas of concern which needs to be addressed. Some have equally recommended that instead of calling this banking product, Islamic banking, it should be called  non- interest  banking. So, there is that need to have a coordinated and focused debate by all stakeholders where the pros and cons will be examined and its relevance to our overall economic growth will be looked at.
The fact that the operations of this system of banking will be guided by the Sharia law makes a lot of Nigerians uncomfortable, no thanks to the experience of non-muslims under the Sharia law in the states operating it. So, you can really not blame those opposing this idea. However, the way forward is to have a forum where this issue will be critically analysed and appraised rather than heating the polity unnecessarily. Yes, some have argued that Islamic banking is thriving in countries like United States of America, Britain, Ireland, Canada just to mention a few.
But we have forgotten that we do not have the same religious bias, intolerance and tensions which have brought about untold hardship to thousands of families and homes who have lost their loved ones to unnecessary ethno-religious crises which has plagued our country for nearly three decades with no end in sight owing to the lack of political will on the part of successive governments to bring the perpetrators to justice. So, the terrain is extremely different and this has to be put into consideration by the proponents of this idea.
Was there any consultation by the CBN governor, I will say no. Religious issues in this country are always very volatile and contentious and we must be very careful. If this type of banking is not carrying the Islamic toga, nobody will shout. We all know the number of lives this nation lost to the introduction of the political Sharia not too long ago which has now died politically and will never resurrect. We cannot forget in a hurry when a young Nigerian allegedly wanted to blow up an American plane in the name of religion and we are still thinking of introducing Islamic banking despite the shame the young man's act had brought to the nation.
I don't know whether we are not reasonable in this country. We have been having religious crises for the past three decades and many Christians have been killed, maimed, many lives destroyed. Why Islamic banking? The whole thing appears as though some people want to Islamize the country and drop the Holy Quran from the desert to the ocean; but we cannot just sit and look at this. If they called it non-interest banking, of course, nobody will be afraid. That is why I am calling for all stakeholders summit which will include religious bodies and other organizations, an opportunity to allay our fears and concerns. We want to know the operational guidelines, employment policies, funding and other subjects to be trashed out.
If they do that, then we will be rest assured that we know where they are going and that there is no hidden agenda.
That they are doing it in Ireland, England or Canada; have we witnessed religious crises in all those countries? Are they killing Christians there? Don't they have equal right to employment opportunities, to C of Os (certificate of occupancy) and others? Other nations are watching us. I am not opposing this government but the name Islamic banking sent fears into our spines because of our experience in this country where Christians have been killed and maimed. Gideon Akaluka was killed and paraded in the streets of Kano. On the present crisis, we have lost about three branches of  Methodist Church Nigeria and also many other churches.
I understand that one branch of ECWA Church in Niger and another in Suleja were blown up by the Boko Haram  sect. What is the business of churches  with  all these?; and when they say it is political crisis, you will see them burning churches. Are churches political or parties' headquarters? Why do they have to go to churches to destroy them and kill Christians? This is the moment of truth, the CBN governor should remove the word Islamic from it to non-interest banking. I will patronize the bank if it is non-interest banking, but the moment it is Islamic banking in a country where we are having religious unrest, our people need to be protected.
But the CBN governor said it is only court of law that can stop Islamic banking…
I will prefer that the Nigeria Inter Religious Council (NIREC) handles this matter because, in NIREC, which consist of 25 Christians and 25 Muslims, we have mature religious leaders who can sit down and discuss the pros and cons of the banking system. But I have not read where he said he would go ahead to establish the bank and that there is nothing anybody can do about it except the court of law. If it is true, he is only bragging, I am a Nigerian and he is also a Nigerian and he is not the only knowledgeable man in this country and Nigeria is not made for him alone.
I know he is a Sharia expert. That is why we are annoyed with his unguarded statements. What did he mean by saying it is only court that can stop him? He is assuming more than he is. The will of the people is very important. Christians will never cause any rancor in this country. Christians are agents of peace. Christ is an agent of peace. We cannot destroy, kill, maim or cause confusion in Nigeria because Christians built this country.
Those who fought for the independence of this country, 70 to 90 per cent of them were trained by missionaries; therefore we cannot destroy in our own time. But these people behave as if they don't care. Somebody made a statement sometime  ago that Nigeria is a full member of Organisation of Islamic Conference (OIC) and that there is nothing anybody can do about it. Well, if he thinks so, I wish him luck; but he should also know that no condition is permanent. We are not going to be watching things. When Sharia was introduced, it became impossible. When Sharia heat was so much, we lost lots of Christians but where is it today? Political Sharia has gone and spiritual Sharia stays.
Let Sharia law be administered to those stealing government money in the northern part of Nigeria; so that they can cut their hands and we see them anywhere they go. When somebody stole a cow or a goat, his hands were cut off while those stealing billions of naira go scot free. Is that fair? Is that justice? What they are saying is that Sharia is good for the rich and not good for the poor…political Sharia in quote.
Is it that nobody can tame the CBN governor?
My  advice to the CBN governor is that he should know that Nigeria is a multi-religious country. We are very intelligent and he cannot force down anything down the throat of Christians in this country, however big, knowledgeable he is; he cannot force anything down our throat. Sanusi is not more knowledgeable than anybody in the country.
The authority of Sanusi is repulsive, because of our experience with Sharia and other religious crises we have experienced in the North. Look at the beauty contest which Christians did not organize, but they started killing Christians. Inflammatory statements that will annoy other groups should not be uttered. For him to make such statement, he is putting petrol into the fire and let me tell you when the fire burns, he will not escape it. When you break coconut with your head, you will not partake in the eating.
Minimum Wage: Government vs Labour
On the raging N18,000 minimum wage, I am on the side of Labour and the workers. The federal and state governments must make sacrifices where necessary to ensure the payment of this money. These workers are very much aware of the bogus allowances of and expenditures made by the political office holders. They are aware that a senator  earns N45 million every quarter while a member of the House of Representatives earns N42 million. They are equally aware of the trips, estacodes and perks of office which these same people and their retinue enjoy while in office. So where is justice, fairness, equity and equal distribution of wealth? Nigerians are suffering and they cannot continue to languish in penury.
The National Assembly had made some sacrifice by reducing 40 per cent from their running cost. Is that not enough?
The Senate said they only cut the overhead cost and not the salary but this one is the minimum wage and I can tell you that N18,000.00 cannot feed someone, pay house allowance, school fees and transportation.
If we are reasonable enough, we should  cut down the cost of governance and go back to true federalism, and that is what we need in this country, and let us go back to parliamentary system of government. The British type of government is not expensive and, until we go back to true federalism, we cannot find ourselves.
The number of advisers, commissioners will continue to gulp our money and the poor people will continue to suffer. This is a country where we don't have  regular electricity, the roads are bad. The Benin-Ore, Lagos-Ibadan, amongst others, are in very bad shape. Go to hospitals, rarely will you find drugs there. It is terrible to be a Nigerian now; there are numerous unemployed engineers, and doctors. Some of the motorcycle riders are graduates. Let me add this, riding motorcycle for commercial purpose is only expressing the rate of poverty and bad governance in the nation. When you go overseas, you can't see people riding Okada.
Riding of motorcycle for commercial purpose is a manifestation of bad governance and lack of concern by political leaders. We should not be riding motorcycles for commercial purpose. Each time I see it, I shudder and it pricks my mind that our graduates are riding Okada to survive in a country that is flowing with milk and honey. Lord forgive us for we do not know what we are doing.
Subscribe for latest Videos