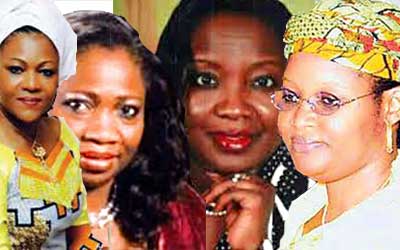 BY CLIFFORD NDUJIHE, Deputy Political Editor, GBENGA OKE & OBINNA EKWE
THE 2011 elections dealt women a devastating electoral blow, especially at the National Assembly. The  political mileage women recorded between 1999 and 2007 was eroded this year.
The 2007 polls witnessed a slight increase in the number of women in the Federal legislature. In 2003, the percentage of females was 2.7 per cent for the Senate and five per cent for the House of Representatives. In 2007, the figure rose to 8.25 per cent in the Senate and 7.22 per cent in the House.
At a time observers are saying that the increments were a far cry from the 30 per cent affirmative action prescribed by the International Women's Conference in Beijing, China in 1985, the figure has gone further down in 2011.
Only seven female Senators (7.63 per cent) and 19 Reps (5.28 per cent) were elected in 2011 as opposed to nine senators and 25 Reps that sailed through in 2007. Out of those elected in 2007, only three female senators and 11 Reps were re-elected in 2011.
In spite of women's topsy-turvy march in the National Assembly, most of those elected are women of substance, who are expected to play critical roles in the affairs of the Seventh National Assembly.
Notable women expected to shape events in the Federal legislature include Senators Chris Anyanwu, Zainab Kure, Nkechi Nwaogu, Nenadi Usman, Mrs Oluremi Tinubu, Helen Esuene and Aisha Jummai Alhassan.
In the House of Representatives, the women include Hon. Abike Dabiri, Mulikat Adeola-Akande, Nkiru Onyeagocha,Uche Ekwunife, Nnena Elendu-Ukeje,  Olajumoke Okoya-Thomas, Beni Lar, Khadija Bukar Abba-Ibrahim, Elizabeth Ogbaga, Peace Uzoamaka Nnaji and Juliet Akano.
There are also Maimunat Adaji, Suleiman Oba Nimota, Folake Olunloyo, Martha Bodunrin, Betty Okogua-Apiafi, Rose Oko and Nkoyo Toyo among others.
Chris Anyanwu, APGA, Imo East
Born in Ahiazu Mbaise Local Government Area, Imo State in 1951, Senator Anyanwu attended the University of Missouri at Columbia, and Florida State University, USA. She holds a Bachelors Degree in Journalism and Masters Degree in Mass Communication. A devout Christian, author, broadcaster, entrepreneur and philanthropist, Senator Anyanwu is the first female owner of a broadcast station in Nigeria.
She came into limelight in her days at the Nigerian Television Authority (NTA), beginning with her Youth Service at NTA Lagos and later as Oil and Science Correspondent on NTA Network News.  She also served as Political Correspondent covering the Second Republic National Assembly.  It was during this period that she came up with the idea of publishing a book of record on the federal legislature called "The Lawmakers of the Federal Republic", a book which began its publication in 1982 and has been sustained ever since. Today, THE LAW MAKERS is the official Book of Records of the National Assembly.
Between 1987 and 1989 she was appointed Commissioner for Information, Youth, Sports, Culture and Social Welfare in the old Imo State. Anyanwu is an apostle of more terms for lawmakers, which she said would enable them perform better on the job. She said she would be do better now that she has been re-elected.
Nkechi J. Nwaogu, PDP, Abia Central
The 54 – year old lawmaker, was first elected into the Senate in 2007. She is one of the three female senators that were re-elected. With a Master's Degree in Management, Nwaogu, in the last last dispensation, headed  the Senate Committee on Banking, Insurance and other Financial Institutions.  She was also a member of other Senate standing committees including the Constitution Review Committee, which recently succeeded in amending the 1999 Constitution of the Federal Republic of Nigeria thrice.
As Chairman of the Committee on Banking, Senator Nkechi  carried out her duties with aplomb and successes that awed many followers of the Senate.
Her committee over sighted agencies like the Central Bank of Nigeria, CBN, Nigeria Deposit Insurance Corporation, NDIC and a host of others, creditably. Her most notable contribution was sponsoring a bill that gave birth to the Asset Management Corporation of Nigeria, AMCON, with the primary mandate to buy off toxic banks' assets thereby creating stability in the Nigerian banking sector.
Oluremi Tinubu, ACN, Lagos Central
Born in 1960 as the 12th child of Chief and Mrs. John Ikusebiala (Odugbesan) of Ogun State, the wife of Action Congress of Nigeria (ACN) National Leader and former Governor of Lagos State, Asiwaju  Bola Tinubu, is a first term senator.  She had her secondary education at Our Lady of Apostles Secondary School Ijebu-Ode. She holds a Bachelor of Science Degree in Education (Biology) from University of Ife, now known as Obafemi Awolowo University as well as a National Certificate of Education in Botany and Zoology from the Adeyemi College of Education.
Her interests lie in the promotion of the rights and dignity of the poor, disadvantaged and most vulnerable members of the society. One of her major achievements as First Lady of Lagos State from 1999 to 2007 was the establishment of New Era Foundation, a non- governmental organisation, which is geared towards voluntary social service through programmes that are geared towards youth and women development.
Nenadi Usman, PDP, Kaduna North
Born about 40 years ago, Mrs. Esther Nenadi Usman, who hails from Jere in Kagarko Local Government Area of Kaduna State began her education in Jos, then later Kagoro, after which she attended the Federal Government College, Jos, Plateau State. She later acquired her first degree in Geography at Ahmadu Bello University, Zaria and later a postgraduate diploma from University of Jos.
She taught briefly at Government Secondary School, Kagoro, and soon after was appointed Executive Adviser on Youths and Sports to the Kaduna State Government, and later Executive Adviser on Information, Home Affairs and Culture. She was also commissioner in three ministries  – Women Affairs, Environment and Natural Resources, and Health.
Mrs. Nenadi Usman has been a very active politician, philanthropist and public servant. She served as a member Kaduna State caucus of the defunct National Republican Convention (NRC). She was also a member of the House of Representatives, representing Kachia/Kagarko Federal Constituency under the United Nigeria Congress Party in 1998. She has played a major role in women empowerment as she had a pivotal role in the formation of an NGO called "Education and Empowerment for women" with its headquarters at Jere in Kaduna State and she is the present chairperson of the Coalition of NGO´s for Women Development in Kaduna State.
Helen Esuene, PDP, Akwa Ibom South
The 61 year old widow of former military governor of old Cross River State, UJ Esuene, has the political clout to make impact in the Senate and has promised to do so to the benefit of her constituents and the nation at large.
Mulikat Akande-Adeola, PDP, Ogbomosho North/South/Orire, Oyo
Akande-Adeola is a second term Rep having been first elected in 2007. Born November 4, 1957, she has a Bachelor's and Master's Degrees in Law. The former legal adviser of CMB Homes Limited, has interests in water resources, judiciary, marine transport, power and energy, youth development. Akande-Adeola, who is interested in leading the House of Representatives wants to initiate and support legislation that would impact positively on her constituents and Nigerians in general.
Uzoamaka Nnaji, PDP, Nkanu East/Nkanu West, Enugu
Nnaji was first elected in 2007 and is on her second sojourn in the House of Representatives. Born 58 years ago, she has a Diploma in Social Work and is determined to exploit her legislative experience to attract more projects to her constituency and shaping events in the House.
Beni Lar, PDP Langtang North/Langtang South, Plateau
Lar is one of the 11 female Reps that were handed return mandates. She was first elected in 2007. With a Bachelor's Degree in Law, Beni Lar has enormous legal and legislative experience at her disposal now and is set to exploit them maximally.
Olajumoke Okoya Thomas,  ACN, Lagos Island I, Lagos
Another returnee Reps, Jumoke contested and won in Lagos Island I Federal Constituency, Lagos State. Born January 1, 1958, the 53- year old lawmaker wants to make it a juicy time for her constituents in terms of development and poverty alleviation.
Abike Kafayat Oluwatoyin Dabiri Erewa, ACN, Ikorodu, Lagos
The third-term Rep embraced partisan politics after a brilliant Journalism career.
Dabiri-Erewa started her educational career at the Maryland Convent private school, Ikeja. For her secondary education, she attended St. Teresa's College, Ibadan. Thereafter, she attended the prestigious University of Ife (now Obafemi Awolowo University, OAU) Ile – Ife where she obtained a degree in English Language. She continued her quest for knowledge at the University of Lagos, Akoka and obtained a post graduate Diploma (PGD) in Mass Communication and later a Masters Degree in Mass Communication. She also had a stint at the Kennedy School of Government, Harvard University, USA.
She chaired the House Committee on Media & Publicity and later House Committee on Diaspora Affairs, a new committee that was saddled  with the challenge of ensuring that Nigerians in Diaspora are integrated into development activities of their fatherland. She was strong and vocal in the House and always stood by the principle and ideals she believed in. Dabiri-Erewa played leading roles in the passing of the Freedom of   Information Bill, which President Goodluck Jonathan signed into law last week.
Rose Okoji Oko, PDP, Ogoja/Yala, Cross River
Oko, 53 is one of the few amazons from Northern Cross River and has remained consistent in public service for about two decades. Born on  September 27, 1956 in Okpoma, Yala Local Government Area of Cross River State, Dr. Oko had her primary education at the famous Holy child Secondary School, Mount Carmel, Igoli, Ogoja and obtained the WASC Division One in 1974 before proceeding to acquire a Higher School Certificate from the Federal School of Arts and Science, Ogoja in 1976.
Her quest for knowledge propelled her into the University of Calabar, where she obtained BA (Hons) Linguistics and an MA Linguistics in 1981 and 1984, respectively.  Oko obtained a Ph.D (Linguistics) from the University of Port Harcourt in 1990.
A renowned teacher and lecturer at various times at the Cross River State School of Basic Studies now College of Education, Akamkpa and University of Calabar, Dr. Oko is the first female Commissioner for Education in the state between 1989 to 1991; Chairperson, Better Life Programme, Cross River State, 1990 – 1991; Director-General, National Defence and Security Council in the Presidency, Abuja, 1993; National Commissioner, National Electoral Commission Headquarters, Abuja 1993; Director-General, Provisional Ruling Council, Cabinet Secretariat, Abuja, 1993 to 1994; Federal Commissioner for Refugees Council, Bida Polytechnic, Niger State, 2008.
A frontline politician and member of the PDP, Dr. Oko has been in the political circle since the return of democracy in 1999.
Khadija Bukar Abba, ANPP, Damaturu/Gujba/Gulani/ Tarmuwa, Yobe
The 44-year Khadija, was First Lady of Yobe State for eight years between 1999 to 2007. She is on her second journey in the House of Representatives having been first elected in 2007.