The National President of the Christian Association of Nigeria, CAN, Pastor Ayo Oritsejafor recently came under severe verbal attacks from certain quarters because, like Biblical Prophet Isaiah, he dared to point accusing fingers at those he perceived to be troubling the nation.
In this interview with SAM EYOBOKA and OLAYINKA LATONA, the fiery gospel preacher refused to join issues with the CPC presidential candidate and his co-travellers, insisting that "you cannot build a nation on anything less than the truth." Excerpts…
Post-election violence in the North.
We condemn in strongest terms the unprovoked post-election violence in parts of the North where hundreds of innocent Nigerians, including nine National Youth Service Corps, NYSC members were dispatched to their early grave.
As I have said before in an earlier response, the violence was absolutely unnecessary, barbaric, primitive, crude and the most senseless thing to do at this period of the nation's political history. There is only one way the Nigerian nation can arrest incessant ethno-religious crises in the North and it is by an urgent amendment to our statutes that will make host governments of such violence accountable for the mayhem.
Many Nigerians have called for a Sovereign National Conference as the only viable option to address some imbalances in our nation because as a nation, we cannot continue with this culture of impunity. Without prejudice to the outcome of the panel set up by the Federal Government, I will suggest that state governors where such violence occurs in the future, must be held accountable for any loss of lives, property and business premises.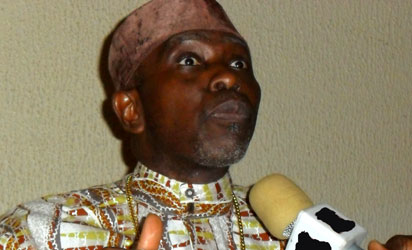 The National Assembly should enact a constitutional provision making it mandatory for the Federal Government to deduct huge monetary compensation from the statutory allocations of such governments. Such deductions from the states and the host Local Government's monthly allocations should be given directly to the affected persons or worship centres.
In addition, I will advise the president to immediately summon all the 36 state governors and the leadership of all the security organisations in the country to a crucial meeting where the governors, as the chief security officers of their states, should make a commitment to maintain peace and guarantee lives and property of all Nigerians in their respective states.
Since the Federal Government has no constitutional authority to sanction the respective governors for security breaches in their states; the governors should make a public declaration to ensure the safety of lives in their domains. I consider this very crucial because the socio-political progress of this country depends to a very large extent on how we all, without any pretence, can stand in brotherhood despite all our religious, ethnic, tribal, political, economic, social and all other differences.
I think it is also important for the federal and state governments to look into the possibility of compensating, not just the youth corpers, but many families of those who lost their lives during this last madness. They must be compensated. For example, we have figures that we will submit to the investigating panel. We have figures of Christians that were killed. I can tell you that, at least, 84 churches were burnt down and I can go on and on.
At least those churches should be rebuilt and if there are mosques that were burnt down, they should also be rebuilt. Compensation should be paid for property lost, because if we don't begin to do that, then we are encouraging this sense of impunity that has taken over this country – where people can just wake up and do whatever they like because they feel they can get away with it.
So, compensation is very important and it should be huge so that the federal and state governments would feel it, and next time they would guard against such occurrence. Above all, they must fish out those behind the crises. Where do these uneducated young boys roaming the streets get the guns and ammunition from?
They don't have money to feed, not to talk of buying guns. Who gave them these guns? They are not educated, how did they know who was losing and winning elections? Who told them? Who planned these things? There are people behind these things and such persons should be brought to book.
They are out there and the security agencies know them. When some of us come out to talk like this, they say we are too radical, we are too vocal but truth is truth. You cannot build a nation on anything less than the truth. What we are saying; let the right things be done.
You recently got some verbal attacks for calling for the sanction of the CPC presidential candidate, Major Gen. Muhammadu Buhari over the post-elect-ion violence. How did you react?
I think I sho-uld not sit here and respond to foolishness. I think I have outgrown such things. People who are spok-esmen and spokeswomen should understand that if they have no regards for their religious leaders, there will be no regards for them. I repeat, I will not respond to foolishness.
There are people who have a mark of foolishness on their heads and they should be left to their foolishness. Anybody who knows me knows what I stand for.
Some of you have been around me for so many years and you know what I stand for and know what I have done over the years. People who for whatever reason, now want to defend certain things should be left to their own foolishness.
Should the NYSC Scheme be scrapped as a result of inse-curity to memb-ers?
The debate ra-ges for very obvious reasons. There is no parent who would be happy to see his/her child slaughtered by some mindless scoundrels while serving the nation after the completion of his/her education. It is sad that certain values we held dear, like the sanctity of life, respect for elders and many more African traditions are being eroded daily by imported culture. It becomes difficult for one to say that the scheme has outlived its usefulness.
A close observation of happenings in the country today will reveal to any discerning person that, Nigeria, as it is presently constituted, is more divided now than in 1970 when the war ended.
I believe that Nigeria will on the long-run benefit from the scheme than we have ever imagined, as our young minds are allowed to interact peacefully among people other than their own. I think the scheme is still necessary, but if the federal and the host state governments cannot guarantee members' safety then they should be made to serve in their respective geo-political zones; because we cannot continue like this. It's not right.
Again, I will recommend that the National Assembly take an urgent look at the NYSC Act with a view to making it mandatory for governors to guarantee the safety of corps members and in the event of violence that takes the life of any corper, the state government should be made to pay huge monetary (amount to be stipulated by law) compensation to the bereaved family. That is the only way there will be a sufficient deterrent.
Religious harmony
Religious harmony is very necessary for the nation's unity and progress, beca-use if it is not there, then we are wasting our time. Nigeria is a religious country. We cannot deny it or pretend that religion is not an essential factor in this country. It is; and the two major religions are Christianity and Islam. We must work together. We don't have a choice.
We have to work together and we can work together because if we can just muster enough sincerity of purpose and talk to our followers, a lot of things go wrong with those, who for example preach in the churches and mosques. We must be able to hold them accountable for a lot of the things that happen in the places of worship—things that are said to engineer people to do some of these things that they do.
Politicians must refrain from using religion to fight their political battles and those of us who are reli-gious leaders must not allow them to use religion to achieve their political aims. It is very pathetic that, just before the April election, a certain political party was labelled a Christian party in the North while another was said to be a Muslim party. What was the purpose of that? Let us not run away from the truth, it was to turn the political space into a religious battle instead of making it purely a political affair.
They say we shouldn't talk like this because we want Nigeria to be united. Oh! I want Nigeria united, but who is it that will want his own brother and sister to continue to pay the price for the unity of Nigeria for ever? It takes two to tango. We must be together, we must respect each other. We must understand that we are together in this arrangement called Nigeria. So, one side must not continue to pay such heavy price for the unity of this nation.
These things don't happen in the South. How many worship centres have you heard were burnt in the South? How many of these things happen in the South?
I know they say the Media should publish things that will unite the nation; but the question is: At whose expense? Nobody seems to actually hold people responsible for what they have done. It is when it has happened, you turn around and say 'be quiet; don't talk; remember Nigeria must be one.' Nigeria must be one; but at whose expense? Again and again, the same people continue to pay this price. They are tired. As a leader, the pressure on me is heavy.
We have Muslims all over the South who go about their lives peacefully. Nobody molests them. They do their businesses without let and get C of O to build mosques. But do Christians enjoy the same liberty in the North? I want to even say to this group of Muslims in the South that they should come out with boldness to tell  their colleagues in the North about the kind of freedom they enjoy in the South. They should tell them to please give our people the same freedom in the North to go about their lives peacefully.
Subscribe for latest Videos