*How FG can save steel industry
By Emma Amaize, Regional Editor, South-South
THERE is no way you would visit the Delta Steel Company, DSC, Ovwian-Aladja, Delta State, the foremost integrated steel plant in Nigeria and south of the Sahara,  formerly owned by the Federal Government, but now sold to an Indian company, Global Steel Holdings Limited, GSHL, headed by  Mr. Pramod Mitel,  without weeping for Nigeria. No matter how you look at it, it is clear that all is not well with the company, presently owned 80 per cent by a foreigner and 20 per cent by Nigeria.
GSHL has its corporate office in London and trading/investment offices in Dubai, Singapore and Shangai with  a 14- million tonne capacity in steel making, both in flat and long products segments, including coated products, but you would moan at the rot of  the massive investments and machineries  lying desolate and grossly underutilized in DSC, which it acquired in 2005;  missed opportunities and targets, as well as brood over if, in point of fact, the Federal Government  understood the significance of the steel industry to the technological and socio-economic development of  the nation.
Sunday Vanguard was taken on a guided facility tour of the company by the Nigerian-born Group Managing Director, GMD, of the company, Dr  Samuel Nwabuokei, in company of the  Acting General Manager, Public Affairs, Mr. Kesona Agbosa, Monday, 13 June to assess the situation following our request and complaints from stakeholders that the company was being run high and dry by the Indian owners.
Allegations
Part of the story was that when the Indians came in 2005, the  direct reduction, pellet and foundry plants, which were in good condition but non-operational because of lack of raw materials, have been impaired; that  proper maintenance was not being carried out on the facilities while available ones were been cannibalized; the Indians are  siphoning  wealth away to India through various means; the company was promoting expatriates above their Nigerian counterparts;  is  inconsiderate to the welfare of Nigerian workers and lots more.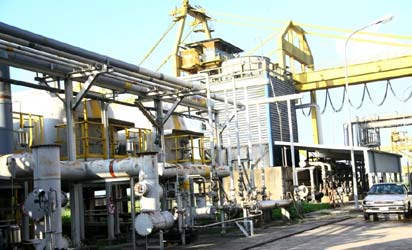 An insider, however,  said, "One thing you cannot take away from the Indians is their die-hard spirit. The chairman believes  the plant must  produce at all costs, but the problem is that things are being done to the detriment of the workers and the company itself. The truth is that the DSC plant is dead, what you are seeing is just a façade and the Indians are not providing any new equipment, even a forklift.
"The Indians are like termites. You know what termites do when they enter a house, they will go round the house and leave a beautiful design and you would think that all is well, but the inside of the roof is gone. Because we were collecting iron ore from Itakpe Iron Mining Company and Ajaokuta Steel Company before, it looked like we were doing well, but since there was no longer free raw materials, we cannot produce anymore. We are running on scrap, most of the machines are in coma because there are no input materials and rust had set in".
He added:"Some of the Indians workers are also not happy with the owner of the company too, it is not just the Nigerian workers alone because they are also owed. It is true that production is going on, when they bring you here, they will show you things to tell you that we are operating, but the workers are not happy. Today is June 16, we have not been paid our April salary and they expect us to work.  We are like the children of Israel and only hoping that God will deliver us".
Our story, by Nwabuokei
Nwabuoke, a former University of Benin (UNIBEN) don,  who spoke to Sunday Vanguard in his office clarified, "The company is not in the business of making life difficult for anybody. The administration is dependent on what the labour law says, nobody is maltreated. But what I will tell you is that we operate a specific kind of business, steel making, we are not in a ministry, we do actual production and people should abide by the rules".
On the lack of maintenance and cannibalization of spares, he said, "It is not true that maintenance are  not carried out. We don't produce spare parts. You have to fly in these spares, you have to give six months notice, you have to open local purchase order for things you are going to need even in six months time. So, you have to do a lot of planning to know what you will need at a point in time to keep the plant running because there is none you will  go inside Warri or Port Harcourt to ask somebody to give you quickly to run your business. What we are talking about is a steel plant.
So, the steel plant is maintained, the furnaces you are talking about, furnace 4 and 2 are running now, even the one that the roof collapsed is running, the third furnace is working, we just brought in a new oxygen compressor. You were interested in the foundry, we brought in a new panel, they are hooking up electrically so that they start work, they produce non-ferrous casting,which is going on before now.
"You see, people stay in their houses and are telling stories but we are here working practically 24 hours a day to produce steel. We have about 3,000 staff and to be able to pay their salaries and cater for their welfare, the plant has to be running; there is no free lunch anywhere, we have to work to be able to gather the money to pay staff.
"Each of the equipment is a manager-model machine attached to a particular staff. So, the maintenance procedure is clear and when they say the company produces at all costs, the machines were not made to go on leave, you don't buy a machine to work for you in a week, then you work for five days and say, it should go off for two days. Off to do what, you were bought, you were made to do continuous work, all you have to do is to carry out your preventive maintenance, carry out all your maintenance schemes, which we do. We have our own standard maintenance practices, which we follow".
'Indians 've not hijacked DSC'
On the allegation that Indians have taken over the company, the chairman said, "Indians are just 120 staff here out of 3,000. About 2,000 are on direct employment and the remaining 1,000 on contract employment.
The Indians are here to train Nigerian workers. You know that when the Federal Government privatized DSC, all the staff were went packing and  the new owner, GNIL, decided to take a certain number of staff and replace some with new generation workers; so they had to bring in some Indians and old staff with specialized skills to train them, that is what we are doing. We are even carrying twice the number of staff we are supposed to be carrying because some of the  new staff are undergoing training and not productive yet".
He also debunked the allegation that the company under the new ownership does not pay pension to workers and only gives a staff  member his basic salary of three months  as retirement benefit, saying, "There is contributory pension scheme and we are paying seven and half per cent; if you like, send EFCC and SSS to come and find out, there is a process, people just make wild allegations".
Nwabuokei said  technology was being transferred to the next generation  of steel producers in the country with the way things are going  in DSC.
According to him, it is not true that Nigerians  are  not being promoted in DSC, saying, "I have just finished a promotion exercise of the workers, I am just signing it. There is nothing like anybody saying workers will not be promoted in the next five years. Promotion goes on indefinitely but if you are talking about a new salary structure, re-negotiating a new structure, that is a different kettle of fish and that does not stop people from being promoted along agreed conditions of service".
On the alleged  discrimination against blacks by Indians in DSC, he stated,  "I think the trouble is  that the people who came the last time, the union gave them a piece of their mind. I don't think those guys will ever come here again. But what I will say is that maybe the different cultures  are difficult for some people to comprehend. How many Indians do we have here, who is supposed to be shaking? 127 people with these hordes of black people all over the place, they themslves are the ones that should be jittery every morning.''
Corroboration
A national officer of the Iron and Steel Senior Staff Association of Nigeria, Mr Pius Ebhaleme corroborated the claims of  Nwabuokei, saying, "The story you have been told about Global marginalising workers is not true. Global took over DSC in 2005. Before then, there was no production for about 10 years. We started production when they came and, as workers, we have negotiated for salary review two times and we got  increases. Currently, evaluation and appraisal is going on.
"As I speak to you, no fewer than 600 trainee graduates have been employed by the company. We have conditions of service here;  if you retire, you will be paid gratuity and we have a contributory pension scheme. The worker contributes seven and a half per cent of his salary and the country  pays  seven and a half per cent".
Facility tour
Sunday Vanguard was conducted round the various units of the company by the GMD. From the pellet to the direct reduction  and later to the foundry plants, including the lime plant. Nwabuokei said the pellet and DRI plants were not being operated  because there was no iron ore. He, however, said the machineries had to be on occassionally because of the rot that would set in if they were not energized and the company was doing that at great costs, hoping that, one day, Itakpe would be given back to it.
We visited the steel melting shop, which was being used to melt steel despite the damage, weeks back. The damaged roof was being repaired on that day, but a staff member  told Sunday Vanguard, "That is how they treat us here, they are asking to work with that place open; anything can happen as we are working in this place, it is dangerous but that is the condition we found ourselves here".
In deed, a new oxygen compressor had been installed for the oxygen plant. Sunday Vanguard was shown the new facility as well as the new panel in the foundry plant, which  Nwabuokei said was working, contrary to the story being peddled by the company's accusers.
One of the workers at the steel melting shop complained that they had not been paid their salary, saying, "How will they be using people to work here without paying them, are we not human beings"?
Nwabuokei admitted that the company was owing workers but, according to him, "not all of them are being owed; the junior  ones have been paid. I think they have been paid April, May is what is outstanding. You see, the disaster we faced (collapse of the SMS) did not help matters but if you go outside, you will see the circular, it  is on the notice board, all of them will be paid soon. It it was a big problem, nobody will be working, they know that".
Findings
Beyond the cat and mouse relationship between the company and some of its stakeholders, Sunday Vanguard found out DSC requires urgent help from the Federal Government to save the the nation's leading integrated steel industry from collapsing.
Raw material dilemma
The first major problem confronting the company is that its only source of raw material, the National Iron Ore Mining Company, Itakpe, is no longer producing. Itakpe was conceded to DSC, but, for unclear reasons, the concession  contract was terminated in 2008. At the moment, the DSC is running on 100 per cent scrap, while the plant was designed to handle 80 per cent direct reduced iron and only 20 per cent scrap. Some people expressed the fear that the company might be producing inferior products as a result, but the GMD said the suspicion was far from the truth, as there was nothing off beam with it.
Information showed that since 2008 when GNIL was sent packing, no mining of iron ore has been done at Itakpe and the facilities were also being vandalized and stolen, yet the raw materials needed for DSC, which Itakpe was established to service, are not available. A forward-looking government should have tidied up whatever problem there is , and not allow it to befog a national agenda as is the case presently.
Escravos Bar and criss-crossing oil pipelines
According to the GMD, "Delta Steel Company is a one-million tonne capacity utility plant with a capability to produce 950,000 metric tonnes of billets and 320,000 metric tonnes of rolled products. The company was supposed to be using iron ore, either imported or from Itakpe but the dredging of Escravor Bar and removal of the oil pipelines criss-crossing the  Escravos Bar were part of the design of DSC, such that ships that required draft levels of about 15 metres can come in safely.
(This same problem has killed Warri Port, that is why ships don't come to Warri Port with all that huge investment), so we cannot import economic quantity of iron ore, say like you charter a ship that can carry 50,000 tonnes and you put 18, 000 to 19,000 tonnes in it, it is not economically wise, you know freight rate is 80 dollars per tonne".