By Chioma Gabriel
Senator Joy Emodi has been  re-arranging her life since her tenure in the Senate was brought to an abrupt end by a court ruling that faulted her election.
In this encounter, the Senator, popularly called 'Joy of the Senate'  by her colleagues answers questions on life after her ouster from the Senate.
Excerpts.
What have you been doing since you left the Senate?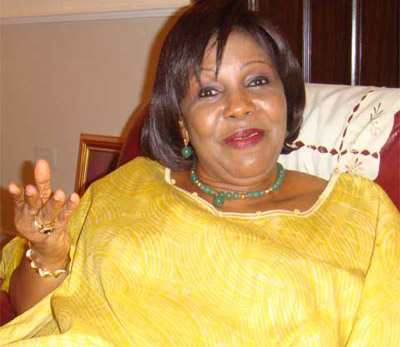 I feel grateful to God that I had the opportunity to serve my nation as a Senator and I thank God that I am appreciated for the work I did through text messages, calls and letters I received. People appreciated my contribution when I was in the Senate.
I made an impact and tried to better the lot of my people. The essence of service is not just going to serve but being selfless in serving the people. The most important thing is not just going to serve in order to answer a name but to deliver the good and satisfy the people you came to serve. I believe I did.
No wonder you were called the 'Joy of the Senate'.
Well, I am happy that I had a good relationship with my co-senators and I still have a very good relationship with my colleagues. You can hardly see a colleague of mine in the Senate who doesn't have a friendly relationship with me. I had that impact.
So, what are you doing now?
I have gone back to legal practice. I'm re-organisng my practice and I intend to re-position my NGO to continue assisting the less-privileged in the society. This is an opportunity again for me to push myself harder to continue with my passion which is helping the less-privileged and the younger people: the orphans and the unemployed. I help the widows, the orphans and the less-privileged through empowerment.
I set out to empower the widows instead of giving them tokens. I am committed to empowering them through grants, setting up things for them, giving them grants to start off. And for the youths, I help them through skill acquisition because I believe in self-sustenance; pushing through to find employment for the unemployed because you cannot enrich somebody's life by just giving him token.
You enrich somebody by teaching him to fish, rather than giving him a piece of fish from time to time. That is what I do for widows and I'm happy that many are doing well today and are able o feed their families and send their children to school.
It gives me joy and fulfillment and it also gives me joy that those I put through skill acquisition are putting food on their tables today and equally taking care of their parents. We also go to orphanages to give them assistance in terms of food and money, and also during such periods we take them out to mix with other children and feel what the outside world is like and also interact with the children from normal homes. Getting employment for young people is my passion.
When I was in the Senate, I was moving from one place to the other seeking employment for the unemployed. When people realised I was helping people get jobs, they bombarded me with their CVs and up till today, they still come here and I still push through various companies to help the unemployed. Some of them are desperate and they see me as the only source of help. And I don't feel happy when I realize the jobs are not there for these young people.
You know I gave out a lot of scholarships and one feels bad after training all these people and then realises there are no jobs for them. So, I try as much as possible to circulate their CVs and relate with people to help me secure jobs for these young people. If you come to my office, we have our records of these people but let's not talk about number here.
Helping the less-privileged gives me fulfilment. I feel happy whenever the young people who passed through my scholarship scheme graduate from universities but when there are no jobs for them, that really worries me a lot because I want to see these young people fulfilled by getting employed after their graduation especially the indigent and intelligent students. That really gives me nightmare. I have university graduates who enjoyed scholarship from my Foundation. Some of them have jobs but I am still searching for job for others.
Would you say there are advantages in your being around your family more often these days?
Really, I have more time for myself now. I am re-organising my legal practice because I am going back to it and I work at my own pace now and stay around m y family more often.
If there is anything that bothers me, it is seeing these young unemployed people come around to stand at my gate to know if there is hope in their ever getting employed; some send me e-mails and text-messages reminding me and some call directly. I don't feel good about this. It makes me very unhappy when people come to me for help and I realise I cannot help them.
Would you go back to the Senate if the opportunity calls again?
Of course. I'm known for service. You know the election in my constituency was very controlversial. If I have an opportunity to go back, why not. That's the life of service and that's the life I'm still living somehow. My legal practice is a life of service and my NGO is also offering service to humanity. The issue of the controversial election in my senatorial district is not yet closed and if things work out in my favour, then the Joy of the Senate would return.
You know, they gave me that name during my first outing in the Senate. But I know that I enjoyed friendship with my colleagues, both males and females.We were like brothers and sisters. We enjoyed the Senate, especially the leadership.
The President of the Senate was fair-minded and very firm. He carries us along and once he sees your point, he gives you all the support. The principal officers of the Senate were also very fair and firm. There were no controversies because of the good leadership. And at home, I'm happy. My grand-children keep me company. They go to school and come back. I have a lot of time for them and I'm more relaxed .