By Chioma Gabriel
Ebele Azikiwe Jonathan: A Goodluck foretold
Twenty-four hours from now, Goodluck Jonathan would be sworn in as Nigeria's President for the next four years. It was not an easy road to victory for Nigeria's fifth civilian President. Jonathan is known to be one man who has been favoured by the elements.
His name depicts everything he has become in life. As it suggests, Nigeria's President Goodluck Jonathan is one man who the elements have strategically positioned for success. His rise has been meteoric and he has a habit of being in the right place at the right time.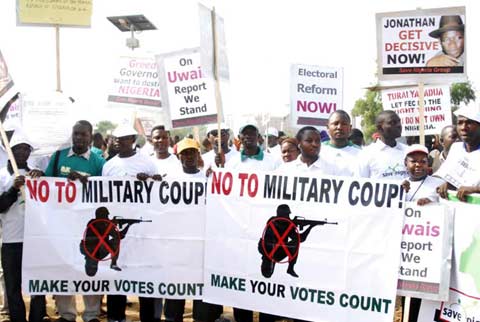 He  was born in 1957 in the oil-rich Niger Delta region, a Christian from the Ijaw ethnic group. He came from a family of canoe-makers  but he studied zoology at university.
He worked as an education inspector, lecturer and environmental protection officer before going into politics in 1998.
In the realm of politics, his rapid rise to power at both the state and  federal levels owed a lot to luck. He was elected deputy governor of  his home state, Bayelsa, in 1999 and became governor by circumstances. His boss was impeached on corruption charges.
At the federal level, he started  by serving as a low-key deputy from the south-south of  the country to a humble President Umaru Yar; Adua from the north. That was until November 2009 when President Umaru Yar'Adua was taken to hospital in Saudi Arabia and was not seen again in public until he died on May 5 2010.
Fate was kind to Goodluck Jonathan when he was finally accepted as acting President in February 2010 after much political wrangling.
When Yar' Adua died May 2009, Goodluck Jonathan was sworn in as the new President and Commander-in-Chief of Nigeria's  armed forces
At the onset of campaigns for 2011 general elections, Goodluck Jonathan didn't seem to stand a chance. The circumstances surrounding him were controversial because he is a minority Southerner and a member of a political party being controlled by a strong Northern cabal at the time.
Moreover, the zoning arrangement in the ruling PDP did not favour him. But Jonathan was to defy the ruling People's Democratic Party's tradition of alternating presidential power between north and south after two terms of office by contesting and winning the party's primaries against all odds; defeating the consensus candidate of  Northern Political Leaders Forum, Atiku Abubakar.
He was also able to secure a massive victory in the election itself.
Clearly, this is the first time Jonathan has secured election victory on his own and much is being expected of him. He now has plenty of time to make a real mark on Nigerian politics.
Nigeria's First Lady: The Patience behind the Goodluck
Behind every successful man, there is always a woman. In the case of President Goodluck Jonathan, his wife Dame Patience Jonathan looms larger than life. Her profile as First Lady began to rise after her husband was sworn in as substantial President in May 2010. As wife of the then Vice-President and later Acting President, Dame Patience was seen but not heard.
She was born into a Christian family of Chief Lazarus Iwari-Oba at Port-Harcourt in Rivers State. She obtained the National Certificate of Education (NCE) in Mathematics/ Biology in 1989 from Rivers State College of Education and a Bachelor of Education in Biology and Psychology from the University of Port Harcourt, Rivers State, Nigeria.
Dame Jonathan's working experience spanned through Teaching, Banking, Sports Administration and Civil-Service before she became the wife of Goodluck Jonathan.
As the First Lady of Nigeria, a position she assumed after her husband was sworn-in as President following the death of President Umaru Yar'Adua, she has been associated with the socio-economic upliftment of the Youths and Women of Nigeria.
Those who know her very well describe her an amiable woman who is endeared to many people for her philanthropic and charity works. She is the founder of Aruera A. Reach out Foundation that has trained over 4000 women in different skills to enable them take care of themselves and their families.
To many, she is a role model who has never stopped adding value to people's lives with her charity works. She has often helped  the less-privileged and the orphans through her scholarship awards to children of the less-privileged in the society and medical support and assistance to children with heart conditions.
In recognition of  her charitable, political and humane contribution to society, she has received many international and national accolades.
However, in her husband's days as Bayelsa Deputy Governor, Patience, was investigated by anti-corruption officials in 2006 over allegations that  she tried to launder some $13.5m (£8.5m) but she was not found guilty of any wrongdoing .
Namadi Sambo: Nigeria's Vice-president
Namadi Sambo, Nigeria's Vice President was the governor of Kaduna State before May 2010 . He was elected governor of Kaduna State in 2007 on the platform of Peoples democratic Party, PDP but on the demise of former President Yar'Adua, the then Vice President Jonathan was moved up to become the President, creating  room for a replacement . Namadi Sambo was chosen from a list of other nominees.
Before he became Kaduna's governor in 2007, he had stints as the state's commissioner for agriculture, and works; transport and housing in the 1980s, and spent several years in private practice as a prominent architect. As a governor, Sambo made several promises but was criticised for not fulfilling some of them.
For example, he was said not to make much progress on plans to improve the state's health and education facilities, water supply and roads.
His main success was in the area of security – a big issue in Kaduna, which has suffered in the past from ethnic violence.
Sambo presided over Operation Yaki, a task force which brought together the police, the military and other security services to deal with crime in the state.
He is known to have a good head for business, which is good for a country where the line between politics and business is often quite blurred.
It is  believed that was why he was chosen as President Goodluck Jonathan's deputy.
Namadi Sambo is seen to be very loyal to President Jonathan especially during the last presidential election.He was born in Kaduna state in 1952, a practicing Muslim and is married with six children.