BY EMMANUEL EDUKUGHO
To accelerate industrial development, harness the human capital potentials and enhance productivity, two university students have devised a new educational system which can positively transform the nation.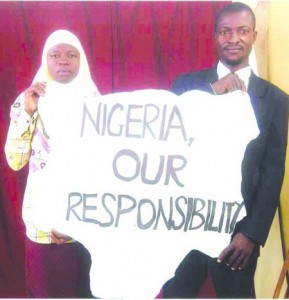 Mr. Daud Yusuf of Lagos State University (LASU) and Miss Olubukola Alaka, from University of Ado-Ekiti, came to Education Vanguard to present what they termed as an invention, calling it "A New Unique World Class System of Education", with a variant going along with it tagged: "Best Fit Political System for Nigeria."
Both works which took several years of research formed the entire project which the duo described as "Documentary on how Nigeria can be transformed into a strong, dynamic country through our invention."
They explained that the World Class System of Education involves the following:
* Increased productivity aimed at making Nigeria a producing nation of industrial goods such as automobiles, aircraft, machinery, construction equipment, etc, likely to solve the problem of unemployment completely or most comprehensively;
*That productivity will start from school early in life exposing children to their areas of interest as both professional and academic qualifications will be obtained at each level of education;
*Government at federal and state levels will be empowered to finance education from preparatory to university level, free of charge, because the revenue/profit from production will be shared 50-50 between government and school;
*The child will be exposed to his/her discipline as early as possible;
*Teachers won't be limited to classroom work alone, but also work in industry;
*University graduates will be finished products and need not be retrained when in employment;
*The National Development plan will be education-driven; and
*The entire system channeled towards productivity and social welfare.
In respect of Best Fit Political System for Nigeria, the main objective is to re-order, review and overhaul the political arrangement inherited from British colonialism so as to enhance and consolidate Nigeria's unity and cohesion based on cultural affinity and traditional values.
"The new political system we envisage will remove the forced amalgamation of 1914 by the British and finally transform our political system from Federal Republic of Nigeria to the United States of Nigeria or the Peoples Republic of Nigeria," said Mr. Yusuf.
He reiterated that the political system will be education driven, making use of education to drive the national development plan," in which the development of the nation will not depend on any administration."
On how far they've gone as regards to the project, Yusuf and Olubukola Alaka said they are through with the work.
"The next stage is the public presentation where all the stakeholders in education, the political system including economists will be there particularly at the federal level."
According to them, there will be a DVD of 18-20 hours duration and another 600 pages of written work.
"We've been trying to reach out to state governments including Lagos State government recently, but prevented by officials to meet the Deputy Governor Sarah Sosan. We want help to organize a forum to present our inventions. UNICEF has acknowledged our work including how to reduce failure rate in public examinations with a system devised by us."
Subscribe for latest Videos