By Bose Adelaja
Indications emerged at the weekend that the late televangelist, gospel artiste and founder of Christ Apostolic Church, CAC, Lion of Judah, Pro-phet Elijah Olufemi Akina-de, may have had premon-ition of his death. While planning the last monthly vigil of the church which took place on Friday, April 29, 2011, he had instructed his followers to make it a point of duty to attend the programme.
The all-night event popu-larly referred to as Night of destiny recovery usual-ly takes place at the church's headquarters in Po-werline area of Egbeda in Lagos. The programme with a theme; ''Unbeatable God'' was also adjudged to record a good turn-out in the history of the church.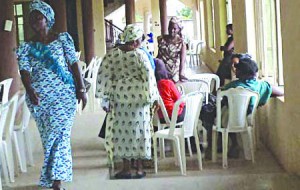 According to sources, the prophet had been in and out of hospital due to an undisclosed ailment and he very often travelled as far as Abuja to receive medical treatment. Rea-son? He had a bosom friend who runs a private hospital in the Federal Capital Territory and who had promised to give a helping hand for the man of God. Unaware that death was lurking around the corner, late Akinade decided to visit Abuja for routine check up and get himself prepared for the monthly vigil when his health was said to have deteriorated suddenly in the morning of the schehuled programme and had to be admitted in the Abuja hospital.
Back in Lagos, the the set time time was nigh and the auditorium, as usual, was parked full as adherents who had thronged the place early to secure seats, awaited the arrival of the prophet. He was in church the previous Sunday, and there was no anxiety among the regular worship-pers. There was no official explanation regarding his absence and the progra-mme eventually ended without him.
As it later turned out, the cleric had given up the ghost in the early hours of Saturday, April 30. This was concealed by church leaders who continued to pray until efforts to raise him back to life proved abortive.
Members left the night vigil in the early hours of Saturday without any pre-monition of what has hap-pened. The news was, however, broken through a news flash on television. Cause of death is yet to be disclosed by the church authorities nor the family. A source close to the late cleric said he was diagn-osed of diabetes and had lost much weight before he finally gave up the ghost.
Meanwhile, his followers in Lagos have been caution-ed not to grant any inter-view but a reliable source told our reporter that late Akinade ran a thriving church in his home town, Ibadan in Oyo State before relocating to Lagos under a controversial circumstance in 1997.
Late Akinade belongs to the school of thought that believes "creation started in the dark and ended in the dark. Whatever thing you are doing should be done in the dark because all creations were created before night."
His Yoruba philosophy is: Ale dara ju Owuro lo, (Night is better than the day).
All efforts to get official position proved abortive. However, a source in the church who pleaded ano-nymity confided in our re-porter that the late cleric had been ill for sometime before he died in Abuja at the age of 55.
"I joined the church in 2003. Daddy has been very sick before he died. He had assured us that he would attend the April ed-ition of the monthly vigil, not knowing that his health would not allow him. He died in the early hours of Saturday,'' he said.
A visit to the Lagos church during the week, revealed that church activities were grounded at the news of the founder's demise. The usual beehive of activities associated with the church has disappeared. People sat in different small gro-ups to mourn.
The question that people had consistently asked has been; who will step into Prophet Akinade's shoes? Followers declined to co-mment on that but a relia-ble source said there was no visible successor for now.
Director of Administration, Princess Adesegun has been the only person att-ending to people and whe-never she is not around, the work suffers. That must be why no member of the church had been nominat-ed to officially grant Press interviews. "Mummy has warned us not to give Prin-cess' contact to anybody," some members chorused.
Naturally, a condolence register has been opened in his honour while family members have all travelled to Ibadan apparently to fin-alise burial arrange-ments.
Scores of sympathizers in-cluding members of Gospel Musicians Associations of Nigeria, GOMAN, of which the late prophet was a member, have been visit-ing Ibadan and Lagos churches to commiserate with members.
In a chat, national presi-dent of GOMAN, Evang-elist Timi Osukoya, popu-larly called Telemi, said Prophet Akinade will be greatly missed in GOMAN.
"He has put in so much to the work of God. He was energetic and busy thro-ughout his lifetime. This is a signal to all that the owner of the work will call us home one day," he said.
A film actress turned pray-er producer, Evangelist Iyabo Ogunsola popularly called Efunsetan Aniwura of the Ishola Ogunsola productions was also at the Lagos church to commise-rate with the family.
Meanwhile, reliable sour-ces say, burial has been fixed for May 26 and 27 at the Iyana Church, Disengo area of Ibadan, Oyo State.
Wake keep comes up on Thursday followed by art-istes' night before the cler-ic will be finally laid to rest on Friday, May 27.
Late Akinade was former GOMAN chairman in Oyo State and is survived by an aged mother, wife and children who presently reside in his hometown.