By Evelyn Usman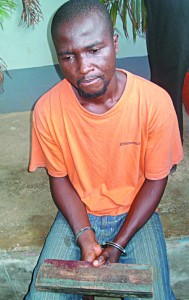 Certainly, this is not the best of times for Mrs Michael Thompson, following the death of her 23 -year-old daughter, Loveth Michael Thompson, two weeks ago , in their Mende abode of Maryland, Lagos. The widow who is not new to such tragedy, was first stung by the pangs of death fifteen years ago, following the demise of her husband, a trauma that saddled her with the responsibility of caring for their six children alone. Five years later, her 25-year-old first son died after a mysterious ailment which reportedly defied both medical and orthodox treatment. After that, came the sudden disappearance of another of her son, the circumstance which is still shrouded in uncertainty. And now, her 23-year-old daughter has added to the list of her pathetic story.
But the rudest shock for Mrs Michael Thompson is the fact that her daughter's assailant is no other than her own son, Ndifreke, 24, a situation that has devastated the widow, who is likely to loose another child, depending on the court's verdict.
April 19, 2011, was like every other day for 23-year-old Loveth Michael, as she woke up to do the house chores, being the youngest in the house. At noon, she decided to observe her siesta, apparently to rest, but unknown to her, she was embarking on a final rest in peace.
In this interview with Crime Alert, the suspect admitted to have hit his late sister with a wooden substance while she was asleep. On why he did so, he kept mute for a while and stated that he acted under the influence of a strange force he could not describe.
Hear him, " My sister Loveth was a wonderful person. Since she started living with me after leaving the village six years ago, I have never had any quarrel with her. In fact, she was th e person that prepared the food I ate that morning before I left for a burial ceremony. I came back home by 2pm to change into something else. But as I was about leaving the house, something touched my shoulder and I turned. Then, I did not know what I was doing again. I made straight for the cupboard where I found a wooden stick which we use to cut vegetables. I picked it and went to where my sister was sleeping. I hit her twice on the face and blood started coming out of her nose . I then left her there and went out. Immediately I went out, I started wondering why I did such thing".
As if destined to end her earthly sojourn that way, no one came to dying Loveth's aid, until over three hours when her elder sister , Ini, returned from work. Shocked at the discovery of Loveth in the pool of her blood, aunty Ini, as she is popularly called, raised an alarm which alerted inquisitive tenants who immediately rushed Loveth to the hospital, where unfortunately, she was confirmed dead.
Her suspected killer and elder brother, Ndifreke Michael Thompson who was contacted on the phone about the ugly development, reportedly stormed the hospital from where he was picked up by policemen from Anthony division. Unknown to him, he was earlier reportedly sighted dashing out of their one-room apartment in a questionable manner, where upon interrogation , he confessed to have sent his sister to an unprepared grave.
Looking remorseful and in an emotion -laden tone, Ndifreke blamed members of his father's family for the strange occurrence that had befallen his family.
Said he, " When I lost my father in 1990, then I was just six years old. My father was a very rich man. He was the first man to own a pharmaceutical shop at that time. After his death, my uncles started struggling with his landed property. Then my elder brother was struck with a strange ailment which made his stomach protrude like a pregnant woman. He died later. Next was the sudden disappearance of another brother of mine who is believed to have died. I traveled to the village last month and demanded to know where he was only for my mother to say he traveled to Ondo state. I gave my mum money to go to Ondo state to look for him but she refused. I reported the matter to the chief of my village who said I should forget about my brother. When I insisted I was going to do everything within my power to find out about the whereabout of my missing brother, I was told in clear terms to let go of the matter or else something more than what happened to him would befall me. It was not up to a month when this happened", stated Ndifreke.
Asked if he was drunk on that day, considering the fact that he was just returning from a wake-keep, Ndifreke, said to be a trumpeter at the Apostolic Church, Maryland branch, shook his head. At a point, he burst into tears apparently regretting his action, saying, " honestly I did not know what got over me. I only got to know she was dead while in the cell". When his mother visited the State Criminal Investigations Department(SCID) ,Panti, Yaba, where her son was detained, she just stared at her son with her hand on her chin without uttering a word. She could not even shed tears. Unsure of what her next reaction would be, a family member who accompanied her urged her to sit down while he kept a close watch at her. When it was time for them to leave, Mrs Michael Thompson, dabbed her face with the loose end of her wrapper but there was no single tear.
The suspect, according to spokesman for the Lagos State Police Command, Mr Samuel Jinadu, would be charged to court.
Subscribe for latest Videos