By Evelyn Usman &Victor Akpa-Fresh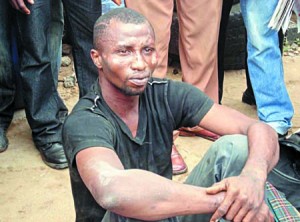 The peace and tranquility associated with Our Lady of Fatimah Catholic Church , Aguda Surulere in Lagos, was last Wednesday truncated following the unprecedented arrival of men of the underworld, at about 1.30am, thereby jolting the Reverend Father and other occupants in the residential area, from sleep.
Without mincing word, the robbers went about the business of the day , by first, tying the security man up, before making straight for the church's vault where millions of naira were carted away. The robbers who threw moral and the fear of God to the dogs, did not leave the premises without dispossessing the Reverend Father of an unspecified amount of money and other valuables.
With several bags containing money estimated over N10 million and other documents later discovered to be prayer points of worshipers, they zoomed off in their two operational vehicles.
But luck ran against them as they were accosted by a team of mobile Policemen attached to Unit 22 Squad at Tin-Can under bridge, while at the verge of sharing their loot, resulting in a shoot-out, during which one of the suspects was arrested.
Surprisingly, the suspect, Charles Okon, turned out to be one of the most wanted criminals on the Lagos State Police Command list. During preliminary investigation, he was discovered to be the boyfriend of one Mariam Owuke, the lady that was arrested last month at Amuwo-Odofin motor park , with arms and ammunition, which she claimed to have been given to her by her boyfriend, Charles.
HND BusinessAdmin graduate
Charles, a Higher National Diploma graduate of Business Administration, in this interview with Crime Alert, confessed to be a one- time Personal Assistant of a Deputy Governor of Lagos state few years back. On why he took to robbery, he blamed his indulgence first, on his smoking attitude which made his boss, a female, to disengage him. Another thing, he said, was the privatization of the Nigerian Ports Authority.
Hear him, " when I left my boss, I went to Tin-Can and started working as a dock worker , where I was getting at least, money to feed myself and buy clothes. But when NPA was privatized , we were laid off and I had nothing to do. That was when I started breaking into safes. I had friends who were going to steal money from safes in shop. I was contracted to be opening the safe because I am an expert in that field."
Later joined robbery proper
But he said the illicit deal was not paying him well and therefore, he resorted to look for something else. An opportunity however availed itself when in a drinking joint, he said he came across a friend he identified as Obilo. " Obilo told me what I was into was petty compared to his. He said he had a gun and suggested that anytime I wanted to go and steal that I should call him so that he could use his gun to threaten people. I called him on one of the occasions where unfortunately, we found only N4,000 inside the safe and he became angry. That was how he asked me to join his gang and we started robbing big time"
Leave my girl out of this
Asked whether his girlfriend Miriam is a member of his gang, he shook his head, saying she should be left out of it. " I swear to God, she is not a member of the gang. Although she later discovered I was an armed robber, she told me she loved me and would marry me if only I quit robbery and I promised her I would. But I found it difficult to, because the more money I got, the more tempted I became.
I gave Miriam the weapons to take to Koko in Delta State because, Obilo suggested that since Lagos seemed to be too hot, it was advisable for us to go to Koko in Warri. He said he had under studied the area and found out it would pay us. That was how I gave Miriam the weapons with an instruction for her not to open it till she handed them over to a friend.
Fled to Ghana
But the planned movement to Koko never took place as every member of his gang went into hiding following Miriam's arrest. Three of them were however unfortunate, as they were arrested following Miriam's confessional statement. Apparently scared that Lagos was no longer safe, Charles decided to flee the country.
"I left immediately for Ghana, from where I got information that three members of my gang had been arrested. I was then left with three others who also went into hiding."
Last straw
Apparently thinking the dust had settled, Charles said he contacted his gang members in Lagos to find out if there was any job, as he was running out of cash. "That was when Obilo informed that there was something for us in a church. He said a former security man with the church had briefed him on the security state of the church and that there was no police presence there.
That was how I set off to Nigeria last Wednesday and arrived at night, from where four of us, namely Yinka, Ozu, Ndubuisi, Okwure met at Obalende and drank before going to Apapa and continued with another round of drinking until it was 1 a.m, before heading for the church in Aguda, Surelere. We stopped to pick the former security man who knew where the church money was kept. He had earlier told Obilo that the church kept every money collected in a particular place before taking it to the bank every two months. I was tempted because he said we were likely to get up to N12 million.
We arrived the church in two vehicles, an Avalon and a Mercedes Benz 190 owned by one of us called Okwure.
When we went in, the former security man took us to where the guard was and we met him sleeping. We woke him up before tying him to a pole. With the former security man leading the way, we went upstairs to the pastor's offices but did not break in because we did not want to attract attention. We then went to where the money was kept and met many boxes. While some of us were breaking the boxes, others went to the Reverend Father's room where he gave them money. We collected money from the boxes we broke and even carried some of the bags we met there before leaving.
We drove straight to Kingsway round about and were looking for a convenient place to share the money because it was too much. We then drove to Tin-Can 1st gate under the bridge and started sharing it but all of a sudden, we heard gun shots. As we were running, we were at the same time, trying to pick the money we could lay our hands on and in the process, I alone was arrested while others escaped in one of our operational vehicles."
Recovered weapons stolen from the Police
The three AK 47 riffles recovered from the gang was discovered to be those of the police. Charles confirmed the claim, narrating how they were stolen. "They were stolen from a hotel at Ajao Estate, from a policeman. We had gone to the hotel to operate, pretending to be customers. On getting there, we asked the security man the number of policemen attached and he told us. While two of us remained at the entrance, the rest went to where the policemen were supposed to be and met one of them sleeping with these three riffles lying carelessly.
"We took them and woke the policeman up, dragged him out and tied his shirt and that of the security man together. We thereafter, took them to the receptionist, from where we collected the money made that day."
Asked if any of their victims was shot, Charles said he mistakenly fired a shot because that was his first time of handling a gun since his escapades in robbery but that it only injured someone.
My regret
Asked if he had any regret, he shook his head apparently in self pity and like the preacher in one of the chapters of the Bible, he said, "vanity upon vanity is equal to vanity. If given another opportunity to come to this world again, I would come as a Pastor. When I started, I was living in five star hotels and thought that was what life was all about. I actually made money and it was in my bid to gather much that made the police arrest me. If I had left with what was with me, perhaps, I would have escaped like my mates. I guess my end has come and I may not come out of this alive. But my advice to my friends that are out there is for them to leave robbery and embrace God because I now believe that the sins that men do live right here on earth with them," admonished the first son in a family of six.
Recovered from him were: N1,381,170, an Intercontinental Bank ATM, a GTBank cheque of N31,000, one of their operational vehicles,.a Toyota Avalon car with number plate HK 882 AAA, a clipper, a travelling bag, five phones, four laptops and three sharp giant rods.
Efforts, according to the command's image maker, Samuel Jinadu, was still on to arrest other fleeing members. He warned hoodlums to leave the state for good.
Subscribe for latest Videos