By Chioma Obinna
Parents who have children with autism may need to look out for signs of epilepsy and also parents who have children with epilepsy may begin to look out for signs of autism in their children as a new discovery has shown a higher mortality rate in individuals with autism and epilepsy than in those with autism alone.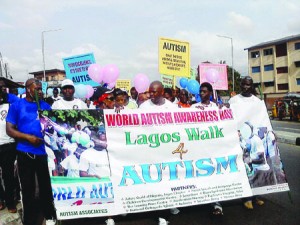 Autism, is a pervasive developmental disorder marked by impaired social interaction and communication in addition to restricted activities and interests. Epilepsy is a chronic neurological disorder that is characterised by recurrent seizures-which are physical reactions to sudden, usually brief, excessive electrical discharges in a group of brain cells.
In Nigeria, over 1.2 million children are living with autism, and stakeholders are worried that awareness on the disorder is still very low.
The latest development is coming on the heels of a call to the National Assembly to put in place a legislation that would enhance treatment and educational needs as well as integrate autistic children into society.
The call was made during the 2011 World Autism Awareness walk tagged "Lagos Walk for Autism" organised by Autism Associates and Centre for Autism and Developmental Disabilities (CADD) in collaboration with Campaign for Democracy and Actors Guild, Lagos.
The new findings published in the Journal of Child Neurology noted that when epilepsy and autism occur together, the mortality rates increased by more than 800 percent.
The study said there is need to increase understanding of the risk factors and common mechanisms that can lead to epilepsy, autism, or both epilepsy and autism.
"Understanding these early determinants will allow for the development of effective interventions and preventive measures and ultimately better outcomes for children with autism and epilepsy."
The Report said 39 percent of the confirmed cases of autism from ATP donations also had a confirmed diagnosis of epilepsy, which is significantly higher than the estimated rate of epilepsy among the general autism population.
"It is well established that epilepsy is a major medical disorder that is often co-morbid with autism in as many as 30 percent of children.
As many as one in 20 children diagnosed with autism by age 3 could either already have epilepsy or develop epilepsy later in life.
Speaking during the awareness walk which kicked off from the National Stadium, Surulere Lagos and terminated at the National Orthopaedic Hospital, Yaba, National Coordinator, Autism Associates and Founder CADD, Mr. Okey-Martins Nwokolo regretted that as the third most common developmental disorder as well as the fastest growing childhood disorder autism has become a matter of urgent global concern
Nwokolo appealed to the Nigerian government to urgently institute action committees that will study autism from a policy, service, health and educational perspectives.
While appealing to the general public to understand and accept people with autism, he early intervention and screening is key to correcting the skills the child would have lost if intervention is not initiated early.
President of the Campaign for Democracy, Dr. Joe Odumakin called on the newly elected National Assembly members to formulate a Bill that would take care of the needs of autistic children as well as enhance their acceptability in society.
She said instead of discriminating against the children, there is need to show them love and care.
A parent, Mrs Elizabeth Idigwe, whose child has overcome autism, said early intervention was key to overcoming autism. She noted that awareness such as Lagos walk for autism could reduce such stigma and discrimination attached to the disorder.
It is not known the exact link is between autism and epilepsy, or seizures, but a study called "Autism and Epilepsy: Cause, Consequence, Comorbidity, or Coincidence" by Gabis, Pomeroy and Andriola in 2005, concluded that abnormal EEG scans and epilepsy tended to occur at significantly higher rates in children with more severe autism, those who were in the more impaired range of the autism spectrum.
Subscribe for latest Videos