By Dayo Adesulu
Former, Deputy Vice – Chancellor, University of Agriculture, Abeokuta, Professor Ighodalo Eromosele has stated that the policy statements of our leaders on science and technology is rhetorical with non-measurable target and intentions to boost the research industry through allocating reasonable percentage of our annual budget to education which will enhance scientific development.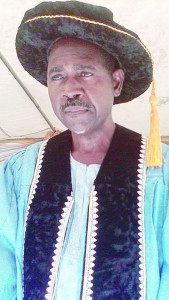 Delivering a pre-convocation lecture recently on "Nigeria Governance system: Inimical to Science, Technology and National Socio-Economic Development" at Federal College of Fisheries and Marine Technology (FCFMT), Lagos noted that the social- economic well-being of a nation is inextricably linked to the extent to which science and technology instruments are deployed for development.
Going into statistics, he affirmed that third world countries constitute the group of countries that are least productive and are also the most materially back-ward in terms of per capital income, standard of living, social services and security.
In his explanation, Professor Eromosele disclosed that the third world countries need technological development in order to progressively achieve national goals which must include food security, clothing, shelter, functional education, healthcare services, transportation, communication and national defense, saying that these determine the degree of selfesteem of any country.
Such technological development, according to him, must include acquisition of the requisite competence to design, manufacture, modify and maintain operation existing technologies saying "all of these must find expression in multiplicity of thriving small and medium scale enterprises and resultant deployment of the populace for productive economic activities.
Over the years, he maintained that science and technology and their propellants research and development have not been accorded adequate attention. He argued that percentage of capital expenditure, the allocation to science and technology for the period of 1995-2004 did not exceed 2.33% as against the proposed 5% of annual capital budget noting that even in 2006 budget the budgetary allocation to science and technology was increased to N 16.0 billion, in real terms this amounted to only 0.11 % of GDP as opposed to UNESCO's recommended 1 %. For other countries, the Professor pointed out that the budget for science and technology as percentage of GDP is more robust i.e., China (1.34%); India (0.61); Singapore (2.36); and Finland (3.52).
Based on the above analysis he declared that funding for science and technology development in Nigeria is poor and is reflected in our policy statements which are, for all intents purposes, rhetorical with non-measurable targets and intentions.
Making an allusion to the then Nigeria's Minister of Finance budget speech in his breakdown of the 1996 budget, Eromosele quoted the Minister as saying: "The private sector will be encouraged to emphasize research and development and the results of our research institutes will be made available for commercialization." To Eromosele, that policy statement is rhetorical with non-measurable targets and intentions.
He pointed out to an element of a budget speech by a South African counterpart as saying: "Our immediate goal is to dedicate 1% of our GDP to research and development by 2006. In 2003/2004, South Africa's public and private expenditure on research and development was 0.81% ofGDP. Between 1996 and 2000, South Africa produced 222 scientific articles on genetics and 459 scientific articles on microbiology, he said.
Proffering solution to the backwardness, Eromosele said: "There is need to devolve more financial powers to the states in order to ignite the creative energies of Nigerians for development at all levels.
He maintained that there is the need for a new paradigm from a system of revenue sharing to one of revenue generation such that the populace is mobilized and deployed for productive engagement in which science and technology will find expression for overall national socio-economic development."