The new leaders in Nigeria have an immediate opportunity to prove their commitment to the people. They can do it by eradicating polio. Last year, polio was fought back to its lowest levels ever recorded in the country. Now, Nigeria's fight is at a dangerous crossroads, and the choice to forever end this crippling disease, or let it come roaring back, is in your hands.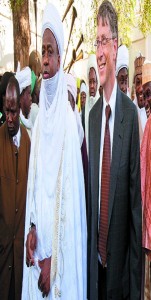 Our partnership on polio began just over two years ago in Sokoto State. Nigeria had suffered one of the worst polio outbreaks in recent history. Almost 800 Nigerian children had been paralysed and Nigeria's polio virus had spread to neighboring countries. This was a massive setback for Nigeria's, and Africa's, polio eradication effort.
Out of mutual concern, we worked to help reverse that, along with the government and our international partners – WHO, UNICEF, CDC and Rotary. Nigeria's northern Traditional Leaders mobilized Nigerian families to protect every one of their children against polio. Executive Governors signed the Abuja Commitments, and vowed to personally oversee high-quality polio campaigns. His Excellency the President, the Health Minister, and the National Primary Health Care Development Agency supported tens of thousands of health workers in fanning out across the country to immunize every child under five.
Thanks to this commitment, the number of new polio cases plummeted by 95 percent in 2010, saving hundreds of children from paralysis or death.
But despite these herculean efforts, some leaders did not share this commitment. When a Governor let down his guard, polio jumped. When an LGA Chairman refused to fund vaccination campaigns, polio slipped in. This tenacious virus didn't rest during the election period.
As a result, these children were needlessly paralysed in the last 15 months: Anas, Nana, Abdulkadir, Abatcha, Hassan, Samaila, Husai, Hamidu, Atika, Jabitru, Basiru, Nurudeen, Hannatu, Yusuf, Abdullahi, Ahmed, Faruk, Shafiu, Mohammad, Sani, Modu, Aisha, Fabziya, Mullim and Abubakar.
These children live in Borno, FCT, Jigawa, Kano, Katsina, Kebbi, Sokoto, and Zamfara.
For every child paralysed by polio, 200 others have been infected and are spreading polio to other Nigerian children as you read this. Already this year, cases found in Chad, Mali and Cote D'Ivoire can be traced to polio viruses that originated in Nigeria. Once a child contracts polio, there is no cure. But we have a simple, safe and effective tool to prevent the disease: the oral polio vaccine. The vaccine is a miracle. But it is the hands and authority of man that will ensure this miracle protects every child in Nigeria.
The next major polio campaigns start May 14 in some states, additional campaigns will be in June. The goal is to vaccinate every child under the age of five in those states most at risk of continuing infection from polio.
The Nigerian government, the Bill & Melinda Gates Foundation and other partners in the global polio programme are providing the vaccine, training and most of the operational costs to stop polio.
Now it is up to the Governors, LGA Chairmen, traditional and religious leaders to use the tools, knowledge and resources, and commit to polio eradication in 2011. Lead the State and LGA immunisation committees. Provide the relatively modest funds required for logistics to reach remote villages, as well as those important 'pluses'. Educate your constituents about the life-saving power of vaccines. Show your support by leading flag-offs and speaking to media.
The progress Nigeria's leaders make against polio can clear the path for additional progress as well. Reach a child with oral polio vaccine, and you can reach him with other lifesaving immunisations. With mosquito nets. With clean water. With education.
Now is the best chance to stop the threat of polio and usher in a new day of hope and health for Nigeria. You are 95 percent of the way there.
We have a challenge for all Nigerian leaders. Seize the opportunity to protect Nigeria's children and stop the polio virus 100 percent in 2011. Let the moment pass and polio will fully return. As a leader, this is one of the simplest choices you may ever have to make.
Subscribe for latest Videos