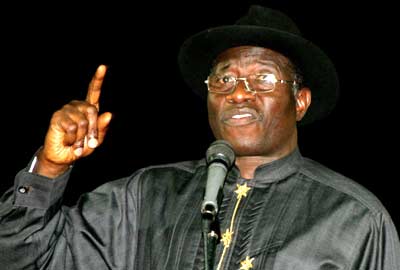 President Goodluck Jonathan
By Samuel Oyadongha
President Goodluck Jonathan has assured that the 2015 general elections would be improved upon so as to avert a repeat of the crisis that followed the 2011 presidential poll in which lives were lost.
Dr. Jonathan in an interview with newsmen shortly after casting his vote at his Otazi play ground polling unit, Otuoke in the Ogbia local government area of Bayelsa State noted with sadness that the crisis that rocked some parts of the country after the presidential poll is capable of bringing about major division in the country.
The President who stressed the need for all Nigerians to work towards a united and virile country added that resorting to violence would not help solve the myriad of problems confronting the country.
Dr. Jonathan who was accompanied to the polling unit by his wife and aged mother thanked Nigerians for their commitment to sustain the nation fledgling democracy.
He also commended the ad-hoc staff of INEC and the youth corps members, some of whom paid the supreme price in the course of service to their fatherland.
On the call for the declaration of a state of emergency in Kaduna and Bauchi states, he said it was something that should not be rushed into assuring that government is monitoring the situation in the two states.
Below is the excerpt of the interview
On his assessment of the poll
President Jonathan: First and foremost, let me thank all Nigerians for their commitment to sustain democracy in this country. It is not easy to pull out people. This is the third day, although the other one was aborted that people travelled to various places and come out in their numbers to queue up to vote. We are happy that at least we are evolving as a nation just like other modern nations. The culture of people snatching ballot boxes is gradually fading away.
So I thank Nigerians for this commitment. When people come out to vote and queue up in a particular polling unit, if you are not there with the materials, of course it will be cancelled. So we are making sure that at least, our elections are done just like other developed nations. Secondly, I have to thank the ad-hoc staff of INEC, the youth corps members, some of them lost their lives during the presidential election and most of them refused to participate.
But across the country, some of them still showed commitment in serving their nation even though their colleagues paid the supreme price. I am quite happy that today we are voting for those who will be our governors and those who will be at state parliament. In Bayelsa state it is easier for us because the governorship election will take place next year.
So, we are only electing members of the state house of assembly. From all indications, so, far the election has been peaceful. I believe it will be so in many constituencies. A country as big as Nigeria, there may be one or two cases… on the overall I am pleased because all the places I have been monitoring with my aides, on the average, we are quite comfortable that we can actually do election in this country.
What I promise Nigerians, just as I promised a free and fair election as an acting governor, is that the 2015 election will be better than this one because we are going to improve on the standard of one nation and make sure that what happened after presidential election don't happen again.
Such things can bring a major division in this country. God has brought us together as one nation. The problem that we all face as politicians is how to manage the economy of this country. How do we create jobs? How do we ward off poverty? And how to provide basic infrastructure. It is not for us to carry guns and bombs and kill. But am sure Nigerians are realizing that all of us have roles to play.
On the call for state of emergency for Kaduna and Bauchi
Elections have been fixed there on Thursday. Let us observe what will happen there first before the state of emergency. State of emergency sometimes people don't even understand. I got to know that by law if you declare state of emergency the governor is supposed not to leave.
That is what my attorney-general told me. We will find out. There are reasons why people are saying that there should be state of emergency. You can declare state of emergency on the whole country but that is when certain circumstance create an environment that governance become extremely difficult. You want to militaralise the whole political development while every money goes for security.
If you declare state of emergency in any state, invariably what you are saying is that there is nothing like development in that state. It is not the best. There are may be two reasons why people are talking about state of emergency.
It is either the security situation is still so bad or alternatively if by 24th of this month we are unable to conduct election in any state then by law you cannot conduct elections again until after inauguration because you need 30 days. In that case you have no choice than to declare state of emergency even if there is peace.
But as a President you cannot just rush to declare state of emergency. If you declare state of emergency for six months or even if it is three months, these are three months of stagnation. We cannot just rush. That is why we deferred elections for Kaduna and Bauchi to Thursday.
Let us see what happens across the country. Let us also study the situation in Kaduna and Bauchi and let us see if we move more security personnel into these states whether we can do the elections or not. If we cannot, we can consider state of emergency.