The African continent accounts for 18% of the world's cultivated land area but only 3% of its fertilizer consumption.  Put another way, the average world fertilizer consumption is around 93kg per hectare of cultivated land, but Africa's average consumption lags behind at 20kg/ha.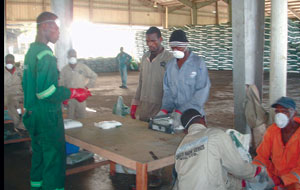 The Sub-Saharan Africa fertilizer consumption dropped to 8% which was 0.6% of world consumption and a far cry from the target of 50%/ha by 2015 set by African ministers at the Africa Fertilizer Summit in Abuja.
Nigerian farmers utilize about 8-10kg per hectare compared with 200kg per hectare that is approved by Food and Agricultural Organisation (FAO
The question has always been how do Nigerian farmers get access to ferlizers among other agricultural inputs to   increase crop yields and quality as well as farmers income.
To many, Government involvement in fertilizer purchase and distribution is one of the many reasons for low consumption of fertilizers as the system is heavily politicized, with many politicians using fertilizer supply and subsidies to garner votes and reward patronage.
This has implications beyond low fertilizer consumption. Firstly, the subsidies, which cost the government dearly, very often benefit the wrong people. During the 2008/2009 farming season in one state, PropCom established that 10% of farmers received the government subsidized fertilizer and, of those, over two-thirds paid 40% more than the state subsidized price.
It is said that almost 90% of the state's subsidy, worth about N2.3 billion, equivalent to £10 million, was 'wasted' on unintended beneficiaries.
It is even discovered by PropCom that the distributors receiving the subsidized fertilizer usually sell it on open market prices. Consequently, they make abnormally high profits and may hoard fertilizer rather than sell it for less than the market price.
Many poor farmers find it difficult to pay for the 50kg bags of fertilizer and either opt to buy it in small units from open bags, which often contain degraded or adulterated products, or wait in the vain hope of receiving subsidized fertilizer, thus missing out on applying it at the optimum time, if at all.
Fertilizer production and distribution companies aware of the inconsistencies of government led distribution are opening up to the idea of developing private distribution channels and making fertilizer available to farmers in small quantity.
Recently, captains of industries and stakeholders in the agricultural industry were in Onne, the home of Notore  Chemical Industries Limited, an  agro-allied and chemical company committed to enhancing the quality of life in Africa through local food production, where they were led into the efforts of the company.
Speaking during the visit, Onajite Paul Okoloko, Group CEO, Notore said they are creating a green revolution in Nigeria by making inputs available to farmers and producing it locally at the same time at the volume and quantity the farmers will require for easy application.
During the process of conducting the visitors that included the Bank of Industry (BOI)'s boss, Ms Oputu ; John Aboh of Oceanic Bank and Emmanuel Ijewere of the Nigeria Economic Summit Group among others, round the company's facilities, they were briefed on the success recorded so far by the company.
Mr. Okoloko said the introduction of the 1kg fertilizer bag option in a response to address the infrastructural and financial challenges currently witnessed by Nigeria subsistent farmers have been successful.
"These farmers who earn less than $1 a day, live far away from market centres and cannot access the markets easily.
Not only do the farmers find it difficult to come up with the cash needed to buy the 50kg bag fertilizer but carrying it home from the marketplace also poses a challenge for them."
He added that  while introducing the 1kg bag that they selected salesmen also known as 'Village Promoters'
Notore, he said,  conducted a rigorous and transparent nationwide recruitment exercise for Distribution Partners, in which one out of every five applicants emerged as a Distribution Partner.
The lucky applicants were selected based on their experience, capabilities and alignment to Notore's vision of Championing the African Green Revolution.
Okoloko disclosed that the 'Village promoters' underwent training conducted by Agricultural services department of the company with a curriculum that was developed by both Notore and PropCom. "The curricula included best practices on correct fertilizer usage and farming techniques. These village promoters are in turn sharing their knowledge amongst the farming communities in which they sell the 1kg."
Recalling the success stories of some of the Village Promoters, the visiting team was told of Auwalu Sani, an Islamic college graduate, who was selected as one of the village promoters on the Notore's 1kg pilot project called Fast Track was able to make profit margins of over N75, 000 on it and N224, 760 with On Track.
Awalu said "Notore taught me the fertilizer business in which I sold about half a truck of 50kg. I have expanded my business to selling other farm inputs. They also taught me the best practices, and I in turn, through demonstration plots, teach farmers how to improve their yields." He added that he has been able to build a house and got married as well as own a motorbike.
Ms. Evelyn Oputu, the BOI's boss was thrilled by the success stories of the Village Promoters when she said "as a Nigerian it makes me very happy when I see another Nigerian output  growing, it means it is going to create wealth for another Nigerian, it is means poverty is going to be cut, it means a lot of things and impact on the GDP."