With Florence Amagiya
INEC National Chairman, Prof, Attahiru Jega explained at a press conference in Abuja last Saturday that the Vendor who should have delivered the electoral materials well ahead of time from Japan delivered it only that Saturday morning.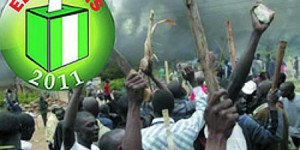 To even consider that Jega had it in mind and had planned to get materials from Japan on Thursday which would have been used on Saturday morning was incredible. Now my questions are: Why did he not consider importing these materials two weeks or a week before that time? When he was informed by the Vendor that the materials would not get to Nigeria by Thursday, why did he not raise alarm to save his face. Why did he believe that a man, who had failed to keep his promise twice, will keep it the third time? He said it himself that he was told that the materials will get to the Country by 2am of that same Saturday of the election and he thought because he had men on ground that he will be able to transfer the materials to every nooks and crannies of Nigeria before 8am?
Jega had, had all the time to plan for the materials or he was advised wrongly. He should have considered the Country he was importing the materials from. It is a known fact that Japan is facing one of the biggest economic/ natural crises of its time and it is only logical that any item or materials from that Country will be lost or delayed in transition. So, he should have had a plan B of importing the materials weeks before the elections or he should have taken the specification to somewhere else to be on the safe side.
At the end of it all, it can be deduced that he made an 'April fool' of the whole of Nigerians in the Country, Nigerians in Diaspora waiting and praying for the Country and to other Nations watching. Today, we can make inference that Nigerians are worried about the outcome of the elections already. There is a saying that 'He who do not have a good plan will only plan to fail' and one cannot give what he does not have, he who the cap fits should wear it and wear it well. We pray and hope in God's enablement and mercies that with our diligence and uprightness the best man wins, not just for us, but for our Posterity.