By Chioma Gabriel, Deputy Editor
Ace broadcaster, Julie Coker, was given out in marriage at age 14, but as young as she was then, she understood the implication, and ran away from the man's house through the help of  her aunt who transported her back to Lagos to continue her education.
The 70 year old Egba-born lady who celebrated her  birthday last year at the Westminster Cathedral Hall London and launched her book "FIRST IN AFRICA"  reminiscences about her formative years.
"People thought I adopted the name Coker but my father was from the Coker family in Abeokuta. I speak Yoruba fluently to communicate with my father's family but I was not living with them.
"I lived with my mother most of the time because I was her only child but she later became too ill at a time and relocated to her village in the Niger Delta. I was eight years when her illness started. And before then, she worked in the school I was attending in Lagos.
I was a pupil of the Holy Child when her illness started but she later became too ill and  that   she relocated to her village. I'd never been to her village at that time and didn't know where it was. I was a Lagos Island girl and didn't even know where Apapa was. My great aunt then wanted to adopt me as her own child but I left her and went to search for my mother. My great aunt was taking good care of me though but I had to leave. I did not run away.
"My mother's relocation  to the village affected me and my education. It was hard to continue to pay my school fees and I missed having her around My step-father had  children who needed his attention too .  I left the house at Igbosere in Lagos where my friends used  to pick me in their Jaguar to school to embark on an adventure to my mother's village."
Julie Coker recalled she didn't know where she was going when she set out and  it took her four days and three nights to get there.
" Ï didn't know where she was but I was told it was not far from Sapele. I got on a boat and it took us four days and three nights to get there. I even passed my mother's village without realising it. I was like a needle in a hay-stack or someone going on a wild goose chase. I didn't know where to locate my mother but I knew I could search and find her.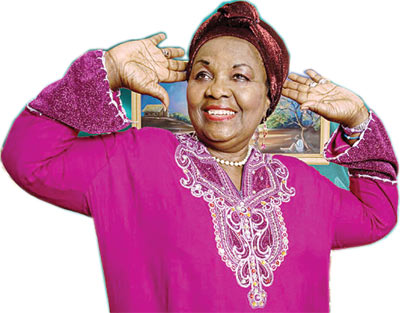 "The journey was not easy and I was scared she might have died because I didn't hear from her for over a year. There was no communication, no letters and that left me high and dry. But I told myself I must find her even if she was dead.
"When I got to Sapele, nobody knew her but somebody said, ' if you are talking about Ureju, there might be a boat. I had to wait till the following day to be put in a boat going back to Lagos but would stop over at the village. When we got there, it was night and the boat stopped midstream for the villagers to come and fetch their passengers.
So, the villagers brought canoe to the middle of  the ocean but nobody knew me. I had no money and no food. I was fed by public-spirited people. I was 14 years then and alone. But I was good to the people. I read their letters to them and spoke Yoruba to them.
"But as the villagers came, they said they didn't know any Julie Coker from Lagos. I have no native name and so, I told them my name is Julie Coker. Somebody eventually raised a lamp to my face and mentioned my grandmother's name and said I have her face. So, I got into the canoe and was paddled into the village. It was the first time I was ever going to stay in a village.
It was a different world. There was no light but I had learnt to take a lot of shock in my life. I needed to see my mother and it didn't matter I was in the midst of strangers. They told me nothing for sometime when I got to my grandmother's house and I thought my mother had died. Nobody was talking about her and I expected they would take me to her grave later but they said nothing.
"My grandmother was still alive and I knew I was in the right place. She was very old and very kind. I also saw my mother's younger brother who had come to Lagos once. He saw me and called my name. They scolded me for taking a long journey alone to the village in a ship.
I didn't have the money to transport myself back to Lagos but I couldn't leave without seeing my mother or her grave and I said a silent prayer  to God to take me to my mother wherever she might be". When she couldn't hold herself anymore, Julie asked after her mother from the people in Itsekiri language. That was the next day after she had gone fishing in the river with her cousins and had a breakfast of pepper-soup and yam.
"They eventually took me to her but she was very sick and very weak and wasn't getting the medication she needed. I came into a warm embrace with my mother even though she fell many times. She was going through a lot of trauma and I stayed with her, refusing to return to the house with my cousins. I prayed and sang with her. I also realised she was suffering rejection from her people because she refused to be part of the morning divination to a local deity and refused to be taken to a native doctor for treatment.
She held unto her Bible, reading and singing hymns and they ostracised her,  but when I joined her, they were surprised and said she wasn't mad after all. My mother had tuberculosis and her hope of survival was slim. They thought my mother was proud because she could read and that was why she didn't join in the worship of the local deity. My mother did not die. She survived the illness through divine intervention. The only medication she took were songs of praise and reading her Bible".
After her mother's recovery, Julie Coker was ready to return to Lagos and to school but there was no money for her school fees. She knew her mother had no money and so, she requested for her school fee from her uncle, an elected councillor.
"My grandmother had to augment what I had raised. But my mother's aunt came to me and asked me to follow  her to Sapele from where I would return to Lagos. But it turned out my aunt had made plans for me to be married off to a rich man in Sapele.
I was taken to a big house, a beautiful storey building where I met a huge man with a very imposing figure. He had other wives and wanted another one and I was given to him at age 14. I learnt they paid a huge bride price for me because I had Standard Six certificate and was in secondary school. I was too shocked and I just sat there, frightened and shivering alone and my grand aunt disappeared.
"But God sent an 'angel' who came in the form of my mother's younger sister. She told me they had heard what happened and sent a search party to rescue me. She grabbed my hand and we made good our escape. She was the person that went to town to look for money. She hid me somewhere in the village and the next morning, she took me to the garage, paid my fare, gave me some money and sent me back to Lagos to continue my education. Eventually, I was lucky to get a scholarship that saw me through my education."