Ishola Balogun
Ugo Fidel Onwuraokoye is the founder of Tamar Rescue Foundation, a non-governmental organisation that reaches out to young girls teaching them how to avoid sexual abuse and rape.
It also offers counselling to victims and mentors youth through lectures, seminars and empowerment programs for a successfully future.
She narrates several pathetic stories of victims of sexual abuse and how she was able to save the victims from the agonising feeling that tended to destroy their lives.  "I feel sad and cry each day I go out for mentoring by the stories of young girls who were abused sexually."  She is our role model this week.
What is Tamar Rescue all about?
It is about young girls in primary and secondary schools and also in the university; teaching them the  traits of sexual abusers and rapists and how they can avoid them; what they need to do when they are raped.  We take them through counselling session. Some of them don't talk after they were raped, because they put fear into them and some, because of the societal stigma, they will not talk but they can possibly contact infection that could be devastating.
What inspired you into this fight against sexual abuse?
Passion.  Again, from the point of view of a Christian, I will say God directed me to do it.  I resigned from my teaching job to do this and I am happy doing it. But I have got passion for it. It pains me when I see young people on the streets doing some negative things that I know will affect their future.
Again, seeing what is happening in the society, a mother would go out to work and daddy would come back in the night, and they leave children in the care of house helps or relatives. Under that condition, a lot could happen and I feel a heavy burden on me to reach out to people to inform them on some of the traits of sexual abusers.
But what hindered me for some time was the fear of unknown because my husband is a full time Pastor and I struggled with that for a period but the passion was stronger than the desire for money. I resigned and began.  The first school I went for mentoring, I noticed that a greater number of them were being sexually abused.
That informed the concentration on sexual abuse and rape, I now narrowed my teaching and mentoring to that area.
Can you share some of the stories of victims of sexual abused as narrated to you?
I went to one school and a girl told me of how she was abused. She was one of five children left by her late father.  The mother gave them out as house maids and she found herself in Lagos.  The woman she was staying with was selling bread and she was asked to go get some bread for sale in the night.
Along the road, she was cornered and pushed into the bush and raped by five boys in turn. As a virgin, she went back home in pain and devastated.  The madam did not give her succour but insisted on having her bread. She went through that pain without any medical attention and nobody knew whether she contacted any infection from that.  It broke my heart, I cried, I could not sleep for days.
She eventually left the woman's house, went to stay with someone else. After some time with the new madam, she decided to go back home but the madam did not allow her.  A man who noticed her situation offered to help her and asked her to meet him at his house and naive as she was, she went and she was raped again and still did not give her the money to return home.
She returned home and momentarily behaved liked a mad girl insisting that her madam must give her the money without telling the woman she was raped.  The woman beat her up, tore her cloths and while she jumped over the fence, a neighbour came to her rescue and dressed her up and gave her money with which she went back to village.
Of course, the story continues, it was from one rape to another. She was devastated, she had emotional trauma and that led to anger, and then to bitterness and now to revenge, which was I will deal with men. That was the level she was when I met her.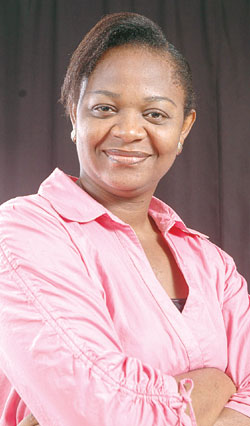 In the school I met her, she said to me she looked at a male teacher with contempt and hatred, she used to wonder if the teacher was another rapist and that eroded the required concentration in class.  She decided to embark on prayer so as to move on in life.
She was coming from a church close to her school and at a bus-stop a man walked up to her and touched her.  She lost her senses and the next moment she saw herself in an uncompleted building where the man had raped her. She told me she had planned to go to the village the following month and tell her story and kill herself.
I thank God I met her at that point, I gave her hope I counselled her and I was able to save her from committing suicide.  There are many like that in our society.  Studies showed that every minute of the day a girl is being sexually abused.
How old was she then?
She was 17 when these happed.
So, how were you able to give her hope?
I made sure I was very close to her; I counselled, mentored her and made sure she was emotionally stable.  She came around after returning from school and  I saw that she started concentrating on her studies and I saw impressive improvement in her studies.  She finished and she kept on calling me until I lost contact with her.  I also could not reach the family where she started.
Do you have a rehabilitation centre for some of the victims whose cases required to be monitored?
We intend to do that but we are being held back by funds.  We need funds to get this project working very well.  I have met some girls who actually had infections.  A 14-year old girl who was sexually abused complained to me about some signs of infection on her private part.  As at the time I was talking with her, the infection had worsen that you could perceived offensive odour.
Again, a house girl who also was raped by an old man, her guardian, ran away from home to the village.  She was late picked by the son of the old man who she later confided in him of the atrocities committed by his father.
Unfortunately, the son also attempted to rape her.  She told me how she vehemently fought the man on each occasion he tried.
The day she had planned to kill the man and herself was the day I met her. I saved her from killing somebody and herself.  At that point, she was desperately angry and never looked back on the consequences.
You see, there are a lot of cases of sexual abuse contending for attention.   I feel sad and cry each day I go out for mentoring by the stories of young girls who were abused sexually. I  could have done more than what I did, but the funds were not there.
There are other areas we could go into in helping victims but we are held back by funds.
Have you reached out to sponsors and corporate organisations?
Yes, we have done that but we will continue to appeal to them.  In 2006, I went to one communication network and what we received after so many talks were exercise books.  Usually organisations these days don't give funds to NGOs because there are many of them and some of them misappropriate the funds they get from donors and that is not encouraging.