BY EBELE ONUORAH
HE was born a male child on March 5, 2000, but without a normal male organ. Ever since, his parents, Mr and Mrs Ejike Celestine Ekezie from Abia State, have been crestfallen.
At birth, Uchenna had two normal testicles but no defined male organ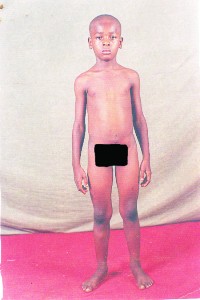 although he there was an opening from which urine dripped uncontrollably. His bladder was outside the stomach, underneath the umbilical cord a condition called Ectopic Vessica.
The little boy has had no joy of childhood as he has been in pains of suffering from such rare malfunction. Having undergone series of surgical procedures to correct his bladder malfunction, his condition remains the same. His parents who share in this pain have had virtually to support him financially and otherwise, as well as encourage him to carry on while hoping some day, succour would come.
Ekezie noted: "We learnt that there might not be adequate medical facilities, here in Nigeria, to treat our son that is why we are requesting assistance from Medical Entities and Institutions in the United States of America (USA).
"My wife and I are in debt of over N350, 000 and yet at 11 years of age, our son still wears pampers. Please, help us financially. We do not have what it takes to do this all by ourselves" Ekezie pleaded on behalf of his family.Please, help us to help our son."
Uchenna's doctor at the Federal Medical Centre Umuahia, Dr Eze G.U, notes: "There are minor complications with the bladder correction which could be corrected if addressed in time. Uchenna has to undergo two more surgeries including correction of the continuos dropping of urine and elongation of the male organ. The total bill for these procedures is put at N3 million.
If you are touched by Uchenna's condition and want to help please, contact his parents on: 07034106748 or 07057431700 .
Subscribe for latest Videos