Stories By Emmanuel Elebeke
In what appears impossible to many adults, two kids from New Estate Baptist school, Surulere, Lagos last week emerged as youngest Adobe Certified Professional Certificate in Web Communication using Adobe Dream weaver CS4.
The two kids, Jessica Gabriel, 15 of SS 2 scored 707/1000, while Lois Oluwasanya 10, of the same school scored 730/1000 making them the first young people to be award the certificate in the country.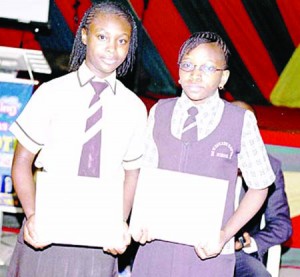 The adobe certified professional course is a partnership between New Estate Baptist school and New Horizon. The Adobe certified professional course was formerly an exclusive reserve for adults until last week when the two wiz kids broke the jinx by coming top in the examination with superlative scores.
With this record breaking feat, Lois , the youngest of the two, is said to be the youngest in the world to be awarded adobe professional certificate.
Speaking at the occasion, the Principal of the school, Mrs. Arawole Funmi said she was happy and fulfilled to have associated with New Horizon and thanked the institute for job well done by bringing out the great potentials in the cluster.
Following the partnership, she said the school had been doing a marvelous job as it continued to train her students not only on computer related subjects but also bringing the best out of them.
She urged parents to support and encourage their wards in the area of information and communications technology , ICT as it is the in thing world over.
Meanwhile, the two award recipients were quick to express their joy. Lois Oluwasanya who took the said "I'm happy for this award and the support given to me by my parents towards achieving this and would not stop at this as I'm hoping to become a computer engineer in future."
On her part, Jessica Gabriel who did not hide her fillings said she was fulfilled with her achievement but advised parents to always support their children for such programmes as the world is now being driven by ICT, as she is planning to build a website for her class and would aspire to become a computer scientist.
For one of the parents, Mr. Gabriel Farayola said he was happy that his daughter was able to caught up with the vision of which he had for her as it concerns ICT and promised to give her continued support. Bukola Oluwasanya said "I feel proud to see my son being honoured with this kind of award today.
I'm grateful to New Horizon and will aspire to give her more support."
Responding, the Managing Director of New Horizon, Mr. Tim Akano said the partnership was part his ICT revolution plans to inculcate ICT skills in the young Nigerians in both primary and secondary schools at such tender age.
With this development, the two award recipients brings to 150 the number of students from both primary and high schools who have been certified in different ICT related courses through new Horizon across the country.
It will be recalled that New Horizon had produced the World's youngest Microsoft Certified professional (MCP) Favour Nwaiwu, an 8 year old girl from Royal Family Academy, Abuja who built a website for the Federal Government of Nigeria Tittled: www.rebrandednigerians.com.
The website has been approved by Minister of Information and communication and will be launched soon by President Goodluck Jonathan. Another wizkid is the youngest SECURITY 5 Professional – Davidson Oseremen, an 11year old boy from Doregos Private Academy, while another 8year old microsoft professional produced by the institute from Dansol Primary School has built young ICT professionals website which is to be launched soon.New Horizons is an authorized prometric, CERTIPORT and VUE Testing Centers with about 70 offices on six continents.