By SOLA OGUNDIPE
WHAT is it that arouses interest in coffee, one of the world's most popular beverage drinks? This was the main objective in Lagos last week at the formal launch into the medical community of the Ignite programme -a pan African educational project targeted at enlightening the public on the relationship between coffee and health.
A group of academicians who championed the discourse during a stakeholder's forum, disclosed that coffee is consumed for different reasons.
The group was led by Dr Jane Ajuluchukwu, a Consultant Cardiologist and Associate Professor of Medicine at the College of Medicine, University of Lagos, CMUL, Idi-Araba, Lagos.
Other members are Dr Brai Bartholomew, a nutrition researcher with the Nigerian Institute of Medical Research (NIMR), Yaba, Lagos, Dr Olayemi Sunday, a Clinical Pharmacologist and Associate Professor of Medicine at the CMUL, and Ms. Valerie Mbeng, a consultant biochemist from Ghana.
At the forum, various scientific presentations and interactive sessions were delivered bt the the team. Also presented were surveys members of the team conducted in line with provisions of the ICC international code of social research practice were also highlighted to provide evidenced-based answers and information on the subject of discussion – coffee.
"Most consumers enjoy its taste and aroma and believe it has positive effects on mental performance. However, there are also some health misconceptions and mysteries around coffee in some circles, noted Ignite Coordinator, Dr Ajuluchukwu.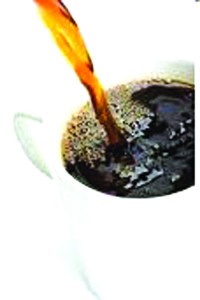 In a presentation entitled: "Coffee, Caffeine and Health," she observed that the Ignite programme will be impactful for the medical community who are committed to consistent learning and holds the key to safe healthcare services as the Ignite forum serves as a medical continuing education session.
There are so many unfounded fears among Nigerians on coffee. According to Ajuluchukwu:"We only have scientific interest in arousing discussion on coffee. Let people discuss their fears," she noted.
In one of the surveys, the Ignite team revealed that about half of the health practitioners contacted personally consumed coffee, particularly the specialists and general practitioners.
While some consume it for alertness and for aroma, restlessness is perceived as its major draw back factor. Ajuluchukwu observed that Nigerians had depended on hear-say over the years in their interaction with coffee. "As researchers we also serve as watchdogs; through observational studies we have discovered facts with which we aim to empower people with adequate knowledge on coffee,'' she said.
Ajuluchukwu observed that though there was an amazing level of coffee consumption in the developed nations, "the first impression about the product in Nigeria is caffeine. Yet there is much that coffee has to offer if consumed in moderation."
Dr Brai, another member of the team, said, "If the whole world is talking about coffee and its benefits, we wonder why Nigeria should be an exception. This is one of the roles of the academia- to expand the frontiers of knowledge and help the people to better understand their environment and resources."
He lamented the low level of literature and facts available to Nigerians on coffee and its impact on health. "The pan-African Ignite programme is very vital as it sets to provide Nigerians with scientifically proven facts and case studies on coffee and health."
Brai said so many researches had shown that a cup of coffee first thing in the morning was one of the most popular ways of starting the day, adding that the caffeine in that first cup of coffee could make one feel more alert and ready to face the challenges of the day ahead.
"We want to know people's fears concerning the beverage and proffer scientific answers and leave consumers to make choices. We want to examine the pros and cons of coffee and let people know the beverage has numerous advantages if consumers are well informed about it.
"There is so much assumption and mystery around coffee such that many people are quite unaware of its health benefits and factors. Just like there is need to consume a recommended amount of every useful body nutrients, coffee should be consumed in moderation. If not abused, coffee has some health benefits which could be very helpful for the people," he explained.
Subscribe for latest Videos