By Olayinka Latona
IT was a time of jubilation, merry making and reflection on the goodness of God as the women's wing of the Presbyterian Church of Nigeria, Yaba in Lagos celebrated this year's Mo-thers Day in a grand style. The occasion was another opportunity to advise Nigerian mothers, espe-cially Christian mothers to manifest Christ praise and glory in their family lives.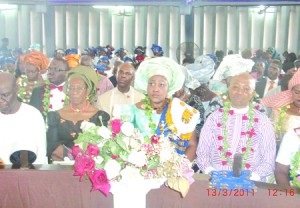 Describing motherhood as a stage of rendering ser-vices to humanity and God, the president of the Women's Guild, Yaba parish, Elder (Mrs.) Grace Egbuta challenged Christ-ian mothers to emulate the character of Priscilla whom, she described, as a faithful wife and an out-standing character in the Holy Bible.
Elder Egbuta also charged Nigerian men to treat women with dignity and respect, adding that if women give their unequi-vocal support Nigeria will achieve its Millennium Development Goals. Des-cribing mothers as fore-runners of human conti-nuity, moral preservation in homes and nation build-ers, she said "only mothers with sound minds can bring peace to the home and foster good children in the society.
"I wish to charge every man here, today to treat our women in a sacred manner laced with dignity and respect," she continued, "mothers have been known to be harbingers of human continuity and moral pre-servation and if the child-ren are to succeed, moth-ers with sound minds must be there. As mothers we are truly the nation's future and I state boldly and categorically that Nigeria will achieve the Millen-nium Development Goals number 1, 4, and 5 only if mothers give their unequi-vocal support."
In her speech, chair-person of the occasion, Barr. Ngozi Ekeoma, reminded mothers of their role as the salt of the earth and light of the world, adding that they should truly manifest and reflect the true character of Jesus Christ.
The chairperson who de-cried the high rate of corruption and immorality in the nation, said Niger-ian mothers should be a good example in their homes and refrain from acts that will not show forth God's glory in their every-day activity. She further advised women to embra-ce politics, saying women have the compassionate heart to take Nigeria to where it should be.
As part of its corporate social responsibility, the Women's Guild assisted 36 underprivileged petty traders and collaborated with the Cancer Prevent-ion Society of Nigeria to carry out free cervical cancer screening on all the church women.