By Jude Njoku
Protection for Okomu National Park (PONPE), a coalition of stakeholder organisations and individuals and Local Advisory Committee for Okomu National Park (LAC_Okomu) have sent a petition to the Governor of Edo State, Comrade Adams Aliyu Oshiomhole urging him to urgently look into what they called ''illegal logging, carting away of logs and bodily attacks on staff of the National Park situated at Arakhuan_Udo in Ovia South West Local Government Area of Edo State, with the view to bringing the perpetrators to book".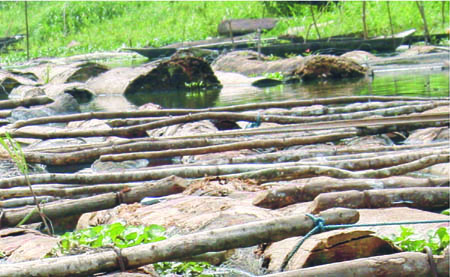 In the joint petition signed by Comrade Tony Erha, Coordinator of PONPE; Ezekiel Benson, Secretary of LAC_Okomu; Chief Augustine Yankee, member, LAC_Okomu, and G.T. Williams, PONPE Community Liaison, the coalition said its interests were to promote the ideals of the Okomu National Park, conserve the environment and protect the park and the well_being of the park's communities and indigenes.
The coalition described as sacrilegious, acts of logging the park, carting away its logs and attacks on the park's officers. The petitioners alleged that these acts were masterminded by one Mr. Andrew Igiri, under the guise of the Western zone of the Ijaw Youth Congress (IYC).
The group further alleged that trouble started inside the park when Mr. Igiri, while declining the common arrangements between the Park and IYC, led a gang of thugs who took chain saws to fell and evacuate the economic trees, beyond the original limits of the road demarcations, and inflicted bodily injuries and chased away the park's officers, who were originally due to supervise the road construction.
The coalition wondered why the law enforcement authorities to whom the case was severally reported were lax in effecting any arrests regarding the matter, and stressed that they were "optimistic that the Governor Oshiomhole would assist in stopping this and other illegal logging activities in the Park's zone, which do not only plunder the natural resource_base of Edo State, but evade the payment of tax".
PONPE and LAC_Okomu further charged the state and federal governments to join their ranks in order to beef up security to protect the park, which it regarded as "the only lowland rainforest ecosystem of the sort to be protected in Nigeria, and one of the foremost ecotourism destinations in Nigeria, which visitors throng to from all over the world.