By Azuka Oshodi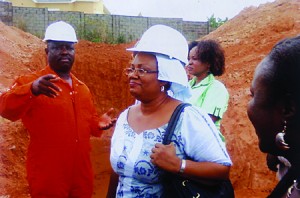 Officials of National Oilspill Detection and Response Agency (NODSRA) has visited the oil spill site at Isheri where they inspected the sub-soil oil leakage that has been polluting the underground water and the environment in the area.
Led by the Acting Director General of the Agency, Mrs. Uche Okwechime, the team including officials of Pipe products Marketing Company (PPMC), a subsidiary of the Nigerian National Petroleum Corporation (NNPC), conducted the press round the site, to assess the efforts being made to remedy the situation.
Mrs. Okwechim said the spill was detected in December 2010 and efforts were made immediately to trace the source of the oil spillage, which sips into the sub soil, to pollute the underground water.
No immediate cause has been established for the disaster, but NODSRA officials aver that indiscriminate drilling of bore holes along the path way of the pipe lines and excavation of soil, 30 feet below the earth surface, may have caused the sub soil spillage in Isheri.
Okwechime said reports has been made to the Federal Government which has to look into how to ameliorate the effect of the spillage which mixes with the underground water thereby producing a mixture of water and petroleum products.
The Director of Detection and Response, Mr. Idris Musa said since December 2010, NODSRA and PPMC officials have been using gully sucker technique to recover the product which is sent to NNPC depot at Ejigbo in Lagos for proper scheming and separation of both liquids. "We recover the product from the water through a technique that leaves the water clear, but not safe for consumption". He said "what we are doing now is to recover as much product as possible before going to the next phase which is remediation".
According to Musa, "the spill did not impact on the top soil, that is why we are going to do what we call ground water pollution remediation because the ground water is already polluted". He said the timely intervention of NODSRA has saved the area from inferno the entire area has thick fumes of premium motor spirit which is highly inflammable, this poses serious danger to the people living in the area.
PPMC official who refused to disclose his identity said no specific time was given to complete the assignment.