ONE of the three sisters of Pastor Enoch Adejare Adeboye, Mrs. Arawumi   Akinwole, who is the only one that remains as the G.O.'s mother and now a pastor with the Redeemed Christian Church of God, RCCG, Bethlehem Parish in Ifewara was there at the family house when a team of Vanguard visted Ifewara. Interview by SAM EYOBOKA and OLAYINKA LATONA.
The birth of Enoch is a unique one, because God Himself gave him as a gift to us in the family. Initially, our mother had given up child bearing, but we the children noticed that our father was not happy with our mother. I was very close to our father, so I noticed the bitterness and when I enquired about what was bothering him, I was surprised when he told me that he is not happy because my mother said she has stopped child bearing.
I then promised him that I and my younger ones would talk to my mother which we did and after initial reluctance she eventually accepted to give it another try. I conveyed the message to my father. Few months later when my mother was going to an early morning church service—we were then attending CMS church-I went to her to remind her about the discussion, promising that we, the elder ones, would help her to take care of the baby, if that was bothering her and she finally agreed. In no time, we realised that she was pregnant and everybody was happy, because we saw that as a source of enduring peace in the family.
Another miraculous thing about his birth was that when my mother was due to deliver – exactly nine months – nothing happened, 10 months no baby and my father was scared and worried, blaming himself for insisting on another mouth to feed. He was not happy that he caused all the problem for his wife. But my mother was healthy and she told us then that she was perfectly okay and that the baby was kicking and moving as it ought to. She was even encouraging our father to be strong.
It was exactly 12 months after that Enoch was born and he came on a Sunday. Our mother had started preparing for church that morning when labour pains started and without much stress; within one and half hours she was delivered of her baby.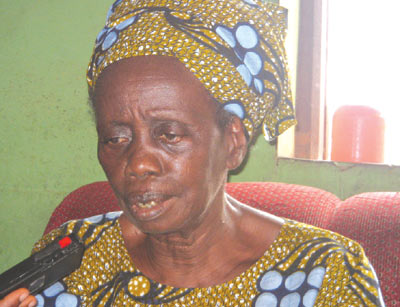 Later, that day members of her church group known as Egbe Iwa bi Olorun, were so happy and together they chorused that their secretary had been born. Surprisingly, immediately Enoch started his primary education at CMS here in Ifewara and was able to read and write, the group made him their secretary, even before he eventually proceeded to secondary school in Ilesha.
After his secondary education at Ilesha Grammar School, he went to Oke-Igbo town where he taught at Ifetedo Grammar School, Oke-Igbo and from there he sat for entrance examination to the university and proceeded to the Universi-ty of Nigeria, Nsukka.
Another unique thing about him is that, almost four months to the end of his university programme at Nsukka, the Nigerian Civil War broke out and the whole territory was not only blocked, there was a threat to the lives of non-Ibo in the area. But because of his kind heartedness as he used to assist several of his mates in school, some of his Ibo friends decided to show him mercy.
They hid him under their fathers' beds for three days and smuggled him across the River Niger in a wooden boat before the then military governor of Western Region sent a bus to convey all the Yoruba from different parts of the then East.
Right from his childhood he's been humble, respect-ful to his elderly ones. He was easy going and a quiet type. In the school, if there was any trouble he would rather take to his heels and run home. I think these are part of the virtues that have brought him to where he is today. He is the type that loves coming first while he was in school. Once, when he came second, he was very sad. He had always been on top in anything he did.
He was going to meet our father at the farm one day when he came across an old man in a lonely road. As a child, he was very frightened when the man appeared from nowhere. The man told him that his (Adeboye's) stars were shining and that he was going to be great. He would encounter challenges, but God has conquered everything for him.
The man, according to Adejare, instructed him to tell his parents to kill a white cock for him and his mates. He thanked the old man, but when he looked back to take a better discription of him, he was nowhere to be seen. Adejare was frightened the more and immediately ran to meet our father at the farm. He narrated his experience to Baba and when they got back home they informed my mother who immediately obeyed the instruction.
Was there any objection from the family, when he opted to marry from Ilesha?
There was no objection! My mother was from Ilesha. My step mother was from Ilesha. So, there was no objection and I believe he had been destined to continue the tradition.
How has he affected the community?
There was a tremendous transformation in the community and in his own family. He never looked down on us. He is kind hearted to all the family members. Even our former church knows there are changes. The traditional ruler can testify to this. He is always involved in any developmental activity in the community. He is ever ready to help us in the town.
We are very glad and happy and give all the glory to the Almighty God for this wonderful grace. Just as people were saying then, that can any good thing come out of Nazareth? God who raises the poor from the dunghill to sit with kings, has brought him out and raised him up. He has positively affected the community because we are always respected any-where we go. He embraces everybody, including Muslims.
What then is your advice for the womenfolk?
Women should train and take care of their children and they should try to imbibe the spirit of love, teach them to be respectful and humble. The Bible said God looks at the proud far away while He lifts the lowly and the humble. Therefore, they should teach their children the spirit of humility. God will help them.