Lagos – Gov. Babatunde Fashola of Lagos State said on Wednesday that the state would need N75 billion to recycle 1.4 million gallons of wastewater generated daily in the state.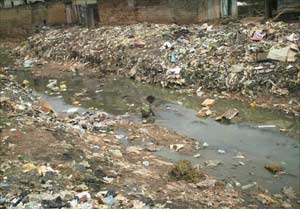 Fashola stated this at the 1st Lagos State WasteWater Investment Forum held at the Eko Hotels and Suites, Victoria Island, Lagos.
The theme of the forum was "Wastewater Sectoral Policy: Unveiling the Investment Opportunities''.
The governor said the state needed to recycle wastewater to prevent outbreak of epidemics.
According to Fashola, the state executive council has adopted a 10-year policy for implementation, budgetary funding and requisite institutional framework for this project.
`This led to the establishment of the Lagos State Wastewater Management office in August 2010 which organised this inaugural forum.
`The state will implement the policy in two phases of five years each,'' he said.
He said that 10 new mega wastewater treatment plants would be established in the first five years while three existing ones would be rehabilitated in conjunction with development partners.
`These will be in addition to the four recently rehabilitated at Oke-Afa, Abesan, Iponri and Alausa which will serve almost six million inhabitants of the state,'' Fashola said.
The governor said the state would partner with the private sector under the Private-Public Partnership (PPP) initiative to execute the project.
Dr Muiz Banire, Commissioner for the Environment, in his opening remarks, said that the forum was to acquaint everyone with the enormous opportunities that abound in the wastewater sector.
`These opportunities range from the construction of wastewater treatment plants, sewer infrastructure, waste water bi-product, recovery and reuse, biogas and fertiliser.
`Other opportunities are fleeting of evacuation trucks, pre- and post- treatment, biological treatment, laboratory and consultancy services,'' Banire said.   (NAN)