With Florence Amagiya
Is something wrong with our women today? Is it that they enjoy exposing what was originally meant to be covered? I am talking about the 'low waist palaver' or better still let me talk like a tush fashionista low rise pants.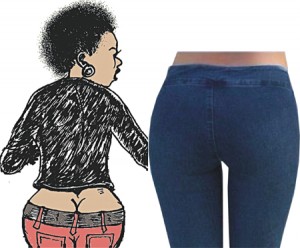 The other day, l saw a lady at the mall, who forgot the way her body was built and decided to wear this low rise pant. When she bent down to pick something behold like Pierce Brosnan did say in his James Bond series "Die another day" MAGNIFICENT VIEW! Is it a nudity competition amongst our women both the young, middle age and the old, married and single likewise? Or are our female fashion editors not doing enough to educate our women on how to dress to suit our body structure.
Thirdly, is it the more you show, the hotter you are or the more attractive you become? I have been trying to answer the questions, yet no answers. From the little l know about the low rise pant, I think it was meant for skinny women with wide hips and flat bums. And many African women do not fall into the category. The disheartening part is that some male folks who are 'endowed' like their brother D'banj are rocking this cut of pants too forgetting that 'one eyed snake needs enough space to behave itself. What do you get? Fashion disaster.