By Olasunkanmi Akoni
The Peoples Democratic Party, PDP in Lagos State has suffered a major set-back , Sunday, when some of its  stalwarts , led by former Minister of State for Defence, Mr Demola Seriki,  Alhaji Lanre Rasaq, Mr. Tunde Salau,  Mr.Wale Ahmed amongst others defected and declared for Action Congress of Nigeria, ACN saying that PDP is a dead party.
They accused PDP chieftain,  Chief Olabode George, popularly called "Lagos boy" of being the one behind the party's woes, and using criminal tactics to rule the party in the state.
The defectors, who are eight in number with their teeming supporters at the ongoing ACN rally in Eti-Osa Local Government Area, described the PDP as filled with bunch of criminals, lacking in good political ideologies.
According to Seriki, who was also the gubernatorial aspirant in the last PDP primary in Lagos;  "We have been in Lagos politics for awhile, there are lots of difference between Governor Babatunde Fashola and the so called Dosumu. We, the true indigenes of Lagos state, we know ourselves. Don't let us throw away our votes…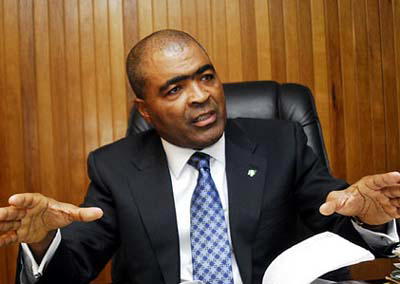 "We have worked with the Federal government and now is the time to save Lagos State. They are playing politics with Lekki and its environs.
"I come from Bode's ward, he can't win his ward. PDP is dead and after the elections we will do the burial ceremony of PDP. The reason why we are defecting is that PDP is a non people friendly party. They have planned to destabilise Lagos State but we will tell them that Lagos belongs to all of us. The best of Fashola is yet to come."
Alhaji Rasaq in his address said,  Tinubu is doing wonders in Lagos, "let us follow good people and not irredeemable debtors.
"We don't want criminals, we will not accept criminals, and will not follow criminals and criminals shall not be in charge of the state in Lagos."
According to Wale Ahmed, " I thank God that from today, I will no longer have to be defending the indefensible, I thank God almighty that from today I will no longer be justifying the unjustifiable  as from today I will be in a position to celebrate good and responsible leadership.
When I was Publicity Secretary of PDP, I discovered that we always look for something to say but actually they have not done anything. I have been itching to be with Fashola and Asiwaju Tinubu. In their party they are more united unlike PDP who are irresponsible leaders, intolerant, they don't want to create peaceful environment in the democratic setting."
He described Tinubu as a visionary leader that brings up young people to occupy position of leadership, "bye -bye to PDP rubbish."
Salau in his address also described Tinubu as a dynamic leaders who produced a wonderful leadership in Fashola who has provided an exemplary leadership. "I won't deceive you the PDP they know this is a wonderful government and they wish they are part of us that are here today.
ACN chieftain, Senator Bola Tinubu in his speech welcomed the defectors into the fold even as he expressed confidence in their ability to work hard for the success of ACN in  the coming elections.
Tinubu, however warned PDP whom he said were already fomenting troubles in different parts of the state to steer clear or meet their waterloo. "PDP will meet their match in Lagos."
While addressing members of ACN at the rally, Governor Babatunde Fashola asked the electorates in the state to prepare adequately for the elections.