By Hugo Odiogor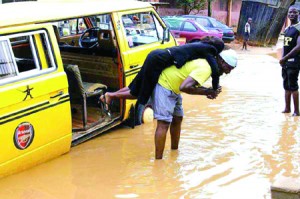 RESIDENTS of Ago in Okota/Isolo local government have become apprehensive of their fate as the rains return earlier than expected, dashing hopes and prayers that Governor Babatunde Raji Fashola, will remember them in 2011 as the area will be worse hit in this new rainy season.
Faced with impassable street roads and totally failed and narrow Ago Palace way, the area which has the potential to become a high brow residential and business district, is a fast emerging as a mega slum , "where the rich also cry". Said Mr Joseph Adumure, an auto shop owner in Alidada street said "we pray that this rain will fall on election day so that people will not come out to vote and even if they are determined to vote surely nobody will tell them to vote against a partty that has shown total lack of concern for the residents of Ago in it development agenda, the only thing that matter to them is to come here and collect taxes and all type of bribes".
Dr. Abiodun Adesola, who runs a private hospital on Femi Kila street said "we thought the dry season would have been a time for some work to be done in Ago. When we see what is happening at Ilasa, Idi-Araba, Orile, Amuwo Odofin, we were filled with hopes and expectations ,but for 13 years now since I moved into this place, it has been forlorn hope."
The leader fo Odua Peoples Congress OPC, Dr. Frederick Fasehun who owns a big hotel on his tarred Frederick Fasheun street, said "the cut in the sate budget last year, by the Lagos State House of Assembly, left Governor Fashola with insufficient funds to work, we know that Ago is in the development plan". But Barr. Onuoha Ukeh told Vanguard that he neglect of Ago is "a deliberate scotched earth policy" by the Lagos government. In his view "Governor Fashola is not strange to the agony of the residents of Ago. He has friends here and they know how narrow the Ago palace way has become. They know the ordeal people face every day coming in or going out of Ago. The commercial activities have been greatly affected. The comfort and living standards of the people is down because there is no road no electricity, no water, and other basic life sustainers, PHCN terrorise us with electricity bill when we fuel generator 24/7 to sustain our homes and businesses, we pay tenement rate and offer sundry bribes demanded by council officials, there is no market, no schools no hospitals nothing to show that human beings live in Ago, yet everyday they spend billions of money on political campaign and media propaganda Fashola has changed the face of Lagos, those of us who live in Ago are living in Siberia. Ago has become a mega slum, what a shame" Officials of Lagos State ministry of environment blame the landlords in the Ago for being the obstacles to the development of the area. They took the Lagos state government to court for marking their building that encroached on the road for demolition.
But Mr.Umeh Azuka who lives in the area argued that "this is a lan excuse to justify a scotched earth policy directed against non indigenes who live in Ago. In other areas where Lagos state government is constructing or expanding the roads, houses that encroached on the road were pulled down what is so special about Ago landlords, did the state government no come around two years ago to pull down shops that were on the inner streets? See their campaign posters everywhere, we cannot see their faces. Poor.