Three football agents who claimed to have brokered the Nigeria/Argentina friendly have vowed to stop the game if they are not paid 25 percent of all the income the match billed for June 1 would generate.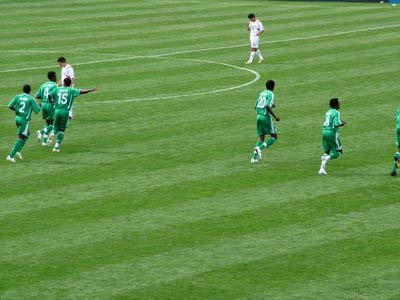 The agents are Justin Addo, Nouma Atangana and Julius Owen Ighodaro. They gave the Nigeria Football Federation, Argentina FA and promoters of the match, Guinness up till close of work today to respond otherwise they would be heading to court.
In a letter to the parties involved in the much publicised encounter, the trio claimed to have been working on the match since January 2011
"We have documents to show the work we have done for this match. If we do not see anything from you, we reserve the right to  make our complaints to a Nigerian court and  FIFA for payment of our charges or the outright cancellation of this friendly match in case of refusal to pay our commission," said the agents in their letter, which was copied to FIFA.
They claimed further the match was part of their organization's Argentina Famous Tour of Africa in June.
"It will start on June 1 in Nigeria. On June 3 Argentina will play Gabon and finally on June 7 they will head to Equatorial Guinea.
"We call on both Argentina and Nigerian federations and the society World Eleven & GUINNESS company in Nigeria to pay us commissions of 25% of the total income of this friendly match,"said the agents who are based in England, France and Belgium respectively.