By Emma Amaize
WARRI- THERE was pandemonium at Sapele in Delta Sate, today, following the killing of a PDP stalwart, Mr. Saturday Akpode, alias Agbamu and kidnap of two hotel proprietors, Mr. Benjamin Ogeregbaje, alias Apolo and Mr. Sam Akpeteyetan, alias Santos.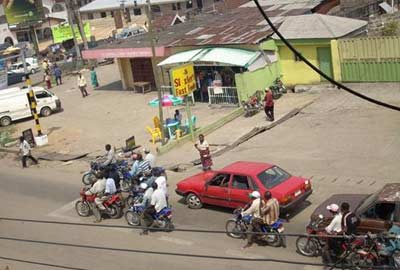 Some residents told Vanguard that gunshots were fired indiscriminately in the community on Wednesday night. But, the Delta Waterways Security Committee, DWSC, alerted the appropriate security agencies, leading to the deployment of men of the Joint Task Force, JTF, on the Niger-Delta and policemen same day to contain the rampage by ugly situation.
Akpode, who was the chairman of PDP in ward five, Sapele and a personal assistant to the chairman of Sapele Local Government, Hon Godwin Atose was shot dead by gunmen who allegedly trailed him on Cemetry Road, Sapele at about 10.00 pm inside his car on Wednesday night.
Despite the deployment of security agents, there was rampage, as a group of boys protesting Akpode gruesome death, set some houses, vehicles and stores ablaze.
The Power Holding Company of Nigeria, PHCN, office on Adeola Road, Sapele , was also torched. It was gathered that Akpode had barely left Hon Atose's house that night when he was murdered.
However, the army and police had taken position at some strategic places by yesterday morning and pushed the boys out of the streets.