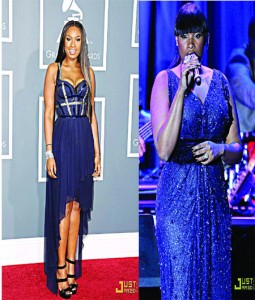 By Lolade Sowoolu
It's fashionable to be slim. But it's better to be healthy. Slim people are not necessarily healthy but fat people have more health risks. So either for fashion sake or health reasons, more and more women are trimming down, even if for the wrongly motivated.
Jennifer Hudson is one woman I love. Right from that 2004 season of American Idol, where I first set eyes on her, my heart connected with the black American gospel energy she brought to stage each time she held the microphone. And even though she only made it to Top 10, placing 7th, I made her success through the years my business while also trying to keep track of Fantasia Barrino (Momma Zion), winner Season 3.
Three years down the lane and Jennifer wins an Oscar. For playing a fantastic supporting role in immensely popular movie – DreamGirlz in 2006, voluptuous Jennifer was back to spotlight and this time around, global reckoning. Naturally, perhaps, she began to feel the pressure. The pressure that comes with fame and acceptance. Those thoughts and barrage of advisors who make you feel inadequate and nearly uncomfortable in your own skin. 'You need to be in form at all times', they must have nudged. And before long, Jennifer began to seek the 'extra'. The 'it'. That 'oomph'. That 'wow' reaction that comes to celebrities, most of whom (if not all) Hollywood shows off as trim or skinny. I mean unless you're having your own talk show like Oprah or Monique, why should you be fat? You can't afford to be.
After that feat, she began to appear more in public. In 2008, she released her self titled debut album on Arista Records and was certified gold by the RIAA for selling over 700,000 copies in the US alone. Actually her sales exceeded 1 million copies worldwide. She was a rare debutante. I still remember memorising, singing and dancing to her hit single- Spotlight, in my closet. 'Well I don't like. Living under your spotlight. Just because you think. I might find somebody worthy. Well I don't like…' Her public appearances increased and her fame soared. Later that year, Jennifer lost her mother, sister and nephew in mysterious circumstances. She withdrew from public glare for three months, and when she resurfaced the next year, she was welcomed back with a Grammy. Jennifer didn't survive her stage performance. She was overtaken by emotions. All this while her weight fluctuated between been fat and plump.
By 2010, Jennifer Hudson's diet and work out ripped off 56 Pounds of her weight. (That's equivalent to 28kg at the rate of 2Pounds per kilogram). She was the newest celebrity ambassador of Weight Watchers and she made losing weight look cool. At least up to some point. The Jennifer Hudson that walked the 53rd Grammys red carpet was different. She looked a scary size 6, considering where she's coming from. Her face now oval, arms trimmed, and for some moments she looked lost. The bubbly, chubby, go-lucky girl was gone. Standing for pictures was a 30-year-old mother of one who didn't appear very cheerful in spite of her trim figure and beautiful dress. Through those moments I wondered, "is there an unseen chasm that separates being fat and fabulous? Or is it just in the mind of the plus size?"