By Lolade Sowoolu
The Buhari-Bakare combination seemed awkward if not unbelievable at first. But with days dawning and weeks passing, many are beginning to process the impossible truth: a fiery preacher who's been anti-government nearly all his life; and an Alhaji who once threatened to introduced Sharia (the Islamic way of life) to the entire nation are teaming up.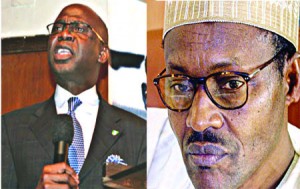 If the CPC is not a fluke and the rumours of Pastor Bakare submitting a resignation letter alongside his acceptance letter is not made up, these two, which I'll call B-square, might be on the path of settling Nigeria's aged inter-religious and inter-ethnic wars.
When Pastor Bakare became really vocal on the Save Nigeria Group which he convenes, many began to insinuate the clergy had political intentions. It was too 'false' to process by the religious church folks. When Tunde Bakare became a member of the political party, CPC, a few could read the handwriting on the wall. By the time he told press men that he would pray about running with Buhari as Vice, half of Christiandom believed the Pastor had intentions. Like one Christian observer put it, 'you don't pray about what you don't want'. In other words, the preacher desires to be an executive in the highest office of the land.
Slowly, the clergy's intention is being aligned with the Muslim cleric's and the only thing we can do is pray there are no last minute jokers that will unsteady the seeming fledgling romance between B-Sqaure. Both men are known to have strong personalities with the preacherman being more vocal than his president. Buhari, on the other hand is said to be subtly insistent refusing to be over-ridden. Hopefully the two men are not time bombs waiting to explode in a fit of rage.
Hopefully, the union will symbolise and model the possibility of a peaceful co-existence among warring religions and tribes in Nigeria. All these hopes will hold IF they win.