By EMMANUEL AZIKEN, CLIFFORD NDUJIHE, VICTOR AHIUMA-YOUNG, OLASUNKANMI AKONI, ABDULWAHAB ABDULLAH, GODWIN ORITSE & CHRIS OCHAYI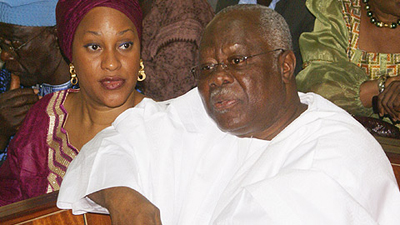 LAGOS — OPPOSITION political parties and organised Labour, yesterday, descended heavily on the Peoples Democratic Party, PDP, describing weekend's celebration of the release from jail of Chief Bode George as a celebration of shame and corruption.
While the presidential candidate of the Congress for Progressive Change, CPC, Maj. Gen. Muhammadu Buhari described the celebrations as a demonstration of the immunity of PDP to shame, the Action Congress of Nigeria, ACN, said the celebrations portrayed the PDP as a party that was disposed to corruption, greed and larceny.
Mallam Nuhu Ribadu who, as Chairman of the Economic and Financial Crimes Commission, EFCC, led investigations into the affairs of George as Chairman of the Nigerian Ports Authority, NPA, described it as a national shame that the PDP would be celebrating a man that they distanced themselves from.
The celebrations were also flayed by lawyers including Chief Mike Ozekhome, SAN, Mr. Bamidele Aturu, and the Nigeria Labour Congress, NLC, which through its Vice President Comrade Issa Aremu, said the celebrations showed that Nigeria had much to do in the fight against corruption.
The Lagos State chapter of the PDP, however, came out strongly in support of the orchestrated celebrations that followed the release of the erstwhile National Deputy Chairman of the party saying that the ACN was envious of their leader's victory "over their planned evil machinations." The PDP insisted that George, a former Naval General was sent to jail on political considerations.
Jailed for contract splitting
George was sent to jail in 2009 by a Lagos High Court on charges of contract splitting, abuse of office and award of about N100bn contracts without due process.
George and his fellow ex-convicts were released from prison last Saturday at the expiration of their two-year term.
He was particularly welcomed in a boisterous celebration that was only tempered by a thanksgiving service where the presiding priest urged him to reflect on his life.
Responding to the celebrations, Buhari, speaking through his spokesman, Yinka Odumakin, said the PDP has destroyed the moral values of the country even as he condemned former President Olusegun Obasanjo for attending the celebrations.
He said: "The reception is shameful and condemnable. It shows that the Peoples Democratic Party, PDP, and its leadership are immune to shame, that is why they will roll out drums for an ex-convict like Bode George.
"It is only in this clime that this kind of thing happens. If a former President, who claimed to be fighting corruption will go to receive a convicted felon, it shows that the PDP and its leaders have perverted values. They have destroyed our moral values.
If we don't stop PDP at the polls, our children will not know the right from the wrong and the poor will continue to suffer. It is condemnable, Nigerians must rise to stop the PDP."
Ribadu who described it as a shameful thing that the PDP would be celebrating instead of hiding its head in shame, said: "It is really a shameful thing that has happened. Instead of hiding their heads in shame they have the effrontery to celebrate corruption, infact it is a national shame."
The ACN reacting through its National Publicity Secretary, Alhaji Lai Mohammed, said: "PDP's action sends a wrong signal to Nigerian youths that it is alright to steal or mismanage public funds, since it can even turn them into a 'hero' like Bode George.
There is nothing wrong in rehabilitating a prisoner. But turning an occasion that calls for penitence and soberness to a carnival of sorts is a disservice to Nigeria, and a clear signal that the wobbly anti-corruption war of the Goodluck Jonathan administration is finally dead. It also ridicules Nigeria in the eyes of the world."'
ACN's contention
ACN contended that for the avoidance of doubt, Bode George was jailed for stealing money meant for port management and development, not for his political belief even though some clowns are now comparing him to Obafemi Awolowo or Nelson Mandela.
"Let us remind Nigerians that partly because of Bode George's grand larceny, it now takes five times the number of time it should take to clear a container; while the Apapa port can hardly handle some ocean-going vessels bringing in imported fuel, thus heightening the possibility of fuel scarcity.
This is the man for whom a party (PDP) seeking the votes of Nigerians in April's general elections pulled all the stops to give a hero's welcome from Kirikiri Maximum Prison. This is the man whom serving ministers of a government that is supposed to be fighting corruption besieged Lagos to welcome."
Celebrating grand larceny
In the meantime, the party said, Nigerians should send a clear message to the PDP  – through their votes in April – that today's Nigeria will not have a place for a party that celebrates grand larceny, corruption, greed and wastage of public funds.
According to Igbokwe, Bode George and his PDP cannot change, "they continue to mock Nigerians, they continue to insult our collective intelligence, they continue to tell us that impunity is no crime, they continue to make Nigeria a laughing stock in the comity of nations, they continue to disgrace the beautiful people of Nigeria, they continue to provoke Nigerians without remorse, they continue to tell us that they own Nigeria.
The NLC reacting through its Vice President, Comrade Issa Aremu said: "It shows that we still have much work to be done on anti-corruption. Yes, everybody cherishes freedom. But what is needed here is sober reflection. The family and others celebrating his freedom should ask, why was he jailed in the first place.
He was jailed for abuse of public office, for corruption, this is certainly what we should be proud of and be celebrating. He is not Nelson Mandela who went to jail because of he was fighting to liberate his people. I think those that are celebrating his freedom should play back the sermon of the priest at his church service and a thorough sober reflection."
"There is nothing worthy of celebration about the reason for which he was sent to jail. We can forgive, but we cannot forget why he was jailed. We should not forget that there is a linkage between corruption for which has was jailed and poor road networks, with lack of electricity, with failing standard of education, with lack of infrastructures in our health institutions and schools.
We should not forget that this linkage between corruption and unemployment, lack of social amenities and so. There is linkage between corruption and crimes that have been plaguing our society. The ongoing celebration of the freedom of Bode George means that those saddled with anti-corruption fight, definitely have a lot of work to do. It is very sad and unfortunate that instead of going to repent, like the Priest told him, he is celebrating."
Sending a bad message
On his part, President-General of Trade Union Congress of Nigeria, TUC, Comrade Peter Esele, said "it is sending a bad message that it pays to be corrupt. It is sending a wrong signal to the nation's youths that corruption pays. We are also sending a very wrong signal to the international community about our anti-corruption fight.
It is only in Nigeria that somebody who was jailed for corruption should be celebrated. No mater how you look at it, it is bad for our moral, bad for us a nation. It is very sad. Could you believe the former President who set up the agency, the Economic and Financial Crimes Commission, EFCC, that diligently jailed, Chief George, attended the church service? Among those that were at the church service were those are leading us and are preaching against corruption.
It is now very clear that most of those preaching anti-corruption are just being deceitful."
Lagos based lawyer and rights activist, Mr Bamidele Aturu described the partying and wearing of uniform by the party supporters as something "portraying Nigerians as celebrating corruption, which is very unfortunate."
Coming out of prison
Aturu said: "My view is that there is nothing at all wrong with somebody celebrating or thanking God for coming out of the prison safely.
I have been there, I know what it means for somebody to come out of Nigeria prison safely. However, we must show a level of humility and sobriety. For him to thank God for his life, its is a worthy celebration. The manner by which the programme was organised is not good for our country."
The PDP was, however, defiant saying the ACN was envious that their leader had regained his freedom. Reacting through its secretary, Captain Tunji Shele the PDP said "the ACN is envying the victory of our leader over their planned evil machinations and their ally."
According to him, apart from the fact that Chief Bode George went to prison and came out alive, "it is our belief that he did not commit any offence to warrant sending him to jail at all. He was never adjudged to have stolen any money.
His offence was a misdeamenor, that is, he was said to have disobeyed a constituted authority, an offence which should attracted probably a fine. So, we felt he was being prosecuted and persecuted. Apart from this, I must tell you, the conspirators thought that the election will hold in January, they clandestinely ensured that his sentence fell within January, when they hoped the electioneering process must have been completed. But things changed, I know, Chief Bode George is an important figure in the PDP in Lagos, the south-west and in Nigerian in general."
You can see the number of the party leaders and those who are not partisan that attended his thanksgiving yesterday. This is a testimony that they trust him and believe in his good character. So, what they are saying is unjustifiable and it is an arrant nonsense."
Meanwhile, the first lady, Mrs Goodluck Jonathan joined other dignitaries to welcome Chief George back home yesterday. The first lady who visited the politician in his Luggard residence thanked God for him and wished him and his family well.
Subscribe for latest Videos