By Favour Nnabugwu
The insurance companies contracted by the Independent National Electoral Commission (INEC), for the insurance cover of lives and electoral property are yet to receive any premium, Sunday Vanguard can reveal.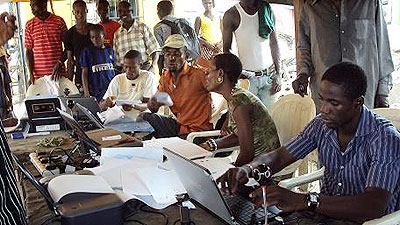 Though the firms had been duly informed about the scope of insurance cover to be granted the electoral body, the premium on the various covers such as motor and group lives for senior and ad hoc staff have not be paid to insurance firms.
Sunday Vanguard investigations revealed that INEC may be sitting on a time-bomb  if the premium is not paid on the covers as insurance companies may not be liable to pay claims should the need arise, especially now that the closing date for voter registration has been extended. INEC, which has negotiated with SA Insurance to insure its senior staff for N39 milion, is yet to pay the premium.
Further investigations revealed that insurance companies would not be obliged to pay claims on insurance policies on which premium have not been paid or remitted to them. The best the insurance firms could do for INEC, Sunday Vanguard discovered, is to process the claims in wait-for-claims settlement.
Sunday Vanguard found out that INEC also insured its vehicles on a zoning arrangement, with six insurance firms. Law Union & Rock Insurance is in charge of the North-East (Adamawa, Bauchi, Borno, Gombe, Taraba and Yobe states;) Consolidated Hallmark Insurance is in charge of North-Central (Benue, Kogi, Kwara, Nasarawa, Niger, Plateau states, and the Federal Capital Territory); Guarantee Trust Insurance covers South-East (Abia, Anambra, Ebonyi, Enugu, and Imo states); Fin Insurance oversees South-South (Akwa Ibom, Bayelsa, Cross River, Delta, Edo and Rivers states); Mutual Benefit Assurance, South-West (Ekiti, Lagos, Ogun, Ondo, Osun and Oyo states ); and Leadway Assurance, North-West which takes care of Jigawa, Kaduna, Kano, Katsina, Kebbi, Sokoto and Zamfara states whilst AIICO is responsible for vehicles at INEC headquarters.
The commission had early this month spelt out remunerations, security arrangements and insurance packages that have been put in place for its officers and ad-hoc staff.
Professor Attahiru Jega, INEC Chairman, at a joint briefing with the National Youth Service Corps (NYSC)'s Director-General, Brigadier General Marahazau Tsiga, informed that a group life insurance with comprehensive coverage had been taken for all personnel that will be involved in the voter-registration and the general elections.
The value of the insurance coverage, Jega stated, is the total emoluments of a graduate and that is almost N700, 000.  At the rate of N700, 000, each for the corps member who loses his life during the two-week exercise, the group life insurance package for the exercise provides a total life insurance compensation package of N168, 000,000,000 (N168bn).
He said, "There is perhaps no monetary compensation that can be considered adequate for this kind of national service. But, still we can only provide compensation in accordance with the budgetary constraints. Accordingly, as we prepare for this exercise, all ad-hoc staff that will be deployed from the NYSC to those from the tertiary institutions involved will be paid N30,000 for the duration of the voter-registration ."