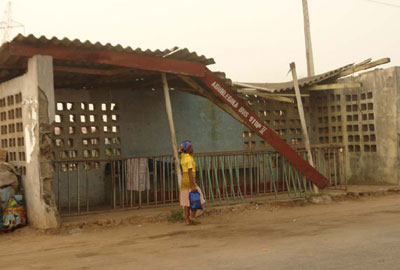 By Bose Adelaja
IT was drizzling at Oshodi when this reporter boarded a commercial bus en route Ketu/Mile-12. But the light shower soon turned to a downpour as the vehicle approached  Ojota.
So, alighting at Ketu, she rushed to the  bus-stop shelter there for refuge. However, refuge it certainly was not as there was little or no room to stand since some traders had converted the entire place into their shop or selling point.
Many other commuters trying to escape from the rain also could not gain access to the refuge the bus-stop shelter was meant to offer, with some of them wondering aloud why traders have taken over the place.
But by way of an explanation, one of the traders announced that she pays daily charges to some miscreants for use of the place. "I don't want anybody to come and   disturbe my business because I pay everyday for the space I'm occupying here," she declared in a combative tone.
As a result of the commercial activities going on there, the bus-stop shelter was wearing a dirty look with charcoal dealers having a field day littering the place with all kinds of rubbish.  Apart from that, the painting has faded  after the place had been subjected to sustained abuse by both road side traders and area boys, thus depriving commuters the convenience and pleasure behind the  purpose of building it in the first place.
The bus-stop shelter on the other side of the road had suffered no less fate: It was also in  shambles and posing danger to road users.
The situation is the same at Agunlejika and Ijesha Bus-stops along the Apapa-Oshodi expressway as the bus-stop shelter is also in a sorry state. In fact, it is now being perceived as a death trap since the structure has been tilting precariously for over a year now. Both the supporting wood frames and roofing sheets appear as if they will collapse any moment and no longer serve as shelter but as a hide out for hoodlums.
It is the same story with PWD Bus-stop along the Lagos-Abeokuta expressway as the bus-stop shelter also wears a run-down look.
This has been the situation around most bus-stops shelters in Lagos.   Apart from the fact that they no longer serve the purpose for which they were constructed, they are mostly shabby looking and are far from befitting the status of the envisaged Lagos mega city.
During Vanguard Metro's visit to some bus-stop shelters in Lagos, it was found that many of them have been allocated to traders, artisans and miscreants who were seen transacting various businesses there. The shelters now serve as a resting place for destitutes at the expense of commuters who have no choice but to loiter around outside.
Apart from that, these shelters have more or less become a haven for women who sell local gin popularly called Ogogoro or Paraga as commercial motorists take their turns to purchase the commodity before setting out for their journey.
Vanguard Metro investigations revealed that the allotment was done by some miscreants in connivance with some ''Council officials'' such that the traders feel they cannot be dislodged by anybody since they pay their levies to the authorities.
Some commuters who spoke with Vanguard Metro said many of them are usually harassed by those who have converted these shelters to their private use. "You see these individuals smoking cigarettes or drinking alcohol at these shelters and behave as if those places belong to them,'' said a public servant Akintunde Fadahunsi.
Against this backdrop, some people have spoken in favour of  measures being taken by government to give the shelters a facelift. Alani Omotayo said:  "The BRT bus-stop shelter is usually swept, well illuminated and built to modern taste.
Government can also improve the old ones since it appears they are not ready to remove them from the various bus-stops".
Subscribe for latest Videos