By Vera Samuel Anyagafu
TOP on the priority of the Swedish embassy in Nigeria which is to promote trade and investment relationship between its Country and Nigeria, while assisting Sweden and different sectors of the Swedish society promote Swedish interest in Nigeria, has so far resulted in a mutual relationship between the two countries both in terms of trade and investments.
Most recent  activity organized  to strengthen the relationship is the cooperate social responsibility (CRS) workshop organized by the Swedish embassy in Nigeria in conjunction with Lagos Chamber of commerce and Industry, the consumer protection Council and the Swedish Trade council which was held on the 14th of December 2010.
The workshop attracted experts from
Sweden, the General director of the consumer protection Council, the president of the Lagos Chamber of commerce and industry as well as other Nigerian experts who spoke on trade related issues.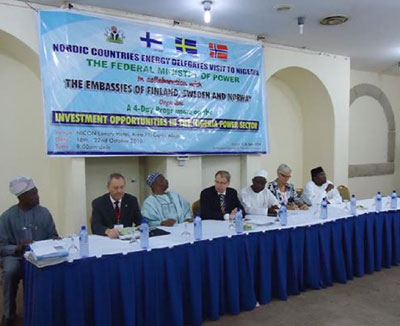 The Swedish embassy here in the country has its doors open to encourage legal migration of Nigerians who meet their Visa requirements, to study, live, work, holiday and engage in business activities in Sweden.
The consular section handles applications for the diverse types of visas which include work permit, students, tourists and business visas.
Intending Travelers for the purpose of business or to take part in a conference / workshop,   visit relatives and friends or as a tourist require an entry visa which indicates that the applicant is paying a temporary visit.
These types of visas, the procedures and requirements for obtaining them shall be discussed as we progress.