By Clifford Ndujihe, Deputy Political Editor
LAGOS—BARRING last-minutes adjustments, the remains of late elder statesman and frontline nationalist, Chief Anthony Eromosele Enahoro, will be buried on January 29 at his Uromi, Edo State country home.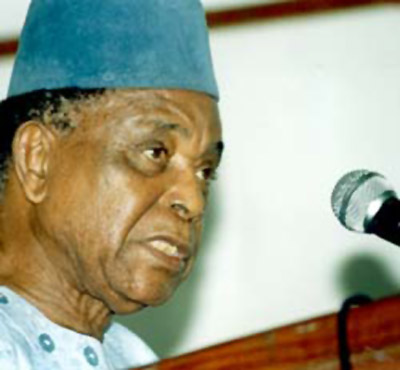 Chief Enahoro, one of Nigeria's founding fathers, who had the distinguished honour of moving the first motion for the country's independence in 1953, died on December 15 after a protracted battle with diabetes at his GRA residence in Benin City at the age of 87.
Sources said Pa Enahoro would be buried six weeks after his demise to give the burial organisers ample time to plan a befitting interment given the late pro-democracy activist's contribution to nation-building for over 60 years.
A source told Vanguard that diverse stakeholders including his family, the pro-democracy community, Lagos and Edo State governments, among others would be given a role in the burial that would start on January 24 and end January 29.
It was not yet clear if the Federal Government would play any role.
Contacted on the issue, Chief Wale Okunniyi, spokesman of the Pro-National Conference Organisations, PRONACO, and media assistant to the late patriarch of democracy struggles, said: "Pa Enahoro will be buried in last week of January 2011.
The burial programme will start on Monday and end on Friday or Saturday of the last week of January."
To immortalise Enahoro, his close associates, last week, registered two web sites in memory of the life, times and struggles of the departed doyen of Nigerian democratic struggles.
The names of the websites and telephone line dedicated to condolences as well as other information on the struggles and burial of the late sage, are www.anthonyenahoro.org; and www.anthonyenahoro.blogspot.com, +23418055545915
The first website will be managed by Enahoro's associates in Europe, while the second will be anchored by his caucus from the Nigerian end.
The two will run concurrently. Materials gathered from both shall form ingredients of a major visual and oral documentary on the life, times and struggles of the doyen of Nigerian democratic movement
Announcing the web sites in a statement by Okunniyi, PRONACO enjoined members of the public and followers of Enahoro activism "to register their remarks on the departed icon  on these two official domains as we have resolved to give our leader and mentor a befitting, first class burial and memorial.
Okunniyi added that Enahoro's political associates and caucus will formally announce a programme and reception team on Wednesday, adding that "the team is expected to support the immediate family and the central burial committee, which will be constituted in the course of the week as the actual burial is tentatively proposed  for January 2011."